National Chocolate Pecan Pie Day | Chocolate Pecan Pie
Happy Hump Day! I've been really busy in general that it's all I can do to make some dishes on a random work night. Yawnnn.
This weekend, we have tons of things going on: birthday parties galore, including dinner, drinks, lunch, movies, and more. I love weekends like the one I'm going to have because it's full of fun times with friends, something I wish I had more time to do (one negative of the food holiday challenge, but my friends would kill me if I quit now). In the back of my mind, though, there's the challenge, leering at me and reminding me that I still have over 4 months to go. God, will this year ever end??
Nah, I'm having a relatively good time, having partnered with King Arthur Flour for all my baking needs, and making me one happy girl in the process.
I'm already planning my National Champagne Day post – being celebrated on December 31, of course – which will (hopefully) consist of many layers of cake + sparklers on top to make it beautiful and fun. I'm really hoping that I'm not so drained that I decide to just pour champagne in a glass, toast to myself and my small yet trusty kitchen, and call it a recipe. You'll forgive me if things turn that way though, right?
Anyway, I have a special dessert for you today. Being that it's National Chocolate Pecan Pie Day, can you guess what recipe I'm featuring?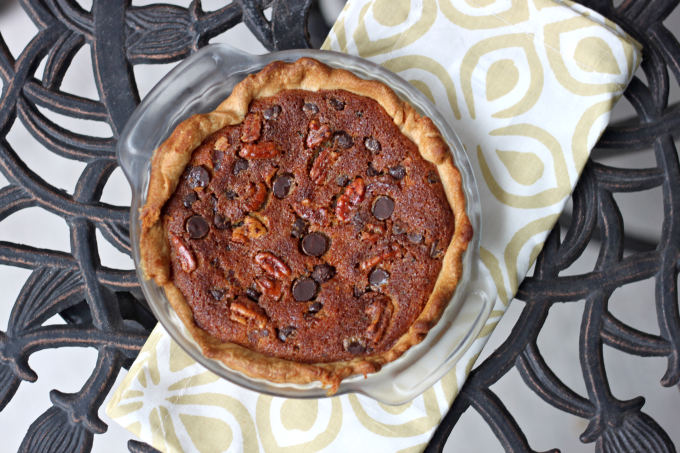 Oh man, how did you know?? I featured a small pecan pie for, you guessed it, National Pecan Pie Day, sans chocolate. It's my Aunt Shirley's recipe, one that she's known for and makes very often, yet not often enough because I could eat slices of this stuff every single day. Yep, that's right, and no exaggeration.
I actually enjoy the chocolate chips in this version, but will probably always prefer the tried and true one. Enjoy!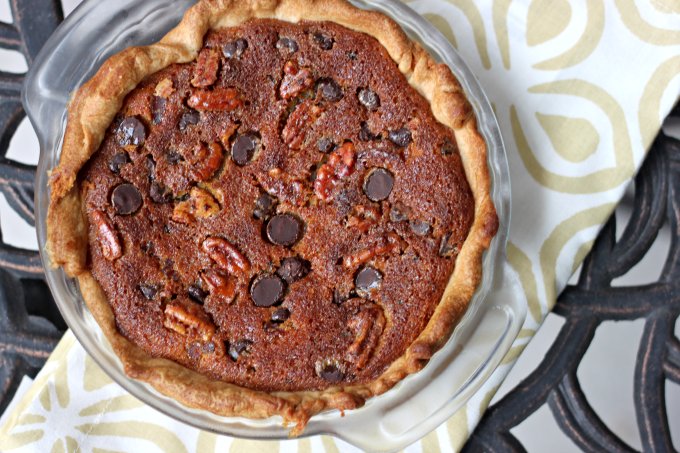 Side note: The recipe below is for one regular pie, or two smaller, individual pies.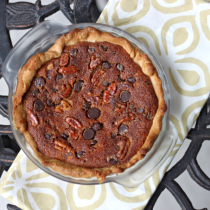 Chocolate Pecan Pie
Ingredients:
1 cup sugar
2 large eggs
1 cup light corn syrup
2 Tbsp all-purpose flour
1 1/2 tsp shortening, melted
1/4 tsp salt
1 tsp vanilla
1 cup chopped pecans
Handful of chocolate chips
Pie crust of your choice: homemade, refrigerated, pre-made frozen
Directions:
Preheat oven to 450*F.
In a medium bowl, combine all ingredients up to pecans; beat well. Stir in pecans and chocolate chips. Pour mixture into pie crust, or two individual pie plates lined with refrigerated pie dough.
Bake for 10 minutes. Reduce heat to 350*F and continue baking for another 25 minutes.
Tomorrow: National Pecan Torte Day
Leave a Comment