National Cheese Fondue Day | Savory Cheese Fondue
Not so fun fact: I'm lactose intolerant.
I may shy away from eating too much ice cream, but cheese? Well, I love cheese. Cheese and I shall never part. I went to Wisconsin for work to tour the facilities where we get our cheese and I ate so much cheese, you guys. I had mushroom cheese, cheese curds, and more, and it was fabulous.
But cheese fondue is even better.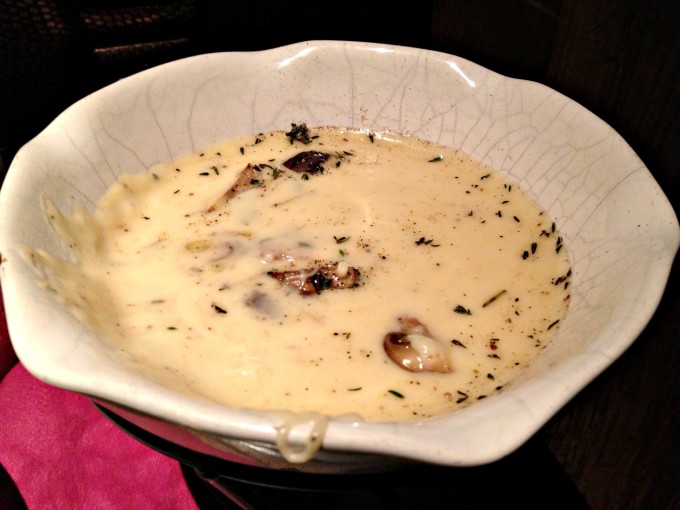 On my last visit to Ciro's Speakeasy for National Absinthe Day, I ordered their Savory Cheese Fondue, which is easily the best cheese fondue I've ever had and that may exist in the world.
Very shortly thereafter, I made my own and though it didn't taste exactly like the Ciro's version, it was so close that I'm amazed at myself. Unfortunately, I never took a picture of it, but feast your eyes on the Ciro's one above and try not to get drool all over your computer. It's hard, I know.
National Cheese Fondue Day | Savory Cheese Fondue
Author:
Prep time:
Cook time:
Total time:
Serves: 4
Ingredients
1 cup Riesling
1/2 pound French Gruyere cheese
1/2 pound Swiss cheese
2 tbsp all-purpose flour
1/4 tsp salt
1 tbsp olive oil
Handful of wild mushrooms
Handful of spice blend: black pepper, rosemary, oregano
Instructions
Simmer wine in fondue pot.
Add cheese, 1/4 pound at a time. Stir after each addition of cheese until melted.
As cheese is melting, saute mushrooms in olive oil until they are browned and slightly soft. Set aside.
Stir flour into cheese mixture. When all the cheese has melted, stir in salt, mushrooms, and herbs.
Serve with cut-up French bread and green apples.
Tomorrow: National Grilled Cheese Sandwich Day; National Licorice Day
2 Responses to "National Cheese Fondue Day | Savory Cheese Fondue"

Leave a Comment