Brunch and Beach at the Don CeSar's Sea Porch Restaurant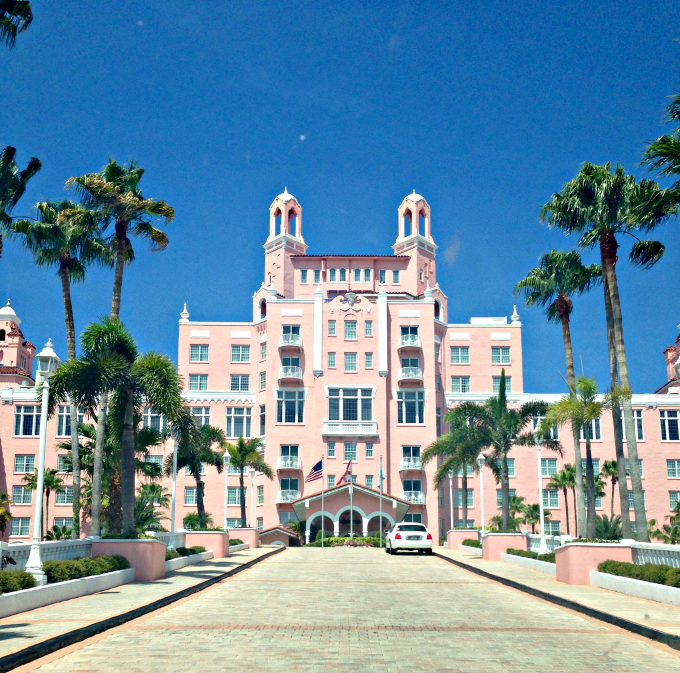 My first wedding anniversary was just a little over a week ago, and I wish I could go back to that weekend and stay in that moment forever, just reliving it all. We had so much fun and ate some great food. On that Sunday, we went to the Don CeSar for the whole day and night, and the day started with a wonderful brunch at the beautiful Sea Porch restaurant at the resort. Thanks to some pretty stellar Don CeSar employees, we had the best anniversary brunch and are probably going to make this our yearly plan.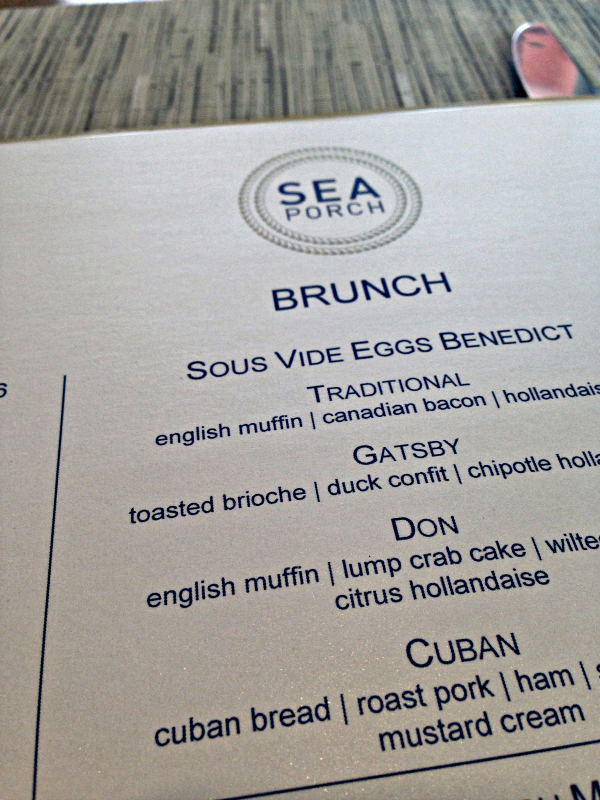 Located on the ground floor of the hotel, just steps from the resort pools and beach access, the Sea Porch has a feeling of being on the beach, in the midst of ocean air, but is closed off enough to maintain an air of relaxed elegance. The Don CeSar even calls the Sea Porch "seaside chic", which is really a perfect description. But don't let the fact that you're at the Don CeSar, close to a beautiful beach, in a restaurant newly renovated and dubbed "elegant" and "chic" deter you from visiting for brunch. Although the restaurant is everything you'd expect aesthetically from such a place as the Don CeSar, you instantly feel welcomed inside and like a part of the #DonFun family, from the hostess stand to the last minute you spend at the restaurant.
Just trust me. The Sea Porch is exactly where you want to be for brunch. You don't have to be staying at the hotel to enjoy a meal, and contrary to what your belief might be, the prices are so incredibly reasonable. (Prior to visiting, I thought that any Don CeSar restaurant would be beyond my budget.) Just trust me wholeheartedly on this one. So let's get into the dishes we had, shall we?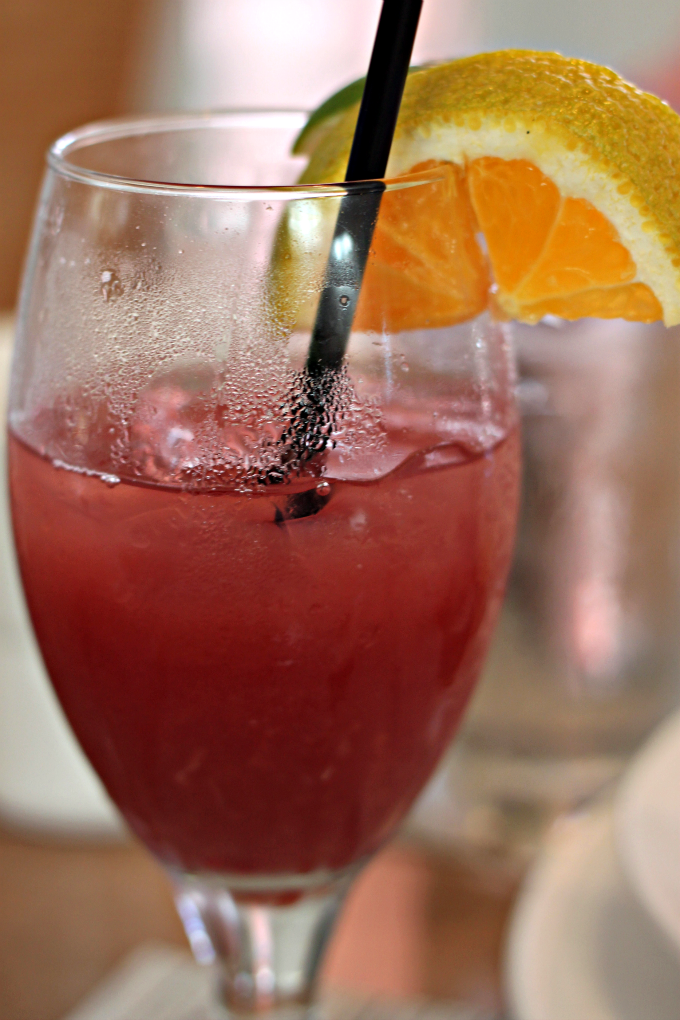 It all started with the Save Me Sangria ($8) made with merlot, gin, agave nectar, fresh lime fruit, cranberry, pineapple, and orange juice. Sweet, tart, and strong, just like I like my breakfast beverages. I was feeling buzzed after just one of them, which is sort of the point when you have plans for beach time right after brunch.
Also, this might seem a little strange to point out, and even downright silly, but I got way too excited about the duo of maraschino cherries in my cocktail. One makes me happy, but two…yeah, I even needed a photo op.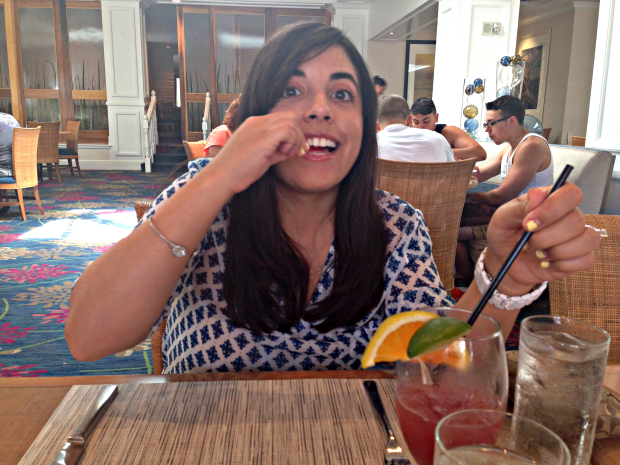 Having already decided on my main course, the Baked Havana Eggs, I also wanted to get something as a brunch appetizer. I make a really great Sticky Bun Monkey Bread that I make on those mornings (very rare) when I know I'm perfectly okay with laying around the house all day feeling like I'm about to explode. Because that thing is rich!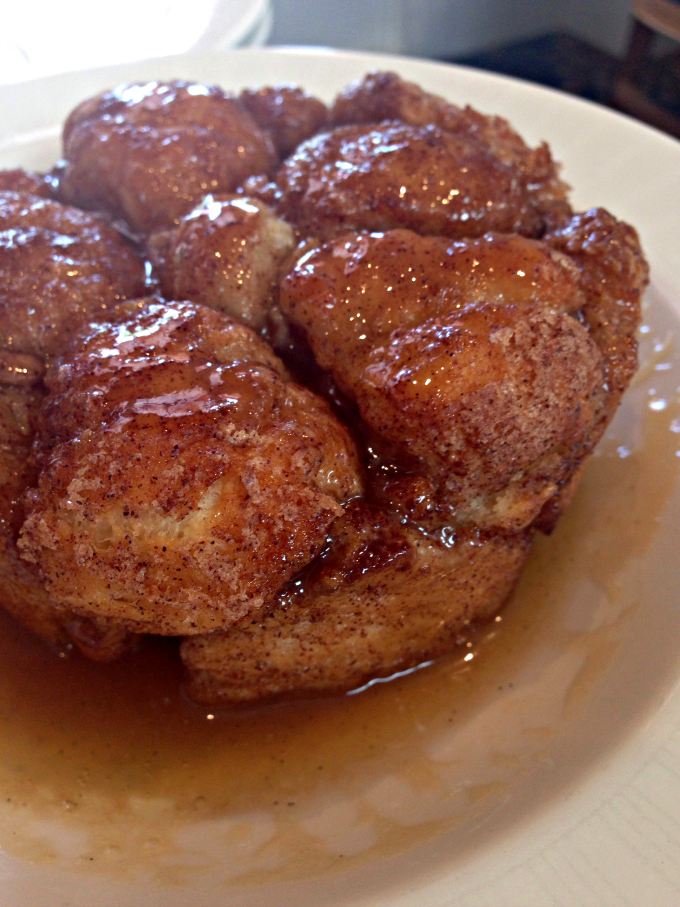 This Cinnamon Monkey Bread ($6) came out nice and hot with a generous slather of warm toffee sauce over the top. Pull apart bread is great because I don't mind eating with my fingers, but for the Don CeSar, I decided to act like a lady. Instead of licking my fingers, I cleaned the fork, and the remaining monkey bread "debris" from my plate.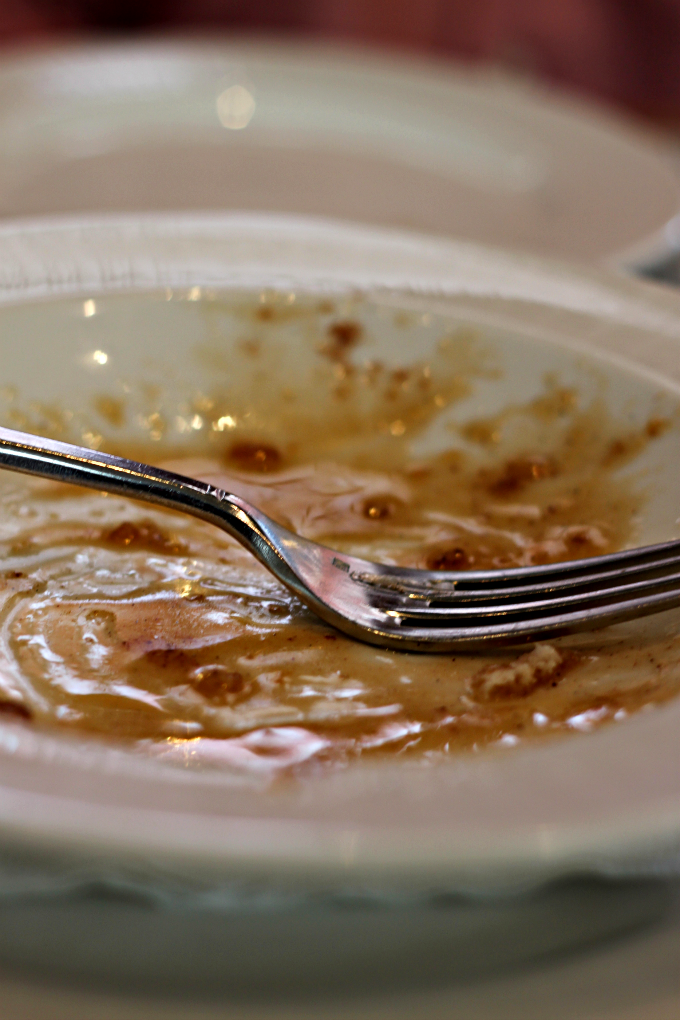 There's no way I could've finished the monkey bread on my own, and in fact, it's probably a little too much for even two people, especially if you want to be able to finish your main courses. That is not a knock against the monkey bread at all, in fact I think for the price it can't be beat, but just know that you'll feel that glorious monkey bread coated stomach and you may want to adjust the rest of your brunch order accordingly.
Still, it's not a dish you want to miss out on, mmkay?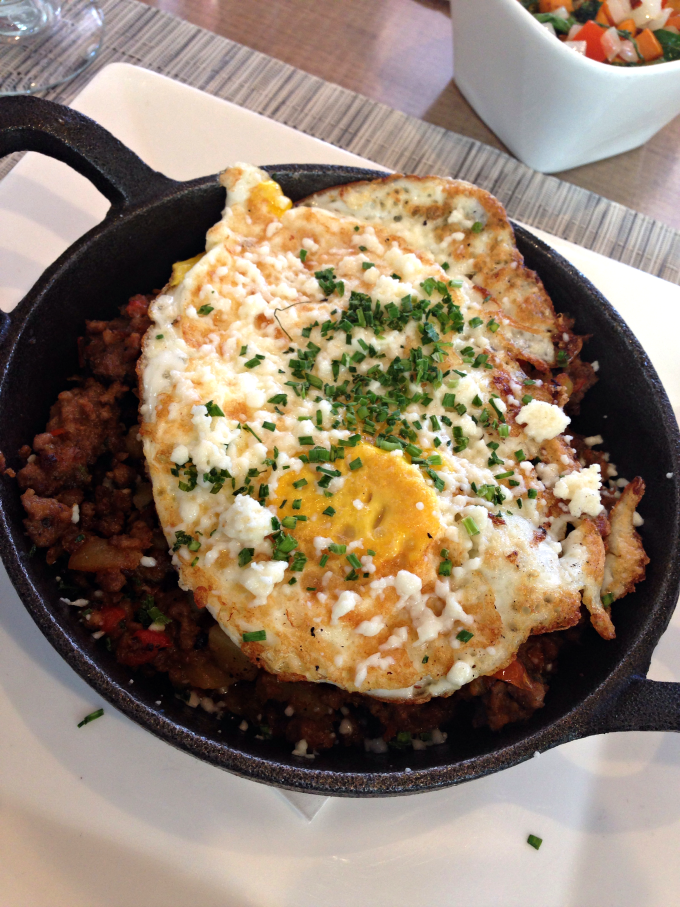 This dish doe! This is the first dish my eyes set on in viewing the menu and while it took the server two trips to our table for me to finally, officially make up my mind, I did jump around to other things. You know, because when you are battling against every menu item making you salivate, you end up with no conclusions and a wet menu.
On the Sea Porch menu you can find dishes such as: Steel Cut Oatmeal Brûlée with a wild berry compote; Cuban Bread French Toast with plantain foster, whipped mascarpone, and macadamia nuts; four Sous Vide Eggs Benedict – traditional, Gatsby with duck confit, Don with lump crab and a citrus hollandaise, and Cuban with elements from a Cuban sandwich; and the more lunch-type options like Ginger Beer Short Ribs, Hand Made Burrata "BLT", and a Spiced Shrimp Cobb.
See my struggle?
In the end, it's a brunch restaurant, but we were in the mood for breakfast so back to the Baked Havana Eggs ($13) I went, much to the excitement of our server who not only recommended the dish, but was probably happy we had finally made a decision and hadn't gone into some kind of monkey bread nirvana.
Underneath the over medium egg (my choice due to my harder yolk preference), you'll find chorizo, onions, pepper, and tomatoes. On top, there's the queso fresco. Now listen here. Chorizo is one of my favorite things to eat, and my hispanic heritage makes me love it, but I fully recognize that it can be overwhelming in dishes, pushing aside all other ingredients, much to the chagrin of some people (although it doesn't bother me any). Well, you won't find that happening in this dish. In fact, you may find yourself wondering when you have ever previously experienced such a well balanced dish.
I almost…almost, but not really…wished I didn't get the monkey bread so my poor tumtum could've fit every last morsel. That's how fantastic this dish was. I'm certain I even sighed after the first bite. Yes, there's sweetness from the peppers, a richness from the queso fresco, and a meatiness from, you guessed it, the chorizo. And here I am taking up a million paragraphs all about a single brunch item. It deserves a million more.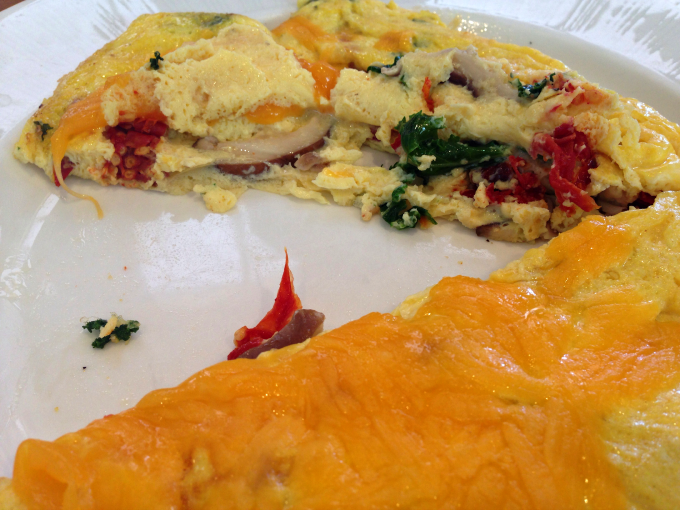 My husband chose to order the Chef's Daily Frittata ($14), an epic breakfast dish filled with sun-dried tomatoes, mushrooms, spinach, peppers, and onions, topped with cheddar cheese, and devoured by the two of us. It was no Havana Eggs, but a wonderful frittata nonetheless. You should definitely ask what the Chef has planned, no matter what!
We then ordered a side of the sweet potato hash.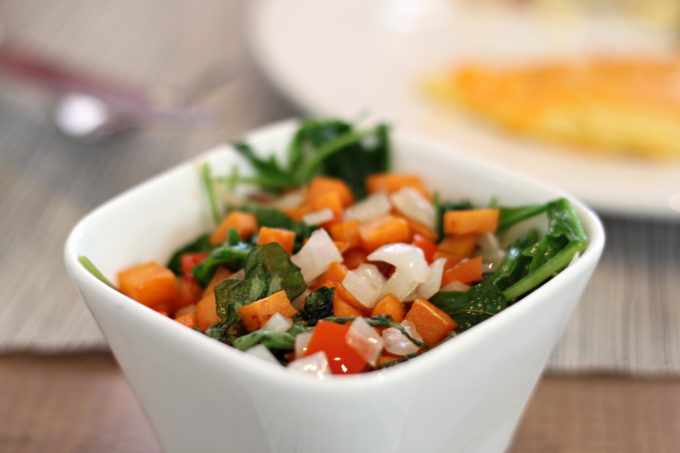 Truth be told, I spotted the sweet potato hash side listed by the Ginger Beer Short Ribs and just needed to have it. It's not a traditional sweet potato hash, and I was expecting something greasier (because I'm a poor eater, a habit that's hardly easy to break), but I was surprised, and very pleasantly so, by this hash. Sweet potatoes, spinach, onions, and tomatoes all combined for the healthy side I needed. This is worth ordering no matter what your other choices are.
You know, at the end of the day, I just want ocean air, blue skies, choice food, and a great companion by my side. Don CeSar provided all of that, plus an atmosphere for brunch that's hard to beat. So pack the car, commit to a day at the beach (soooo hard, I know), and enjoy some food and fun, all at the Don CeSar and the Sea Porch restaurant.
**Like what you read here? Vote for The Foodie Patootie for Best Food Blogger (on Page 2) in Creative Loafing's Best of the Bay awards! And then share with your family and friends. #CLBOTB**
5 Responses to "Brunch and Beach at the Don CeSar's Sea Porch Restaurant"

Trackbacks/Pingbacks

Leave a Comment