Burrito Bowl Casserole
This blog post has been compensated by Borden® Cheese. All opinions are mine alone. #BordenCheeseLove #CollectiveBias #Ad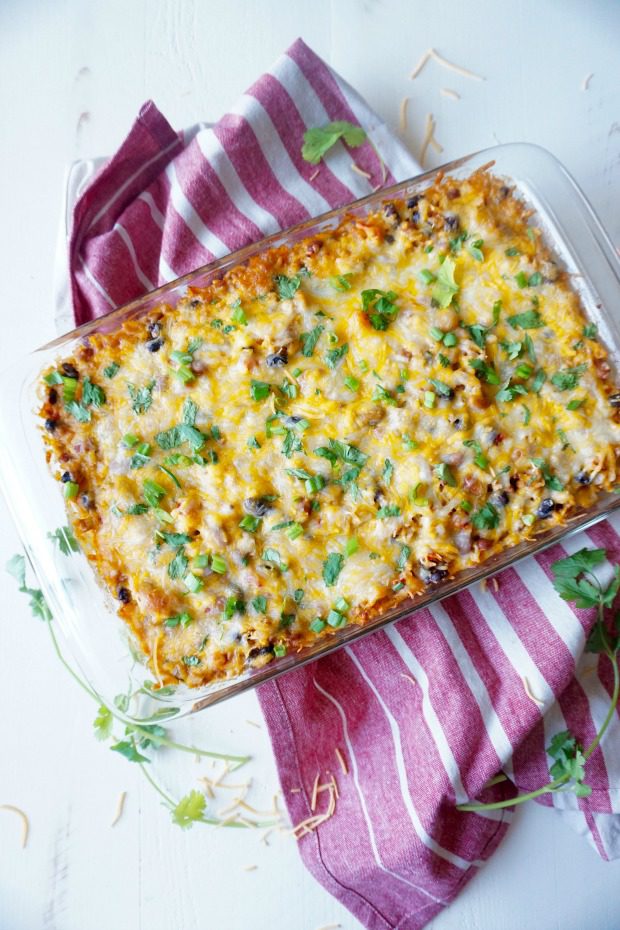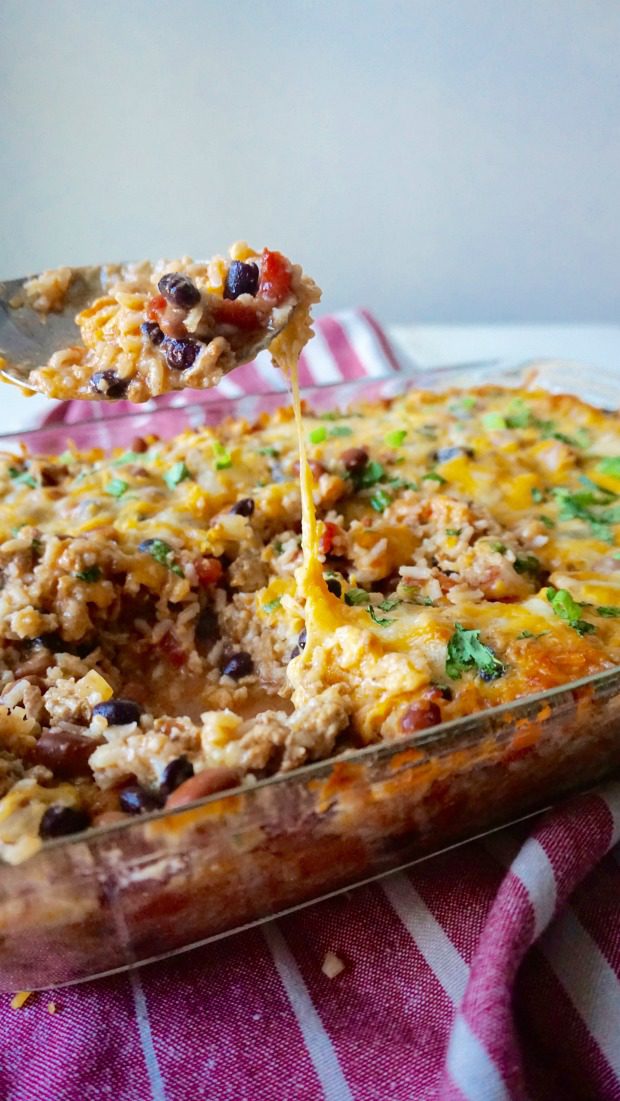 That is cheese pull! I feel very good about my dinner choices when I have that cheese pull. It's like, my goal, that cheese pull.
Mission accomplished.
Everything really came together with this recipe. At my new job, I get home around 5pm – a full 40 minutes earlier than I did when I lived in Tampa. It makes such a difference, especially on the nights when my husband works his 7pm-7am shift. It's so important to me to make sure dinner is cooked before he leaves the house. Providing food for family and friends is how I show my love! 💜
So this is how it goes: I come home completely happy because I can do what I love most: cook. What that means is nourishing my loved ones, including my son who can now eat almost everything we eat – hooray! – and then relaxing all together as we unwind from the day. Relaxation takes the form of us in pajamas watching a favorite TV show. (Food, food, food – do you see a pattern?)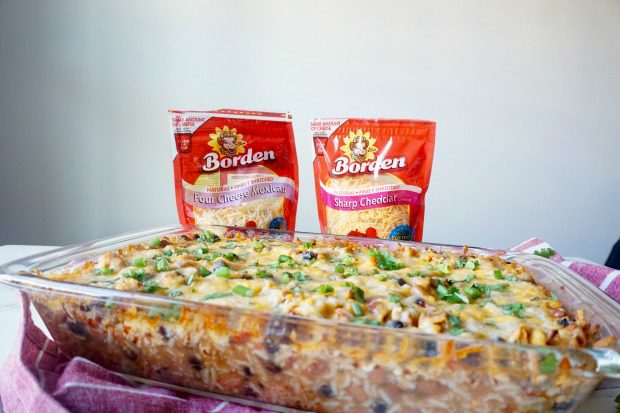 Especially on weeknights, I like to make a meal that is done in under an hour, including prep and cook time. That's exactly how you get to the couch for relaxation time faster.
This dish comes together in no time at all, and you may not ever want to go back to any of those quick-serve burrito places again! You can really make this burrito bowl casserole your own with the ingredients you most enjoy. When making this casserole, I visualized my walk down the ingredients list when I have the "other guys" make my burrito bowl. Once it was made, I decided I would rather just do this for myself from now on.
There's nothing like that cheese pull unless you take matters into your own hands.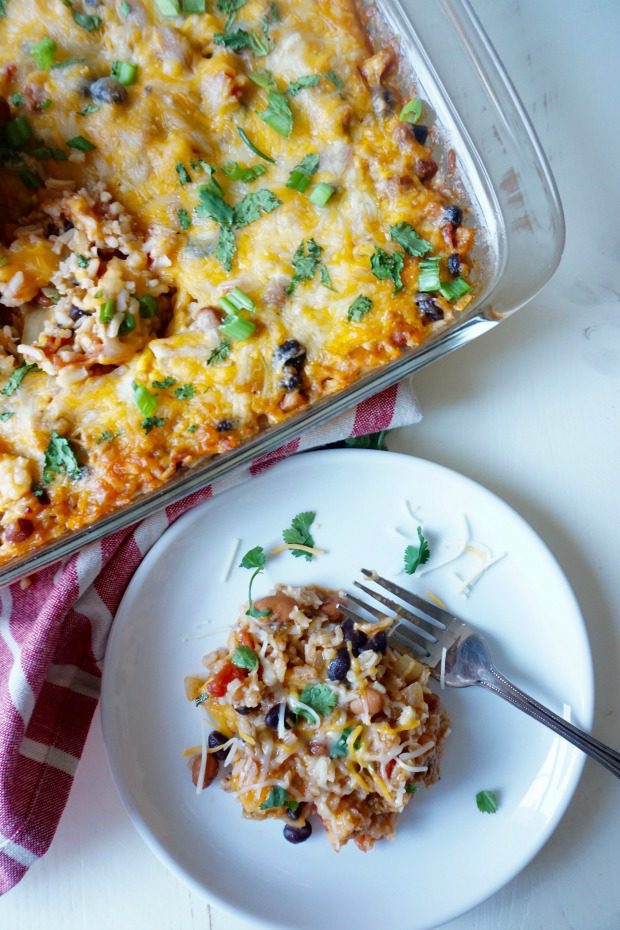 So, you've got rice, broth, beans, some heat, and lots of cheese, all topped with more cheese and cilantro. I'm obsessed with a perfectly melted cheese so a big kudos to Borden® Cheese [1] for helping me really elevate dinner. Meals like these are exactly what Max really enjoys. We turn off all electronics and sit together as a family. While Max can't talk yet and isn't able to actually tell us how his day was, we still talk to him like he can and then place a bunch of food on his highchair tray so he can enjoy dinner right alongside us. It's family time like none other. These wholesome family moments, something that may seen so mundane, are definitely worth celebrating.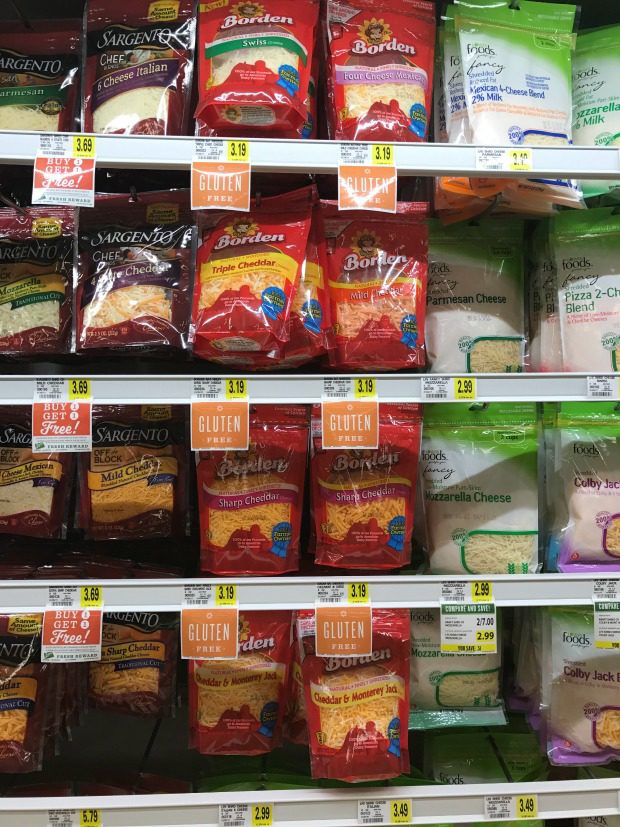 I found my Borden® Cheese at Lowes Foods, but check out this store locator [2] to find Borden® Cheese near you!
I doubt Max will have memories of this time when he's older, but as we continue the tradition of sitting down for a meal together, I hope he places as much importance on it with his future family as we have, and will continue to do, in his childhood.
What important routines do you have in your home?
Back to our meal! So we have the casserole all bubbly and browned from the oven, placed in the center of the table and ready for serving. We have hungry mommy, daddy, and baby all ready to dive right in. The corners are my favorite part of any casserole, especially one topped with a layer of cheese (Borden® Cheese Finely Shredded Four Cheese Mexican Shreds and Borden® Cheese Sharp Cheddar Shreds for this recipe). It gets perfectly melted too, but you also get a slight crunch. It's amazing. There are times I've scooped the four corners just for myself, leaving everyone else with the middle of the casserole. The edges are great too, but nothing beats those corners, RIGHT?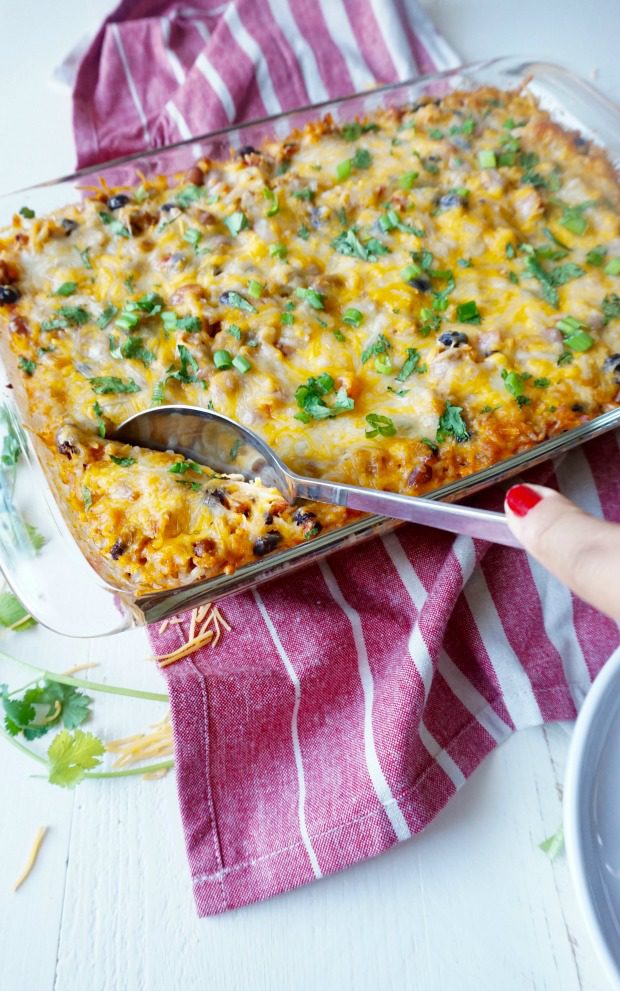 Okay, simmer down now, Jennifer.
Basically, you want to make this dish. Whether you have kids, want to keep your neighbors, are having some friends over, or want to contribute to your family gathering, scoops upon scoops will be taken out of this casserole and before you know it, everyone will be stuffed and happy and asking when you can make it again and have this ooey gooey goodness.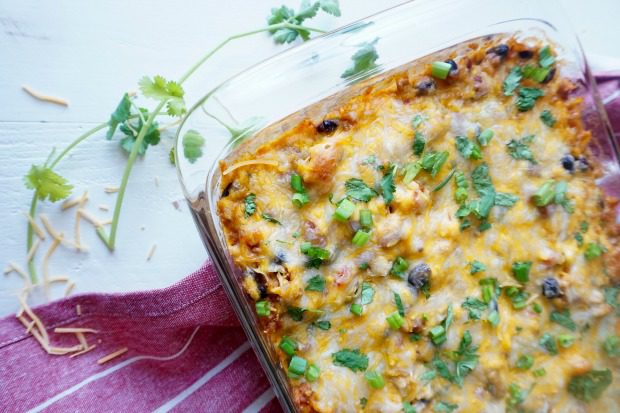 What is your favorite recipe with that cheese pull [1]? Let me know!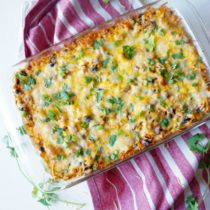 Burrito Bowl Casserole
Ingredients:
1 pound ground turkey

1 package taco seasoning

2 tablespoons extra-virgin olive oil

1 onion, chopped

3 garlic cloves, minced

1 1/2 cups uncooked quick cook white rice (I used rice from boil-in-a-bag)

1 1/2 cups low-sodium chicken broth

1/2 cup salsa (I used my favorite jarred chunky salsa)

1/2 teaspoon cumin

1/2 teaspoon paprika

Pinch red pepper flakes (optional)

Pinch black pepper

1/2 teaspoon salt

1 15-ounce can black beans, drained and rinsed

1 15-ounce can pinto beans, drained and rinsed

1 15-ounce can petite diced tomatoes, including its juices

1/2 cup Borden

®

Cheese Sharp Cheddar Shreds
Topping
2 1/2 cups cheese (I used 2 cups of Borden

®

Cheese Finely Shredded Four Cheese Mexican Shreds and 1/2 cup Borden® Cheese Sharp Cheddar Shreds)

Green onions, diced

Handful of cilantro, roughly chopped

Fresh lime juice
Directions:
Preheat oven to 375*F. Heat olive oil in a large skillet over medium heat. Add ground turkey and taco seasoning, and cook until turkey is all the way cooked through. Remove to a plate.

Add more olive oil if needed. Add onion and saute until soft, then add garlic and cook for another minute or until garlic is fragrant.

In a 9x13 casserole dish, add the cooked turkey, sauteed onion and garlic, uncooked white rice, and all the other ingredients. Stir to thoroughly combine. Top with the cheese topping and bake for 40 minutes, or until rice is cooked and cheese topping is melted.

Remove casserole from oven and sprinkle green onion and cilantro on top. Squirt with desired amount of lime juice.