Armani's | Northern Italian Cuisine in the Heart of Tampa Bay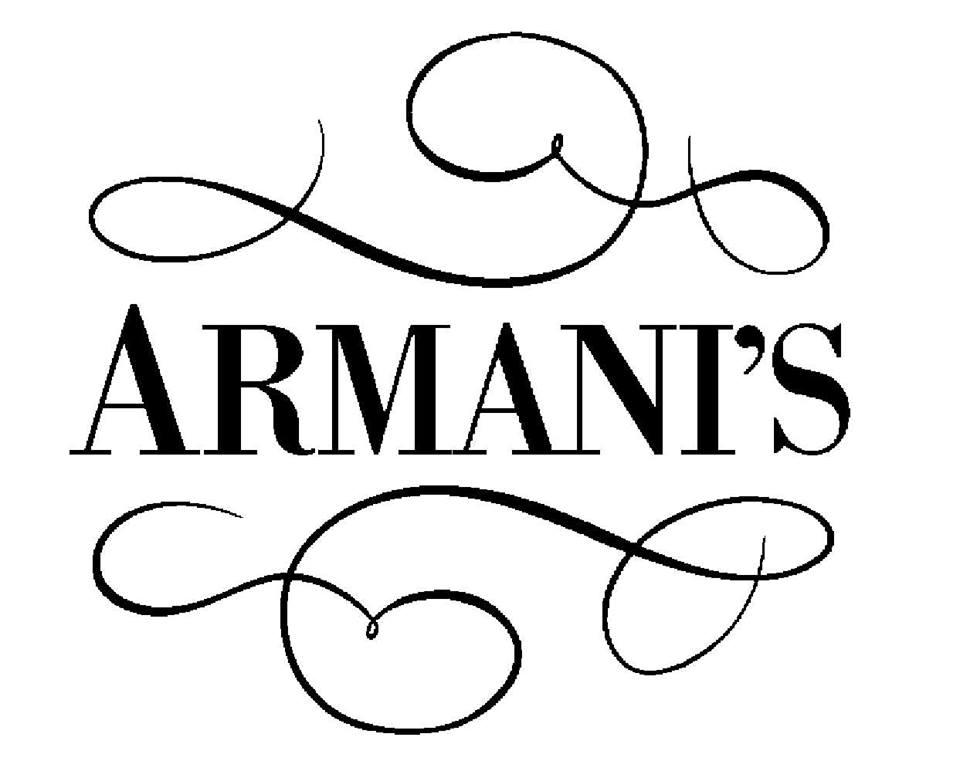 I've lived in Tampa for all of my years, which is feeling like a lot nowadays as I fast approach my 30th birthday, and yet I do take a lot of Tampa for granted. There's traffic (blah!), too many people (so true), and the weather is 97% humid and way too hot (a total bummer). But then sometimes, Tampa surprises me, and I guess that's why I continue to love it.
Because on the top floor of one of the nicest hotels in Tampa Bay, there's no traffic (except the kind you look down on and becomes part of the scenery), fewer people (which makes it a perfect date night setting), and the weather cooperates with a pleasant breeze. Yes, I had to go 14 floors up to get this serenity with my husband, but it was paired with northern Italian cuisine, a sunset, wonderful conversation and service, and an antipasto bar I drooled over.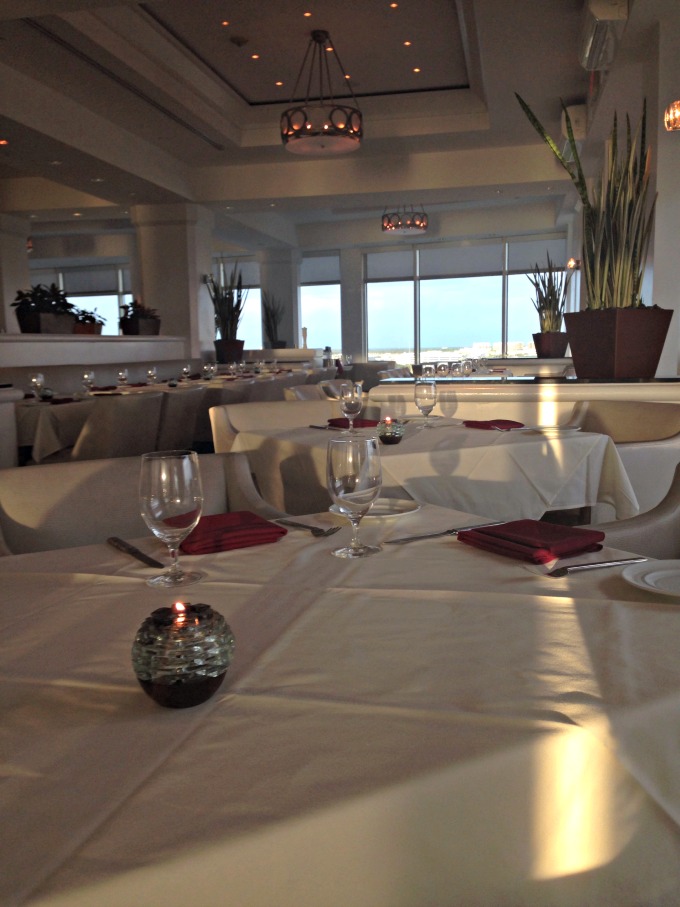 It was our dining experience at Armani's, located in the Grand Hyatt Tampa Bay Hotel (also home to Oystercatchers), that gave us exactly what we needed. Overlooking Old Tampa Bay, Armani's has a classically modern design and atmosphere with northern Italian cuisine that'll make your eyes go wide with just a glance at the menu.
We arrived for dinner and, as you can imagine, it was a niiiice place. But the general feeling wasn't strictly for those looking for an upscale dining experience for their romantic dinner. It's upscale, yes. It's perfect for a romantic dinner, yes.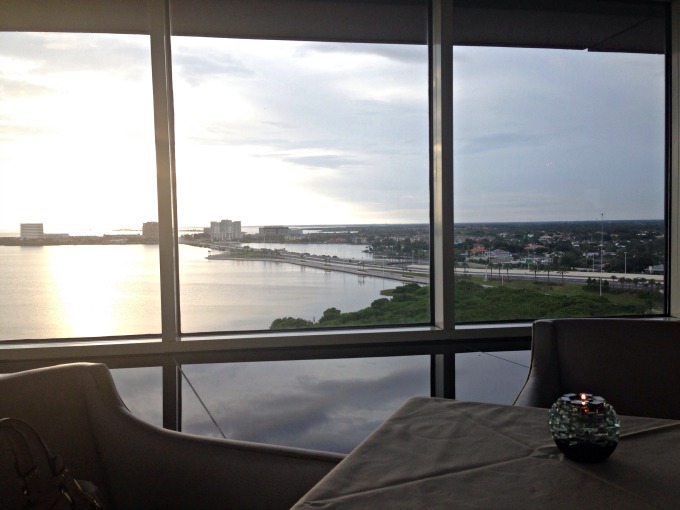 It's also perfect for wine after work, antipasto on the patio, a casual meal with friends or coworkers. My husband and I are already planning our next couple of meals at Armani's. The very next one will be on a more casual night of the week where we'll have items from the antipasto bar and some glasses of wine on the patio. I can't wait!
Well, in sitting down to dinner, the view was incredible. Never having been so high, in such a direct view of the bay, and at this time of day, it was something we hadn't experienced before. We must have talked about the view no less than 5 times, before even ordering.
And it just kept getting better.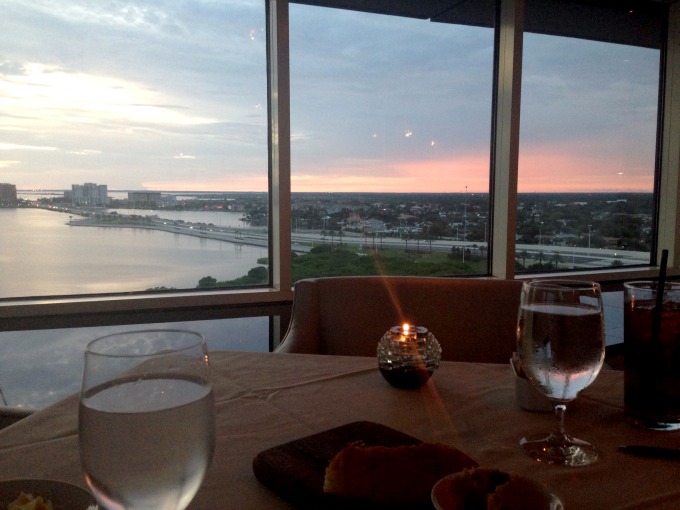 Now, let's get into the food, shall we? You'll want to hear about this. Before being taken to our table, the hostess showed us the antipasto bar ($15-$19) that I've now mentioned a couple of times. It's an impressive one, with over 30 selections, including balsamic glazed meatballs, cured meats, Italian cheeses, salads, and clams. Because I knew I would get almost every items, I decided to skip the antipasto bar (just this time!) and instead we ordered two appetizers and two entrees, followed by a dessert.
Oh, and by the way, Armani's gives out complimentary bread that we couldn't stop eating.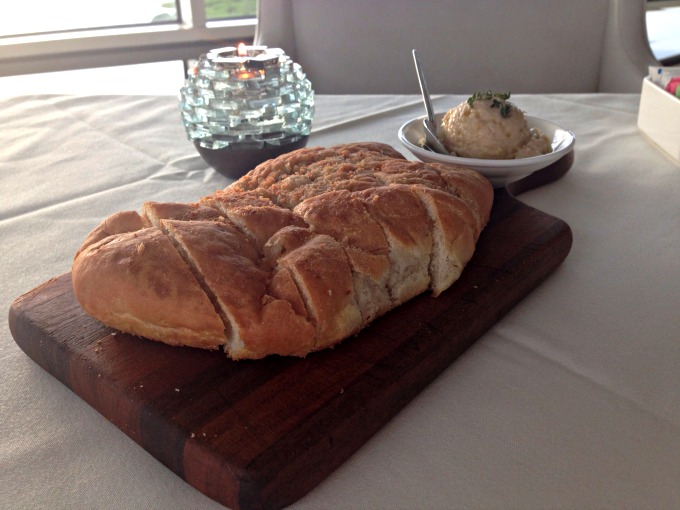 Looking at the menu, it took us longer than usual to decide on what to order. With appetizers like Tagliatelle Bolognese (fresh pasta, ground veal, stewed tomatoes – $14) and Calamari Fritti (crisp calamari with a key lime aioli – $15), we were torn. We finally decided on Cacao Brasato de Maiale Pancia, a pork belly dish that rivals all pork belly dishes that came before it.
Oh hello, arugula. Fancy seeing you here! Anytime arugula appears on the menu, I'm thrilled and chances are, I'll order it. I'm the salad dresser that has a little bit of a heavy hand because I love a great dressing so much, but especially with arugula as the featured lettuce, there's no need. Arugula does the little peppery flavor dance all on its own. And I'm happy to report that this salad was dressed to perfection, which is to say it was dressed very lightly. The date dressing is something so unique, too!
And then the pork belly. Totally impressed with this meat, with none of that unpleasant fattiness I've experienced with other pork belly dishes. This appetizer was scarfed down in record time.
Next up! A gnocchi with way more of a vegetable variety than I expected. Carrots, sun-dried tomatoes, broccolini, different squashes, asparagus. I mean, there were probably even more, doing a little happy dance in a deliciously decadent pesto cream sauce. Everyone's doing a happy dance, myself included! Also, some of Armani's appetizers are available as an entree.
Speaking of entrees…
Sorry for this photo and the next. The sun was set so it was a little darker in the restaurant, but just remember this: I may never eat ossobuco anywhere else again. For as long as I live. Like, ever. You're making a grave mistake if you go a couple of visits without getting this dish. You'll get it and then be like, "Oh yes, Jennifer was right" and then I'll be like "Yes, yes I was".
And then came some more veal. But my favorite part of this plate was the angel hair frittata. It's a unique dish, with the pasta made in house. The veal tenderloin was impeccably cooked. Everything was so juicy and bright, I loved it a lot!
Last but certainly not least, we ordered dessert. We decided to have our Banana Tart Tatine (red wine caramelized bananas, housemade hazelnut gelato – $8) dessert outside on the patio. There was a nice breeze happening and with no one else out there, it gave us some privacy as we enjoyed the view, first on the bay side and then on the city side. We also got a side of the PB&J gelato with bits of cookies in it. Omg, yes. I don't care how full I am, dessert is a necessity very visit.
It must be noted now that the same level of service that we experienced at Armani's is hard to rival elsewhere. This was perhaps my favorite part because at the end of the day, all the wonderful food and views mean nothing if your service experience is a bad one. Khalid was our server, with help from Oscar, and not only did they do everything you'd expect – take our order, fill our drinks, suggest menu items, but they also provided us with great conversation and a memorable experience. We also had the opportunity to chat with the chef and the restaurant manager.
And just like that, our night at Armani's was over. Le sigh…
'Til next time!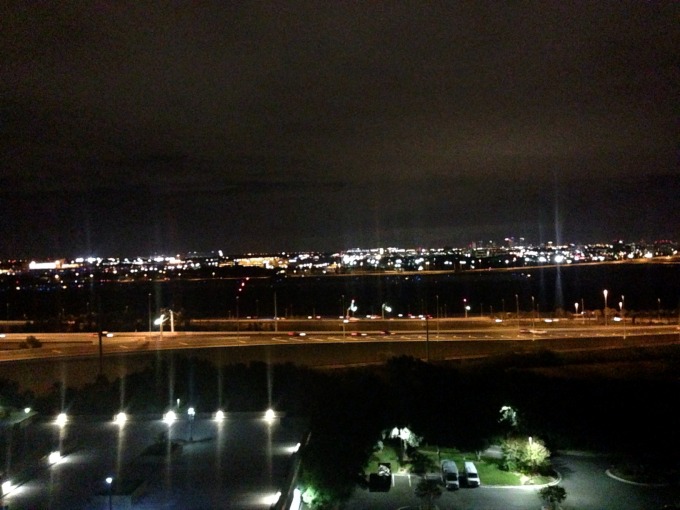 As a side note: Grand Hyatt Tampa Bay recently went through a $20 million transformation, including the hotel rooms and restaurants. With the introduction of 1823 Kitchen & Bar, there is yet another restaurant on property for guests and visitors to enjoy. We walked by on the way to Armani's and it looked like a pretty happening place! Lots of after work gatherings and everyone seemed to be enjoying themselves. Definitely something we'll have to visit on another day.
Leave a Comment