Give Your Conscience Meal a Sear at Wok Chi in Brandon
I love greasy pizza. You know the kind- it tastes like cardboard and reminds you of your elementary school days. I also enjoy fried chicken, french fries, mounds of pasta and a big juicy burger. As my obsession of food grew, I was more interested in learning about the history of food, how it's processed and produced. It's through Michael Pollan's books that I became more conscience of the food I put into my body.
Sure, I indulge sometimes. In fact, I just went on my bachelorette cruise and I'd be remiss if I didn't mention that there was 24-hour pizza and ice cream and I took full and complete advantage. But, the fact still remains that overall, I have made improvements in what I eat.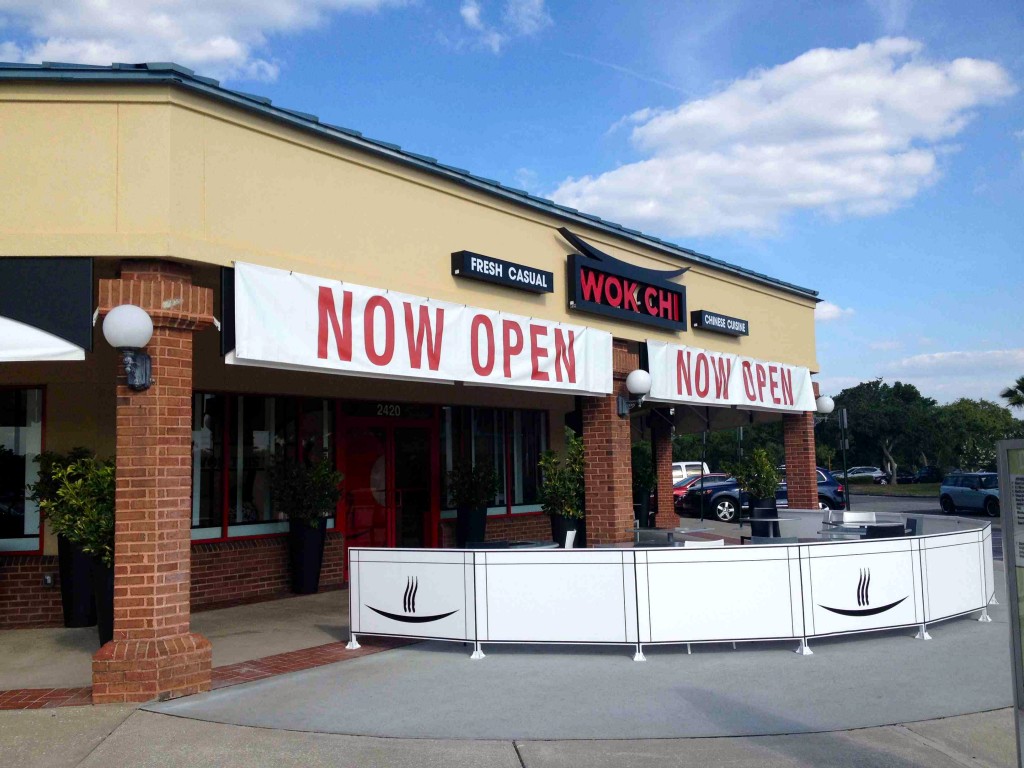 When I received an invitations to Wok Chi, I accepted. After all, you'd be a fool to turn down an invitation to visit a restaurant that Judi Gallagher herself stands behind. I later looked into the restaurant I would be visiting, but I was still surprised and impressed by what we experienced.
The premise of Wok Chi is simple: fresh, nutritious and delicious food combined with conscionable efforts and a great experience. They pride themselves on providing food that is free of preservatives and artificial ingredients. Their dinnerware is made from bamboo, is biodegradable and reusable.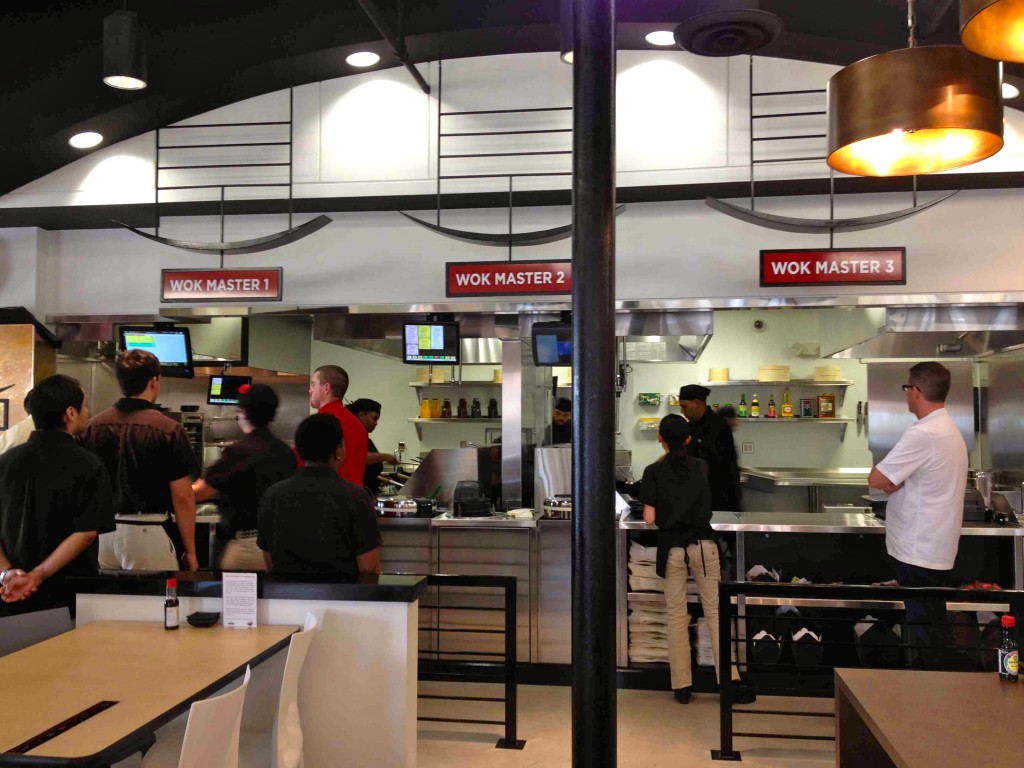 When ordering at Wok Chi, choose a stir-fry, pick an all-natural protein, and opt for a dim sum or soup. If you're feeling like having something sweet, order a Chi Bon dessert! To drink, Wok Chi offers Coke products, beer, organic iced tea and complimentary green tea. Wait for your food by the counter, watching the Wok Masters at work, or pick a seat and wait for your meal.
Four sauces are available to accompany your meal: plum, hoisin, sweet chili and sriracha.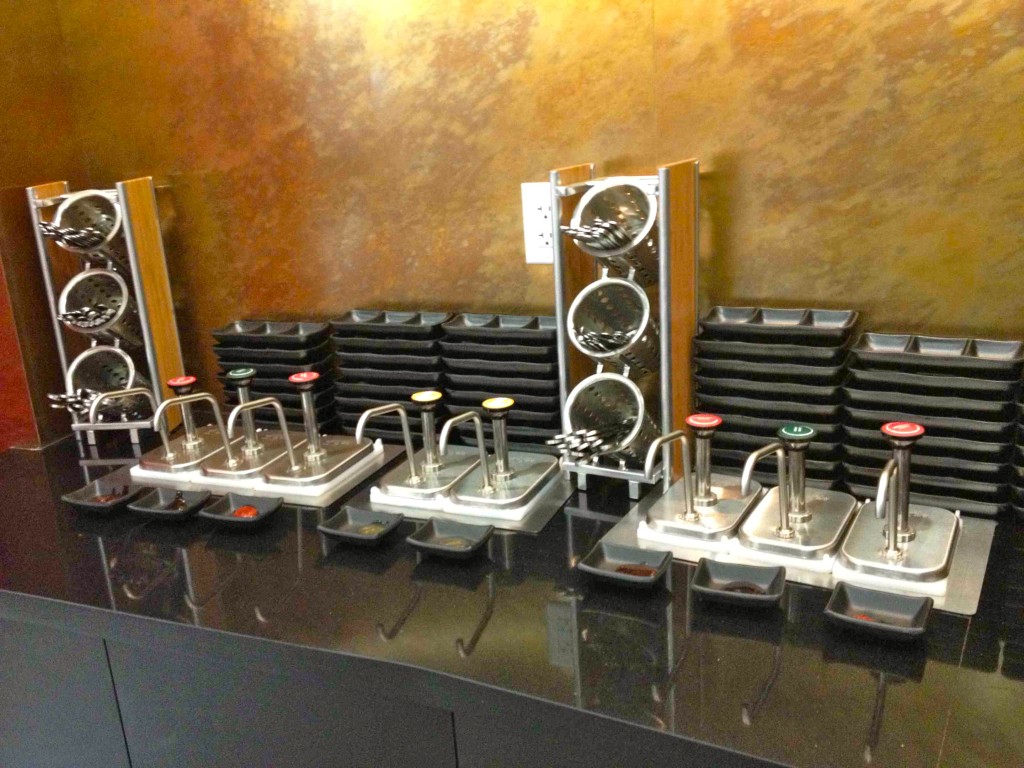 Our time at Wok Chi left me full, pleased and ready for a nice long nap.
Barbeque Pork Bao – Lightly steamed bun, hand-rolled and sealed, and filled with slightly sweet shredded BBQ pork.
Edamame Jiaozi – A vegetarian paradise of bright green soybeans in a steamed, delicate dumpling with a crispy bottom.
Crab Rangoons – Crispy wonton packed with smooth cream cheese, scallions and savory crabmeat.
Wonton Soup – Soothing, warm broth with scallions and plump, silky, pork-filled wontons.
Hot and Sour Soup – Hot and spicy broth with organic firm tofu and scallions.
Zesty Orange – A citrusy-sweet mix of yellow peppers, freshly squeezed Florida orange juice, grated orange zest, onions, snow peas and carrots. Even though I'll drink the occasional glass of OJ, I would normally have shied away from this dish had Judi not insist that we try it. On future trips, I would love to order this option. The orange flavor was there, but mixed with the sauce of the dish, it became more subtle than I was expecting, yet added enormously to the entire flavor profile.
Kung Pao – A hot and spicy blast of chili paste, toasted peanuts, oyster and soy sauces, snap peas, onions, celery and carrots.
General Not-So-Tso's – Slightly spicy Sriracha-based sauce, crunchy celery, onions, snap peas and carrots.
Spicy Szechuan – Szechuan peppercorns, tender onions, carrots, green peppers and snow peas.
Stir-Fried Noodles – Custom-designed, freshly made chow mein or hearty whole wheat noodles, combined with a heap of tender onions, mushrooms, scallions, carrots, celery and Wok Chi's special sauce. I had no idea that these noodles were whole wheat. They were cooked so well, with such flavorful ingredients, that the taste of wheat (something I normally would choose not to have) evaporated.
Crispy PB&J Chi-Bon – Gooey, peanut butter-filled dessert bun, served with jelly dip. Yeah this Chi-Bon was perfection in a round, fluffy…thing. Those of us around the same table were remarking about how different the peanut butter was, in a good way! It was so creamy, but there was something unique about it that made me perk up and pay attention.
There are some other items on the menu that I will be trying on subsequent visits:
Ginger Sesame – Freshly ground ginger, toasted sesame seeds, onions, firm broccoli, and earthy mushrooms.
Sweet and Sour – Freshly cut golden Hawaiian pineapple chunks, a dash of red wine vinegar, onions and bright red peppers.
Wok Chi Fried Rice – Available with jasmine white rice or brown rice, tossed with red and green peppers, scallions, celery and Wok Chi's special sauce.
Chicken/Pork Jiaozi – Steamed golden dumpling with a crispy bottom, stuffed with all-natural chicken/pork, healthy vegetables and fresh spices.
Vegetable Spring Roll – Crispy roll filled with fresh cabbage, ginger, garlic and carrots.
Shrimp Spring Roll – Shrimp, ginger, carrots, fresh cabbage and garlic.
Crispy Custard Chi-Bon – Sweet, creamy dessert bun with warm coconut custard center and crispy shell.
I implore you all to visit Wok Chi. Even those who aren't too close to Brandon will be glad they made the trip for this new spot. I love that Wok Chi cares about the environment and serving their customers. Thank you to the entire staff and Judi and her team for treating our group with such care and attentiveness!

8 Responses to "Give Your Conscience Meal a Sear at Wok Chi in Brandon"

Leave a Comment