The Palm Tampa: Steak, Seafood, and Italian Deliciousness
Have you ever been to a top-notch country club with wrought-iron gates, beautiful palm trees and elaborate architecture that is reminiscent of a style not originating state-side? Me neither, but I've seen such things from the public roads where I'm allowed! Such a place pulls you to it, makes you want to get to know it, makes you scheme about ways to convince people that your jeans aren't some off brand and you have enough money to buy a yacht if you really wanted to.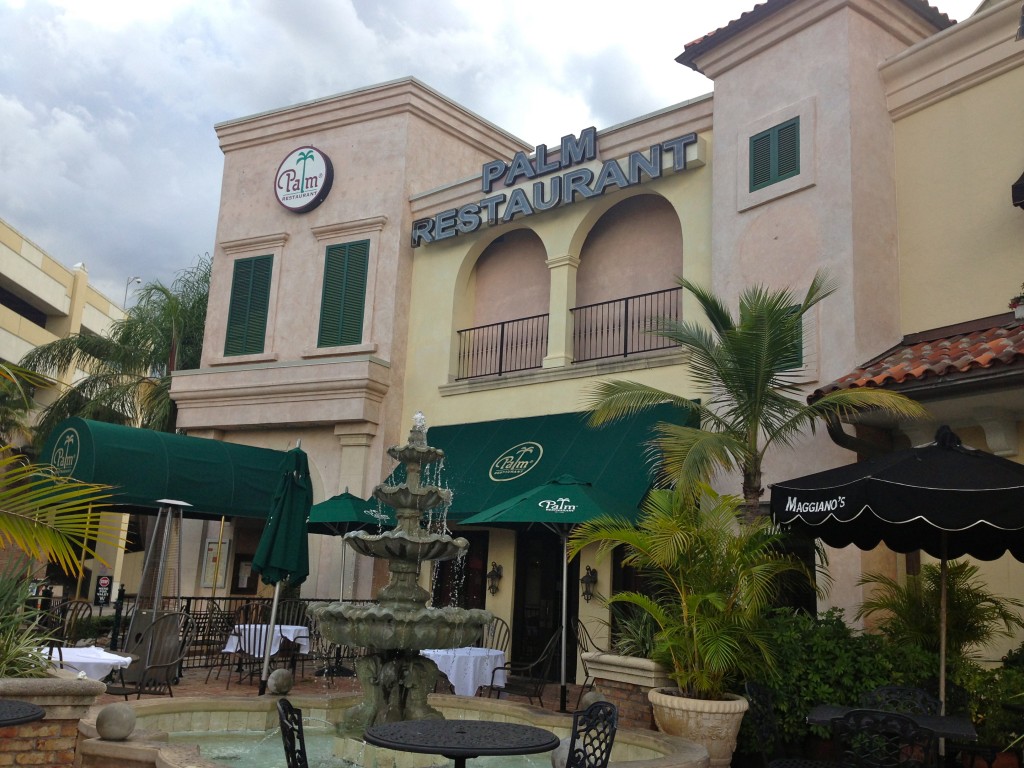 Outside of The Palm in Tampa, I felt this same thing. It was a place I wasn't sure I would feel like I "belong" in because it exuded a sophistication that I lack half the time. Thankfully, I was invited to The Palm for a Dine Tampa Bay Restaurant Week tasting so with a dress from Bealls on or not, I was coming in. (At least I wore heels.)
But, once inside, The Palm doesn't impose any exclusivity or extraordinary airs of class as I thought. Sure, there is dark paneled wood, lowered lights and pressed, matching uniforms for the service staff, but it's welcoming. Sitting in our private room, I enjoyed the company of fellow food lovers and Tampa food bloggers, I delighted in the conversation started by our server, and I reveled in the fact that I was in this restaurant with an interesting history that is still being built on to this day.
Although Dine Tampa Bay's Restaurant Week is officially over until next time, I still encourage you to try The Palm out with or without a deal to dine on.
For the all-important starter salad, we had a couple of different ones brought to our section to try:
Chopped Tomato and Onion Salad: danish blue cheese crumbles and garlic vinaigrette
If I may, I'd like to briefly express my disdain for blue cheese. The pungent taste and smell is so completely off-putting to me, I have a hard time eating any of the "blue" cheeses, including feta. With that being said, "when in Rome", right? I make it a point to try everything put in front of me at a food event that I've been invited to. After all, how can I learn about dishes, describe the taste, and promote it without giving my readers the full scoop? I have to admit that this salad, even with the blue cheese crumbles, made a believer out of me.
I've heard that presented with the right cast of characters, blue cheese will become something very different to the palate. I've always doubted that this were true and had yet to be proven wrong, until now. There was an extremely slight blue cheese taste, but it was totally different. The garlic vinaigrette could have simply been a mask, but what a delicious mask it was. Surprisingly, this salad was one of my favorite dishes that I would eat that night.
Classic Caesar Salad: garlic focaccia croutons and parmigiana reggiano
While there was more of an anchovy taste than I'd like, the salad was good. I would probably opt for one of the other salads over this one because of the anchovy taste, though.
Heirloom Tomato & Strawberry Salad: baby frisee, mache greens and candied walnuts tossed with raspberry vinaigrette and aged balsamic
A pretty good salad as well, this option's highlight were the sweet strawberries and the vinaigrette with aged balsamic. The greens were a little bitter, but with each bite, I liked it more and more.
Lobster Bisque: fresh lobster meat, cream, sherry
Oh my goodness, you guys. Buttery, sweet lobster is one of my top 5 favorite foods. When done right, it's out of this world. The Palm put just the right amount of lobster meat in their bisque and for that, I am thankful. The lobster meat wasn't too scarce, but there wasn't so much that the seafood taste was overwhelming or the soup was more chunky than not. Smooth with those delectable little pieces…sigh…I could have eaten that all day long.
For the second course, bring out the chicken, steak, fish and pork! An impressing array of dishes hit our table and it was a chore just deciding which to dive into first.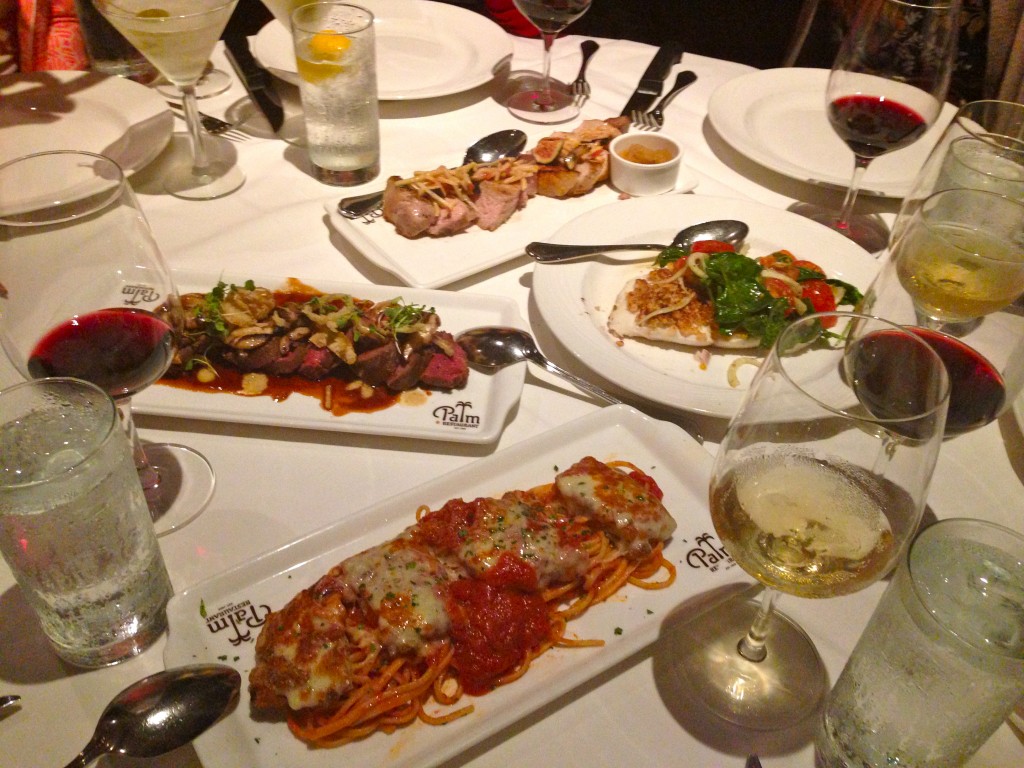 The Palm did a really great job or showing us how the dish would normally come out to their guests and then providing each table with a dish that was cut and sectioned for sharing. We passed everything around the table, family-style, while engaging in funny and interesting conversation. Instagram photos were shared, tweets were exchanged, and I even got some dining recommendations for my upcoming trip to Washington, DC.
Chicken Parmigiana: "A Palm Classic" with linguine marinara
As a person of Italian descent, and loving Italian food by nature, I've had a mean chicken parmigiana and I can make a mean chicken parmigiana. I'm hyper critical of basic Italian dishes, without meaning to be. Unfortunately, I think this dish fell a little short. Being a more upscale restaurant than your local Olive Garden, this particular dish just didn't impress. I went back for seconds just because I love linguine marinara, but I wouldn't personally order this dish on my next visit.
Filet Mignon – 9 oz.: roasted garlic and bone marrow aioli, wild mushroom demi and crispy fried leeks
This filet mignon, cooked medium to perfection, was juicy and delicious. I loved the addition of fried leeks! I've been hesitant and generally stay away from beef that is not well done (which is a shame, I know). My well done beef decision has brought so much confusion from family and friends that I've ventured out slowly and have started to eat meat that is cooked at medium-well or medium. So far, all is good, and I was very impressed with how much I loved my piece of steak at The Palm.
Double Cut Bone-In Pork Rib Chop: fuji apple fig slaw and housemade cinnamon applesauce
Figs! I'm such a lover of figs, whether they are in a salad or in this case, on top of a pork chop and paired with a cinnamon applesauce. Any dish I'm served is made exponentially better by the addition of fig. I was so happy by this topping that I almost forgot that I was actually eating a luscious pork rib chop. I do love applesauce with pork, but this particular cut was so fantastic, the applesauce wasn't even necessary.
Macadamia Nut Crusted Wild Alaskan Halibut Fillet: baby spinach, shaved fennel and cherry tomatoes tossed in a smoked red onion-mint vinaigrette
Again, a dish I would recommend ordering. I believe this was the favorite dish at the table for many of my dining companions. The fish was tender and flaky, the crust was crunchy and the greens and veggies on top with the vinaigrette soaked into the fish. Very pleasant.
Along with the entrees, we were served creamed spinach and three cheese potatoes au gratin. Thank you, The Palm! These sides were great! And, if this all wasn't enough, our desserts arrived and my tummy exclaimed, "Feed me!" for all to hear. I'm usually not a dessert person, but the three desserts placed in front of us are three of my favorites: tiramisu, cheesecake, and key lime pie.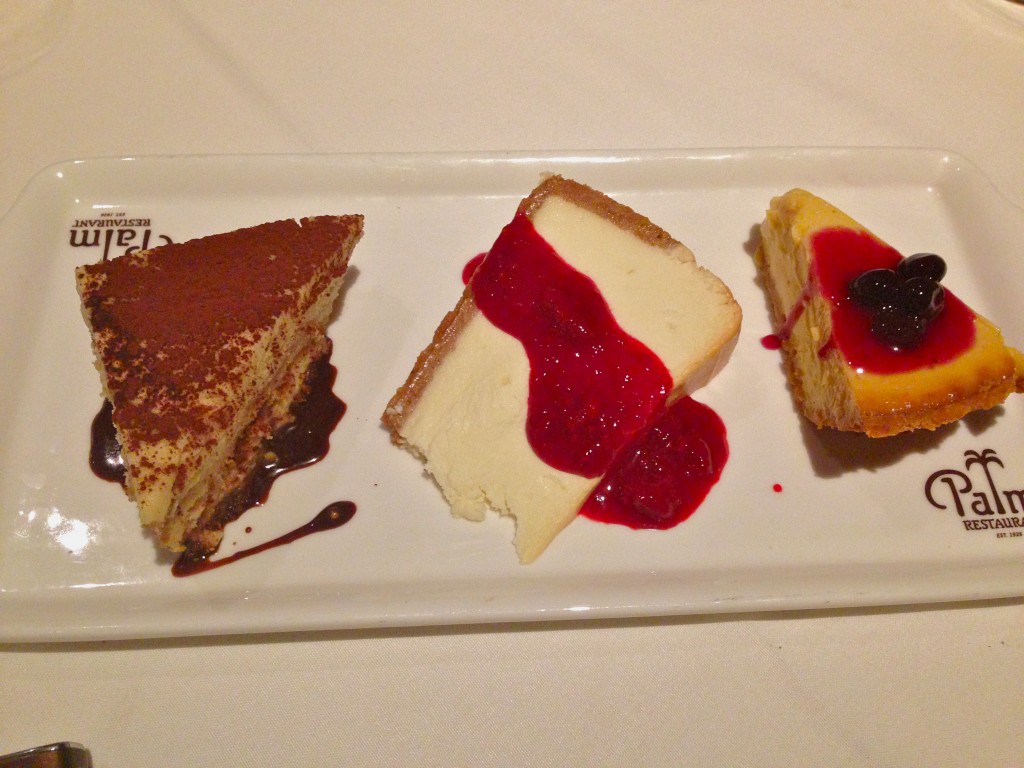 The Tiramisu was made with rum-soaked ladyfingers and mascarpone creme, the New York Cheesecake came with a raspberry sauce, and the Key Lime Pie was topped with a blueberry compote. The Key Lime Pie, made fresh every day, was tart and rivaled the Key Lime Pie I had when visiting Key West. Delicious!
Aside from the food, The Palm was just a great place to be. I recommend visiting for a date night, or happy hour at the bar with a friend. The Palm has a story behind the caricatures you'll find painted onto the walls (read the story here), as well as the 837 Club, which I may very well join. We're talking dining points that can be redeemed for jewelry, hotel stays, and more.
My obligatory thanks goes out to Dine Tampa Bay for being the ever gracious event organizers and to The Palm Tampa for being perfect hosts to all of us in attendance. 🙂
Leave a Comment