You guys you guys you guys.
Do you know of Kelsey Nixon? Well, if you don't, shame on you. She is the host of the Cooking Channel series, Kelsey's Essentials, and she has a cookbook and she was one of the finalists in season 4 of Food Network Star, and she is basically the cutest thing on the planet. (Besides Bits dog, obviously.)
I had the pleasure of meeting Kelsey during an #HSNCooks event along with Chefs Curtis Stone, Donatella Arpaia, Ming Tsai, Lorena Garcia, Scott Conant, and Jessica Seinfeld.
Side note: I wish my candy bars turned out as pretty as Kelsey's, but it just wasn't in the cards for me. Fortunately, they were still so tasty!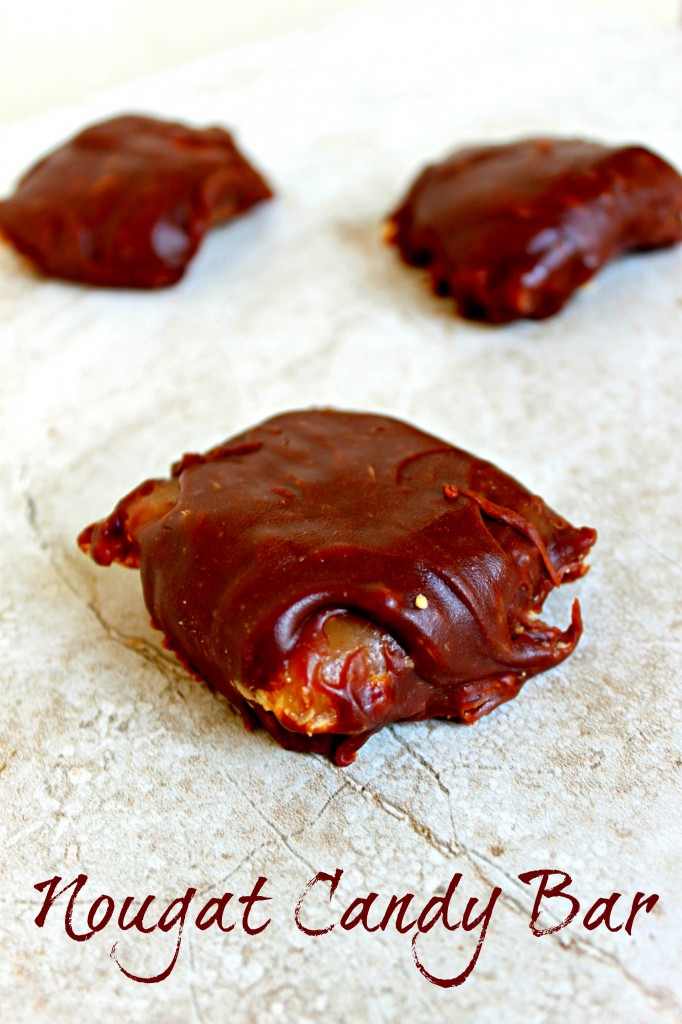 This National Chocolate Caramel Day is dedicated to Kelsey Nixon, without whom this post wouldn't be possible because not only did I use her Crunchy Peanut Caramel Nougat Candy Bar recipe (with just a slight adaptation), but I was seriously lacking the brain power to create any new recipes at the time and she was my saving grace.
And because Kelsey can develop a much better video than I can, and if you are anything like me, you like watching recipes in action more than anything else, check out Kelsey's video.

National Chocolate Caramel Day | Nougat Candy Bar
Author:
The Foodie Patootie
Ingredients
Nougat
⅓ cup chunky peanut butter
½ tsp vanilla extract
1 (7.5 ounce) jar marshmallow cream/fluff
1 cup granulated sugar
¼ cup heavy cream
½ stick unsalted butter
Caramel Filling
1 cup granulated sugar
¾ cup heavy cream
½ cup light corn syrup
½ stick unsalted butter, cut into pieces
½ cups coarsely chopped roasted salted peanuts
Chocolate
2 pounds milk chocolate, coarsely chopped
1 tsp vanilla extract
Instructions
Spray a 13x9 inch baking dish with nonstick spray and line with parchment paper, leaving 2 inches of overhang on each side.
Nougat
Combine the peanut butter, vanilla, and marshmallow cream in a large mixing bowl and set aside. In a small heavy-bottomed saucepan over medium-high heat, combine the sugar, cream, and butter, stirring until the sugar dissolves. Using a candy thermometer, continue watching the mixture until it starts to turn a light amber color and the temperature reaches 250*F, about 4-5 minutes.
Remove from the heat and add the marshmallow mixture to the pan. Mix together to completely combine, but don't overwork. The mixture should be light and fluffy.
Turn out the nougat into the prepared pan and spread evenly. Place in the refrigerator to cool and start your next layer, the caramel.
Caramel Filling
In a heavy-bottomed saucepan over medium heat, add the sugar, cream, and corn syrup. Carefully stir to combine until the sugar dissolves and bring the mixture to a boil.
Stop stirring and boil until the mixture begins to turn an amber color and reaches 250*F, about 8-10 minutes. Remove from the heat and stir in the butter, carefully, as it will foam up. Keep stirring until it's all dissolved, and then stir in the peanuts.
Pour the caramel over the nougat and spread evenly. Place in the refrigerator until the caramel is completely cool, about 15 minutes.
Next
Transfer the candy to a cutting board. Cut using a sharp knife that has been sprayed with nonstick spray.
Chocolate
Melt the chocolate and vanilla in a heatproof bowl set over a pan of simmering water. Stir occasionally until the chocolate has melted and is smooth, 8-10 minutes. Dip each candy piece and completely cover with chocolate on all sides.
Place on a wire cooling rack. Once all bars are dipped, transfer to a parchment-lined baking sheet and allow the chocolate to set in the fridge for at least 20 minutes.
 Tomorrow: National Bock Beer Day; National Ravioli Day