Presented by Savor Seattle: A Pike Place Market Food Tour
Before this trip, my assumption about Seattle was that it is in a perpetual state of gray skies and downpours with a complete lack of community as residents and visitors alike shuffle from one place to the other without so much as glancing out from under their umbrellas. I was still excited to visit and also, I ended up being wrong. During my time in Seattle for the International Food Blogger Conference (but really, I was there mostly for lots of local eats) this past weekend, I mostly experienced clear, blue skies, breezy winds, sunshine and friendly, smiling faces all around the city.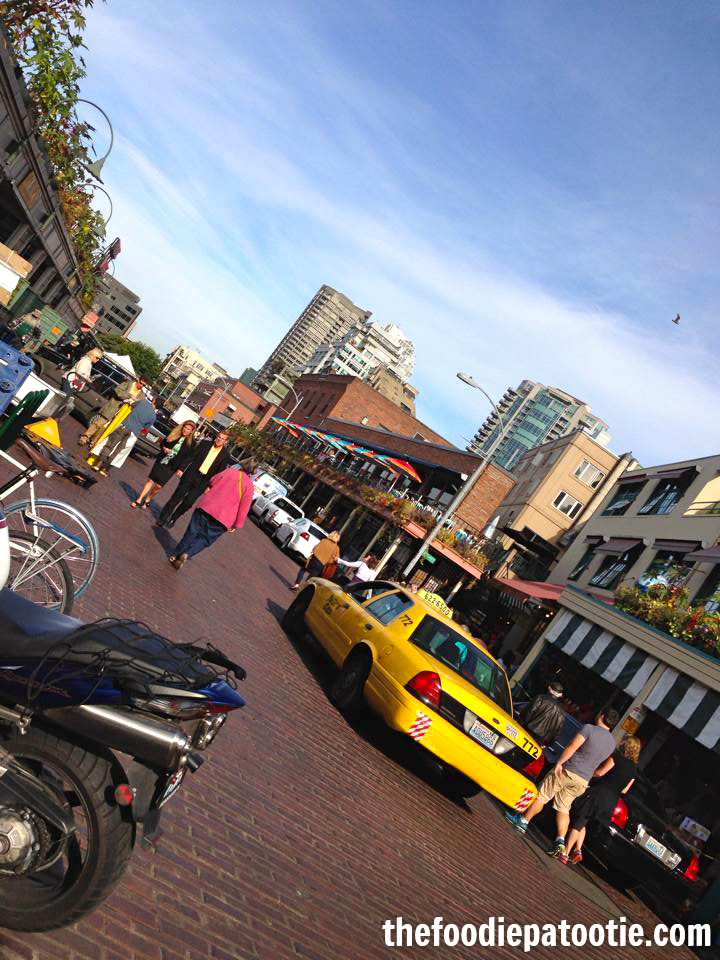 I came to find out from residents that the summer and early fall months are the best times to visit and that in the winter the weather is a little more gloomy. I just couldn't imagine anything, whether it be rain or what-have-you, ruining the beauty of Seattle. If I had my husband and best friends with me, we might not have left.
Before the conference's first session started on Friday, I went on a Pike Place Market food tour along with the other seven Tampa food bloggers I traveled with. It turned out to be my most memorable and fun experience of the trip.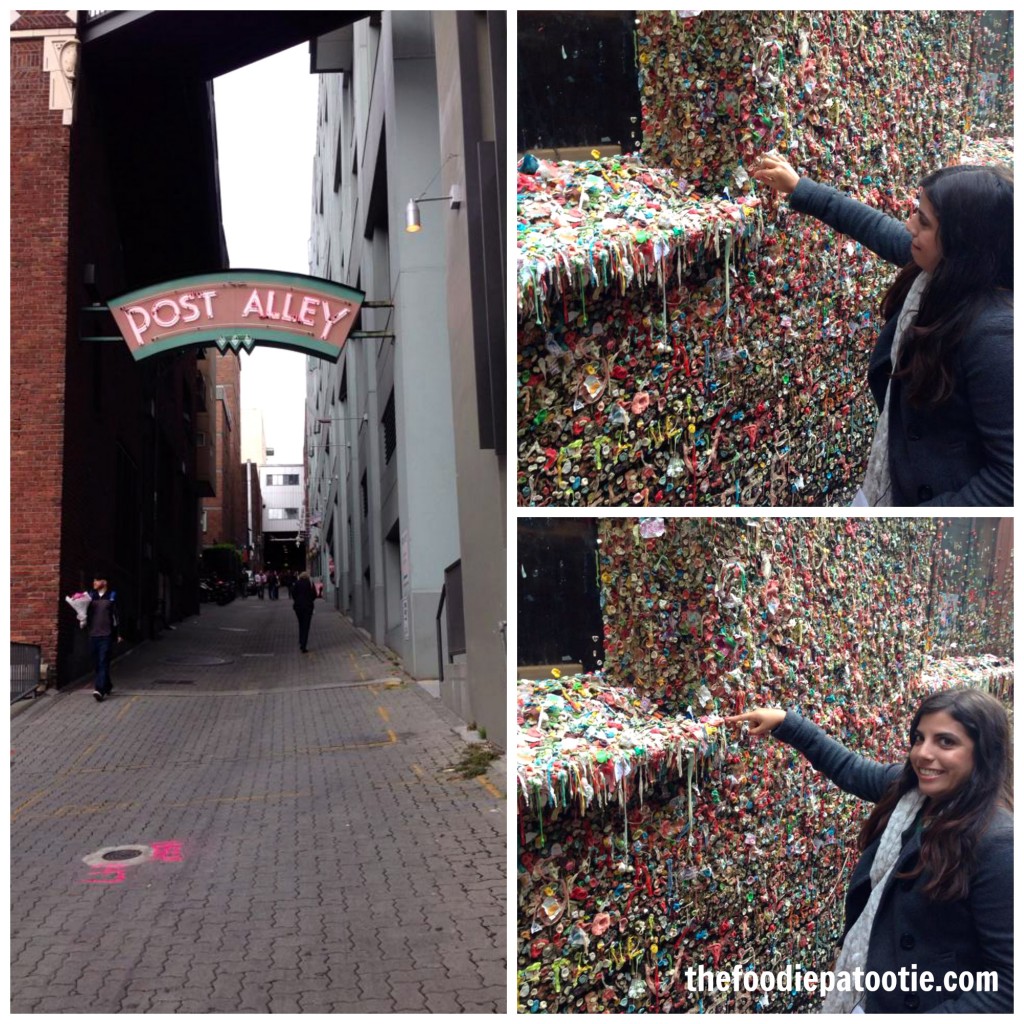 Presented by Savor Seattle, our tour began in Post Alley, home of the Gum Wall and Market Theater, where my first experience of Seattle would forever be marked by what I can only guess to be a trillion pieces of gum (mine becoming number one trillion and one). Post Alley also gave me my first of many experiences in Seattle of walking up a steep hill. (And this, folks, is how I ate shamelessly and didn't gain a pound.)
After getting situated with an audio set to listen to our tour guide Rich through, we were given a map and trudged up the hill to Pike Place Market.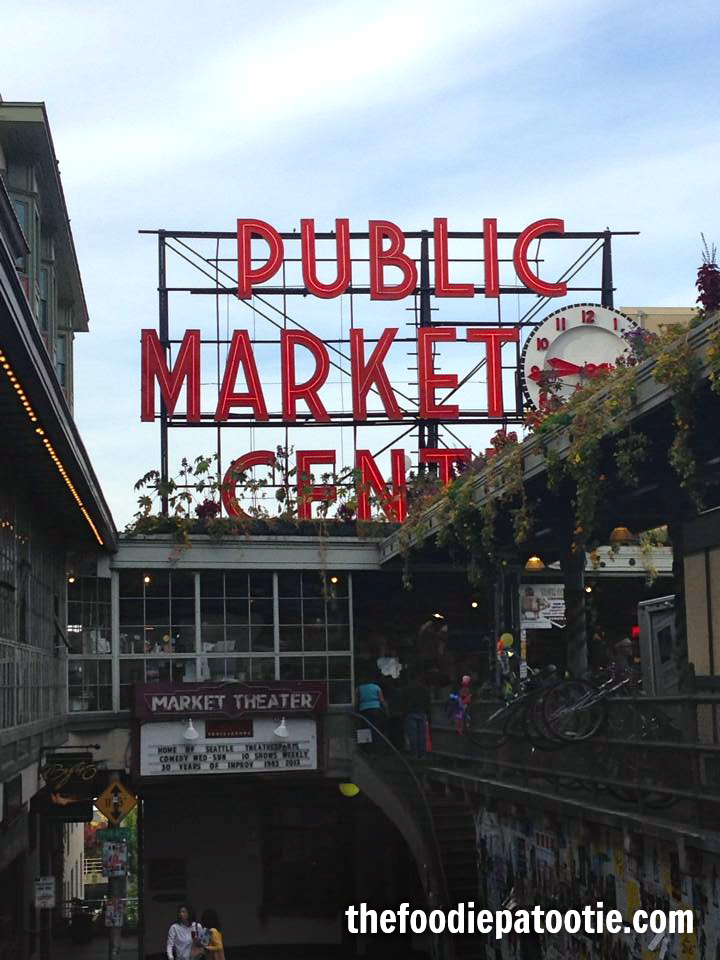 The 7th season of MTV's The Real World took place in Seattle. As a former The Real World junkie, I remember them going to Pike Place Market. It was my first view of such a place, but at the time, not being particularly interested in food as I am now, I was more into figuring out how to be cool like the "adults" on TV (I was 14 at the time).
Nonetheless, I remembered that, and combined with my knowledge of places like this, I felt like I was in a dream world as I stood taking in the sights and smells.
Our first stop with Savor Seattle was at Daily Dozen Doughnuts Co. We learned about the tiles that make up the floor of this part of the market, which was a pretty neat story.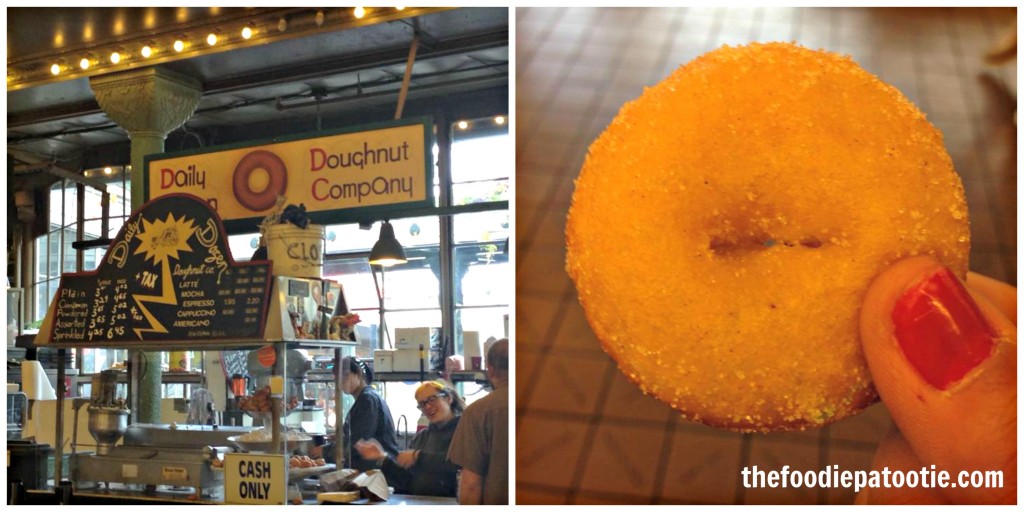 The donuts we sampled were small so naturally, I ate three of them. Eating out of a paper bag that didn't show the dark spots of grease is, admittedly, pretty new to me. These donuts were perfectly cooked, seasoned, and basically like little nuggets of gold in my mouth.
Next up was a shop that I will be frequenting online for all of my kitchen and tea spice needs delivered to my door, MarketSpice. In fact, MarketSpice has a discount going through September 30th for 40% off all orders over $40!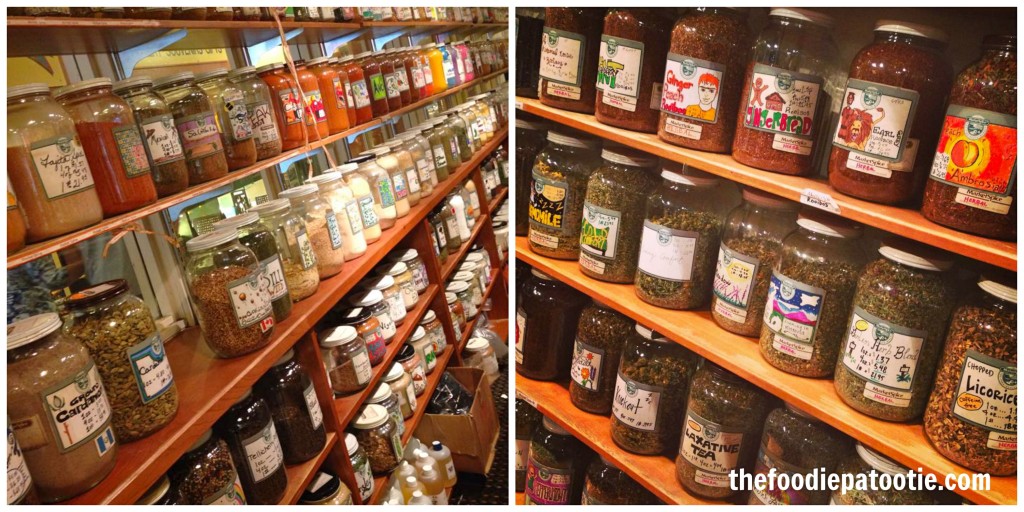 With 100 years of history and over 200 bulk teas, plus many more spice flavors, MarketSpice left me completely in awe from the moment I walked in. We smelled wonderful chai spices, lavender, and others, and were able to try one of their top teas, although I've forgotten the name.
The third stop on our tour happened to be Pike Place Fish Market, a stop that I think the majority of our group was the most excited for, including myself. I'm not a big fish eater (I'm still trying to get into it), but this place is world famous and they sling fish!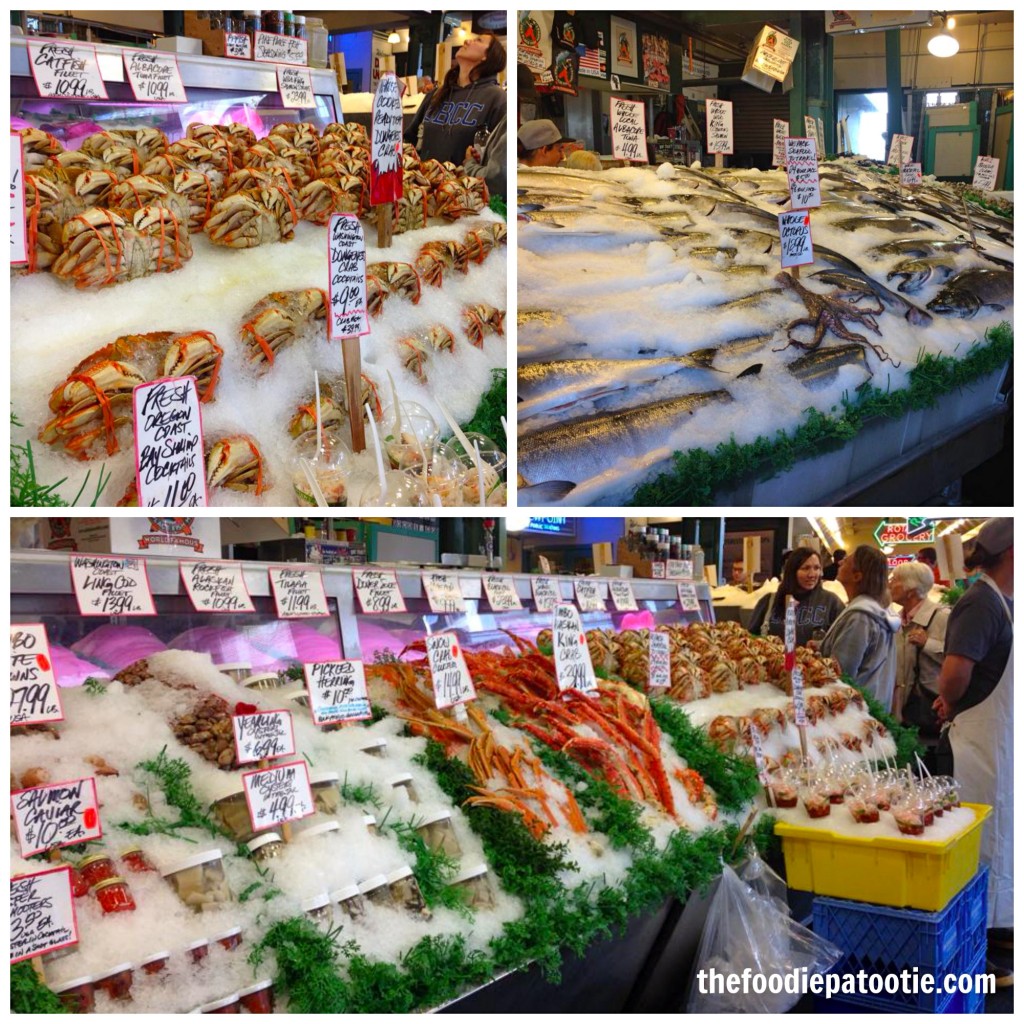 Such a plethora of any fish you can imagine and everything so obviously cared for to bring their customers the highest quality. Being on the Savor Seattle tour, we were able to try four different smoked salmons, including salmon candy and salmon jerky, these last two being my favorites.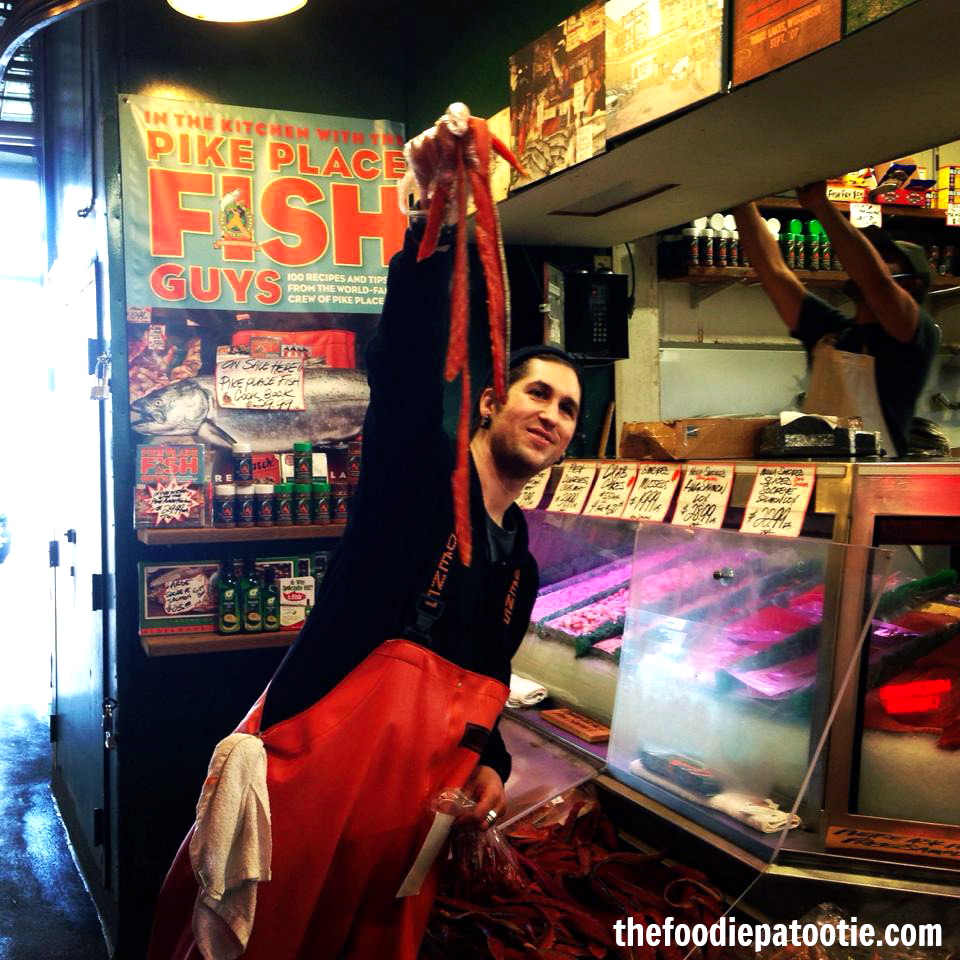 After the tasting, we were able to learn more about the fish market, scope out the goods and Megan even caught a fish! The fish market was a fun pit stop on our food tour, with a lot of camaraderie between the workers. They were so happy to have us there and I was happy to be there!
After fish, I really could have gone for something sweet, like ice cream, but Rich had the better plan to introduce us to Frank's Quality Produce. While we waited, Rich went across the street and grabbed a container of the juiciest, most flavorful honey crisp apples and peaches I've ever experienced.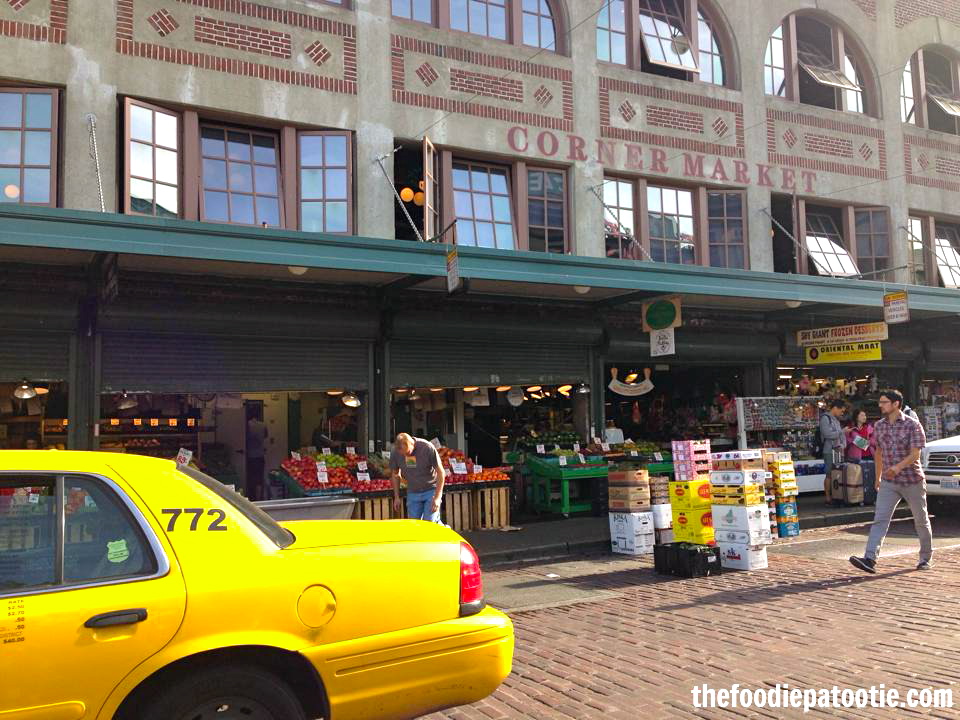 I always buy apples and peaches, but I have never experienced such flavor as these and I doubt I ever will. If ever I find myself in Seattle again, I will stop by Frank's for more. It seems a silly thing to crave after fruit from one particular place, but as refreshing as it was, I became instantly obsessed.
Keeping the sweetness going, we stopped by Chukar Cherries.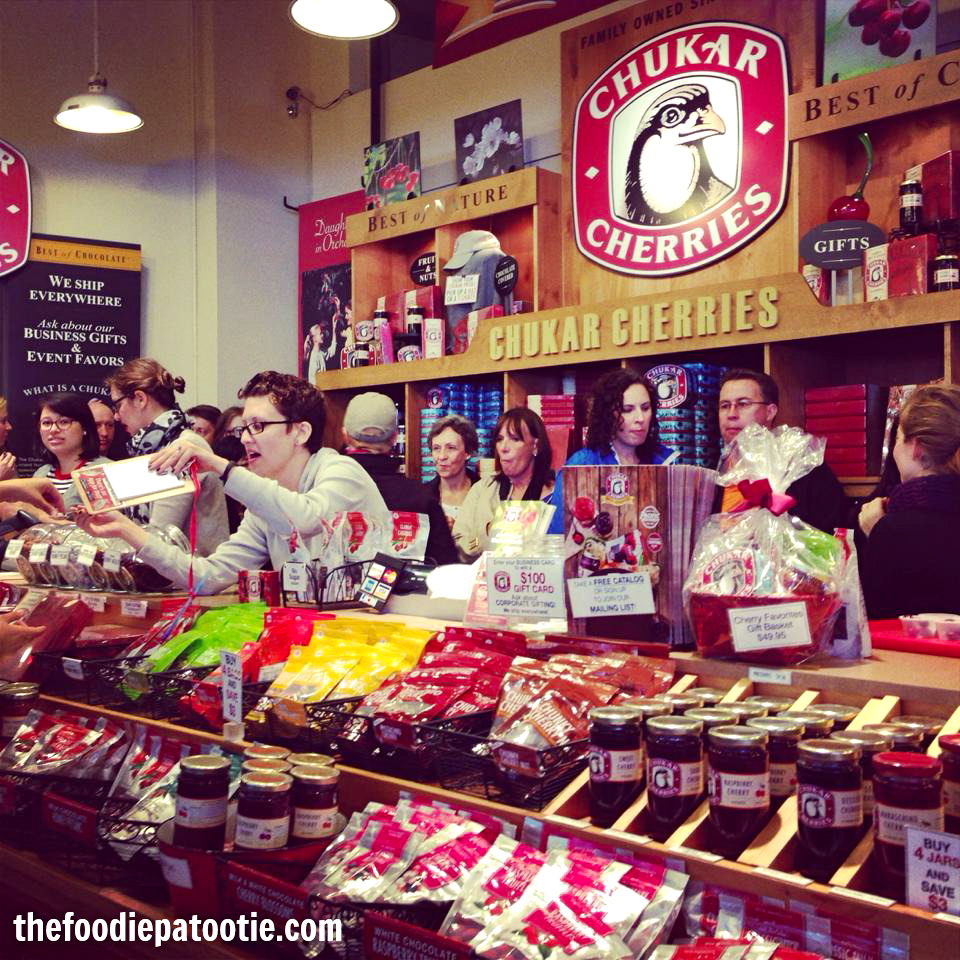 Chukar Cherries is another company that will get my online business because of the experience we had at this stop. We were able to try a number of their products and I loved every one, my favorite being the Honey Pecans. As a bonus, I was given a free box of chocolate cherries to take home.
The fun wasn't even close to being over, even though I could feel the 'itis creeping up on me. The next visit took place at Beecher's Handmade Cheese, a shop that produces the "world's best" mac and cheese and the most wonderful grilled cheese sandwich besides my husband. 😉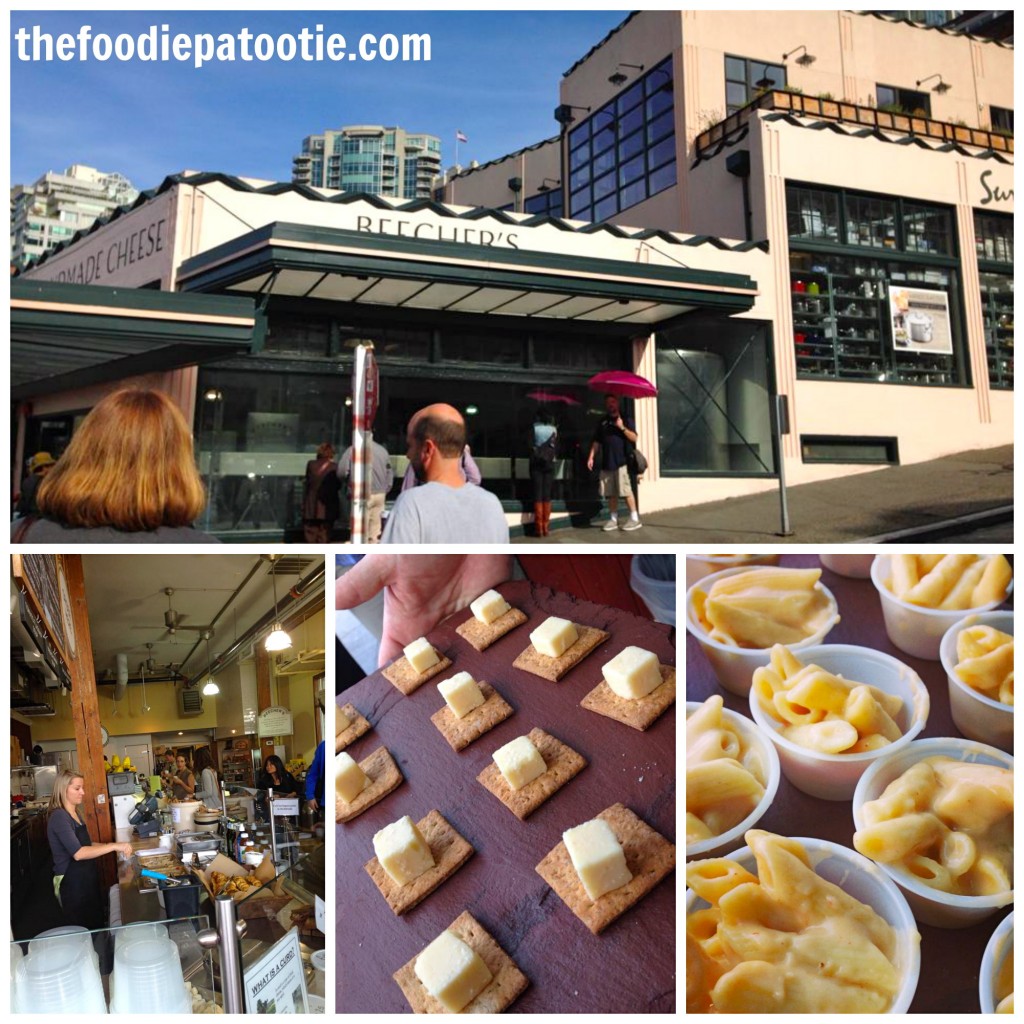 At Beecher's we feasted on Gruyere with crackers and their featured macaroni and cheese. I would come back to Beecher's twice during my time in Seattle and one of those times I took home their handmade mac and cheese kit so I could have a little Beecher's in Florida. Turned out to be the best purchase of the trip!
The macaroni and cheese is made with Flagship and Jack cheeses with some spices. It literally is the best mac and cheese I've ever had. In an upcoming post I'll write about another item that I tried at Beecher's that'll make your mouth water. Stay tuned.
With the inability to stay in Beecher's forever and ever, I followed my group over to Pike Place Chowder to try their Clam Chowder and Seafood Bisque.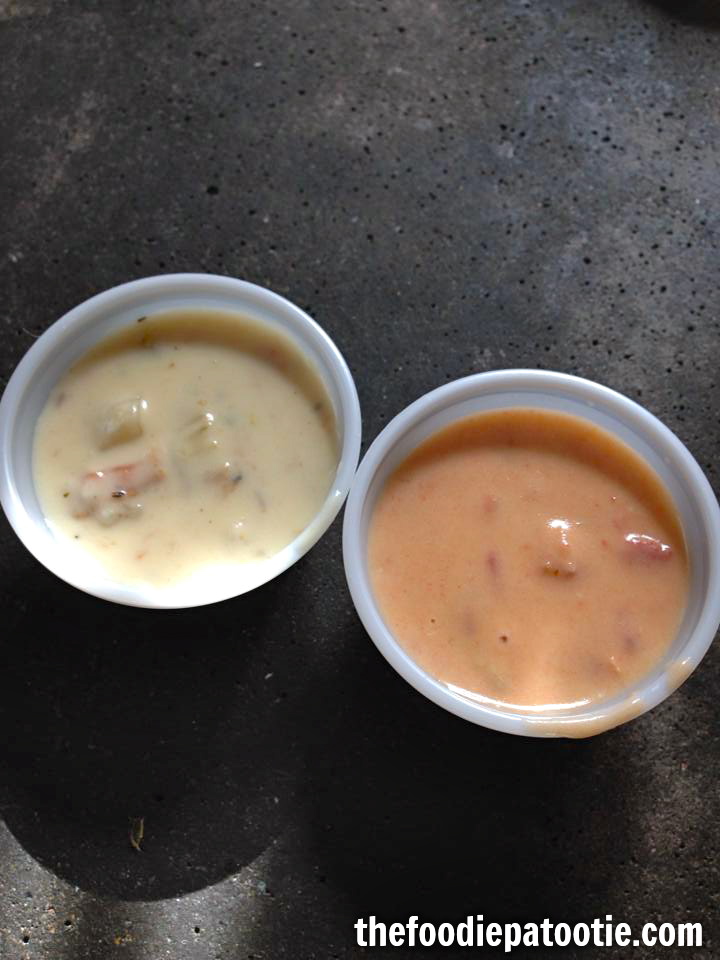 Both were so flavorful with chunks of seafood in them, but I did prefer the Clam Chowder sample. Pike Place Chowder is a pretty popular place and everyone should take note of the fact that their chowder was inducted into the Great Chowder Cook-Off Hall of Fame. Don't miss out on them during your visit to Seattle.
Piroshky Piroshky Bakery was our second to last stop on the food tour and where my first memorable foray into Russian food took place.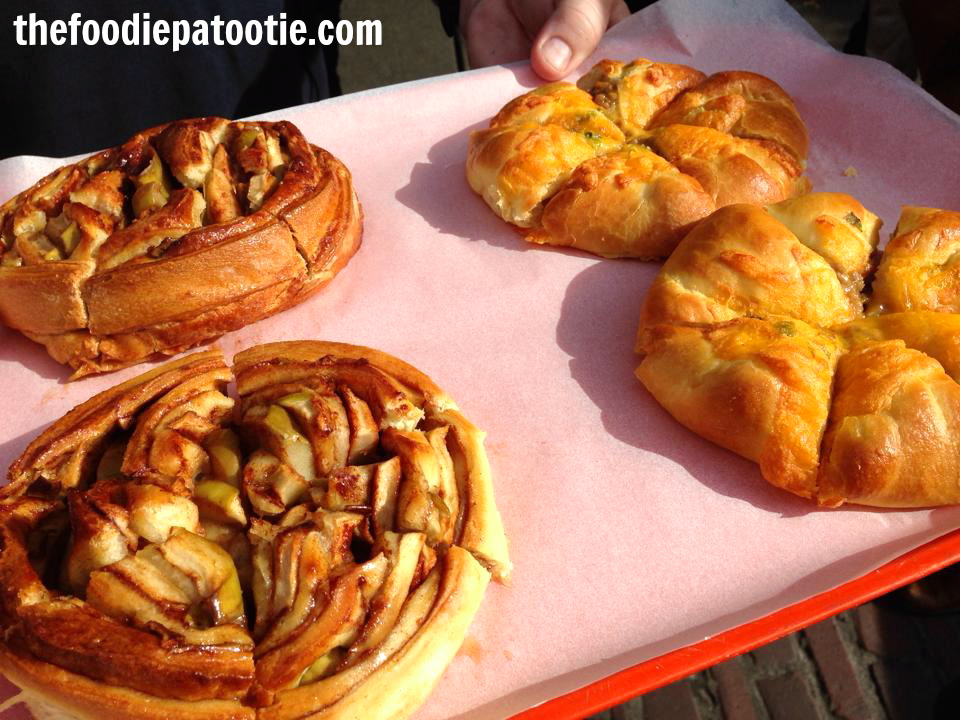 A piroshky is a handheld pie, or "pie full of goodness", that comes in a variety of flavors with so many different fillings. We were treated to the Apple Cinnamon and the Beef and Cheese. Because I almost always prefer savory food items, I was obsessed with the Beef and Cheese made with seasoned ground beef and Colombia Valley sharp cheddar. Both of these are top sellers for their category.
Last but certainly not least we visited Etta's, a top restaurant by chef and restaurateur, Tom Douglas.
Etta's, with this perfect crab cake and even more perfect homemade tartar sauce, will be in my mind for a very long time. It was so delicate, perfectly fried, and the tartar sauce was lemony and I could not have had a better accompaniment for the crab cake.
How much awesome was in this post? It's all thanks to Savor Seattle Food Tours, a company that made it so that I fell in love with Seattle and Pike Place, a company that made me laugh with their humor and taught me things with their historical tidbits.
I cannot recommend taking this tour more. Really, the descriptive words to explain how awesome this food tour was are completely lost on me. Just do it and you can thank me later. Request Rich.
10 Responses to "Presented by Savor Seattle: A Pike Place Market Food Tour"

Trackbacks/Pingbacks

Leave a Comment