Oystercatchers: A Brunch Buffet with a View
This past Sunday marked the first time I've been out to eat with blogger friends in quite a while. With a wedding coming up (more on this later), a diet in place, and Spring menus disappearing, I've been away from the food scene for longer than I would have liked.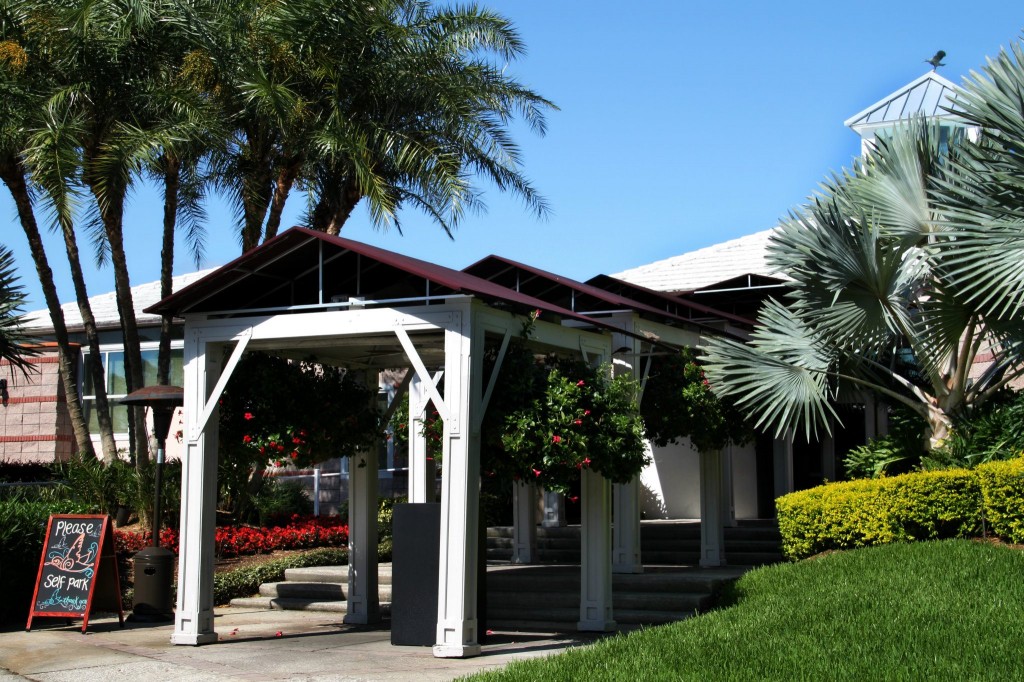 (via)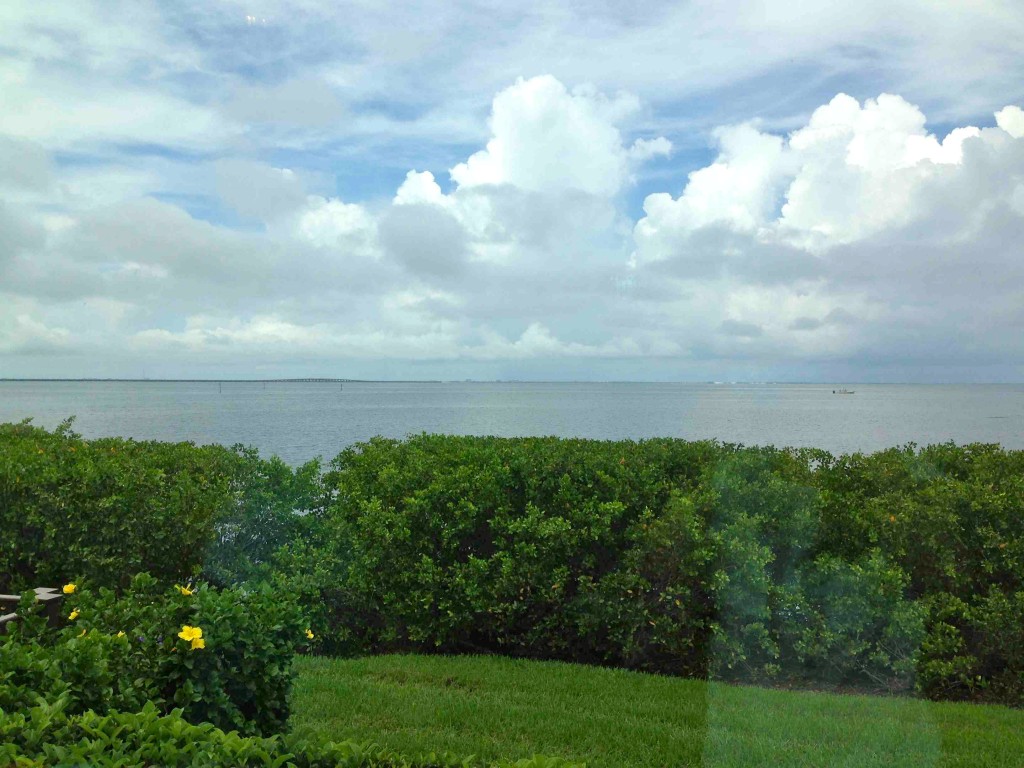 When I received word that the next Tampa Bay Blogger Brunch Tour stop would be Oystercatchers, a restaurant after my own heart with its large number of food stations and an entire room made just for dessert, I was out of my blogging slump, just like that.
On a previous trip to Oystercatchers I was mostly impressed by the service and attentiveness of the staff. This trip was no different and as soon as 11am hit (a law in the state of Florida), we were treated to sparkling wine and OJ. From there, we were never without a drink. In fact, we were never at a point where one gulp would have finished the glass off. With glass always full, I never thirsted for mimosa.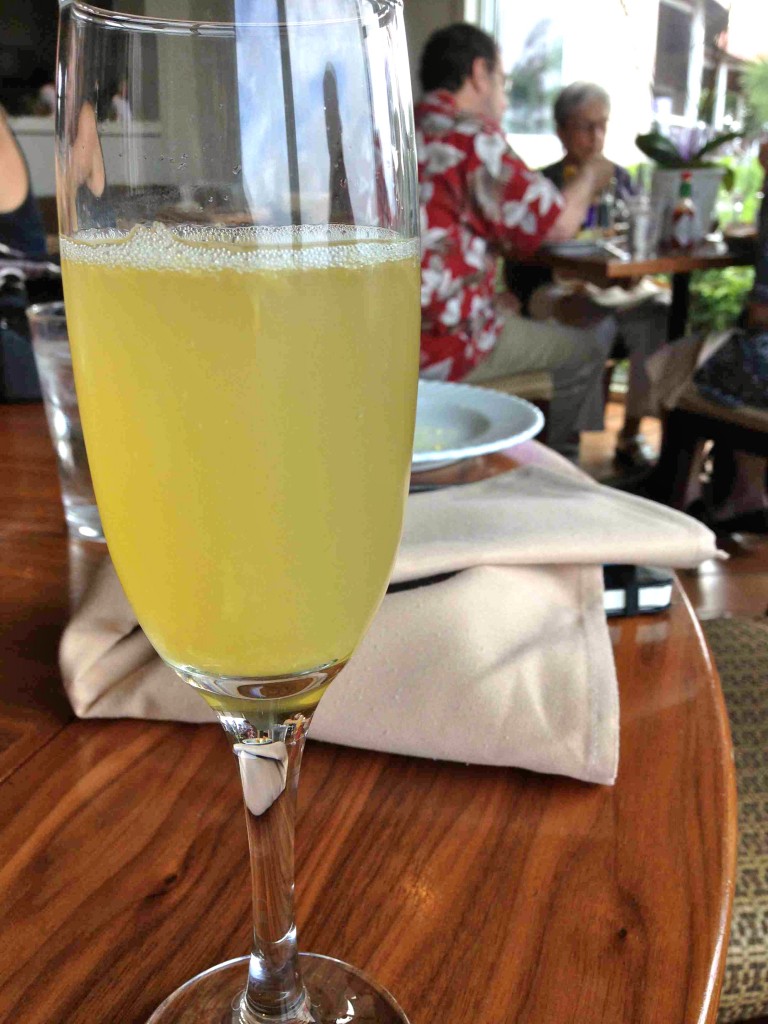 The drink options at Oystercatchers are varied, with more than just the standard mimosa and Bloody Mary options. In fact, they also have a dispenser of their sweet, full-bodied red sangria available, included in the price of the buffet as well.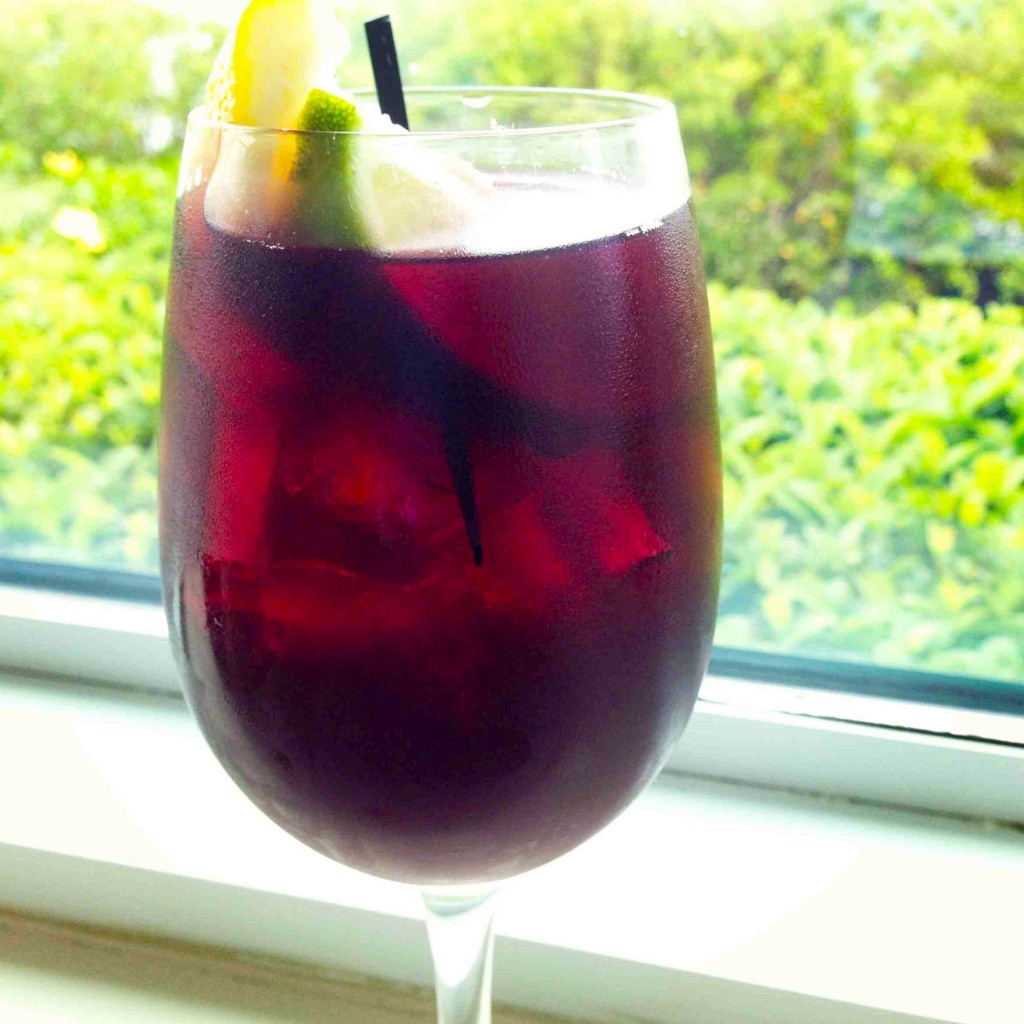 I will say that I'm not a Bloody Mary drinker, but one can't help but appreciate the beauty of a perfectly crafted Mary. It may be all aesthetics to me, but I just love seeing the end result, using the bacon and other garnishes that are available for the drink.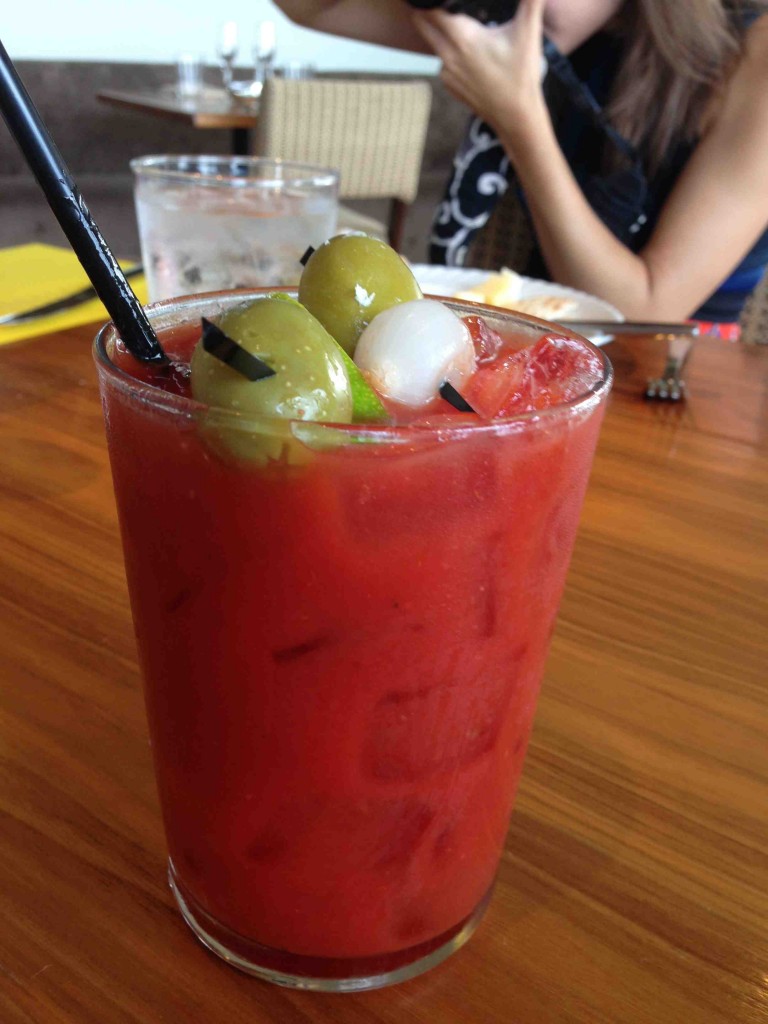 Oystercatchers does an exceptional job of providing everything one would need for their crafted Bloody Mary drink, from shrimp and bacon to celery, olives and the like. There is also an option to dip the rim of your glass into different flavors. Bloody Mary options included traditional, clammato and extra spicy.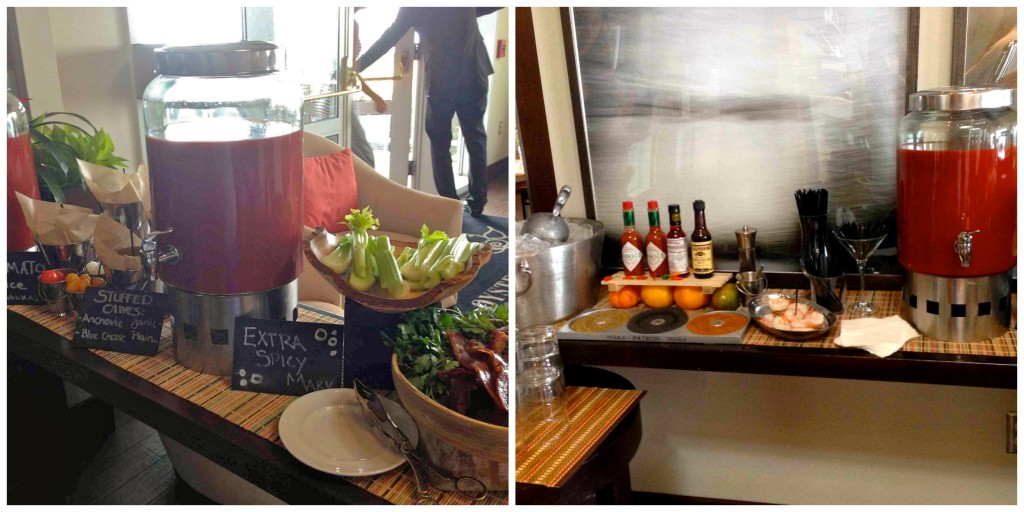 When it comes to charcuterie, consider me one of the biggest fans. Bring on the meats and cheeses and let me just dine to my heart's content. Charcuterie + cheese = a happy Jennifer.
Oystercatchers features a wide array of remarkable meat slices and beautiful cheese pieces. Some favorites included drunken goat cheese and of course, salami. On the side is an iced display of various caviars that is pretty exciting if you are in to that sort of thing like Megan. 🙂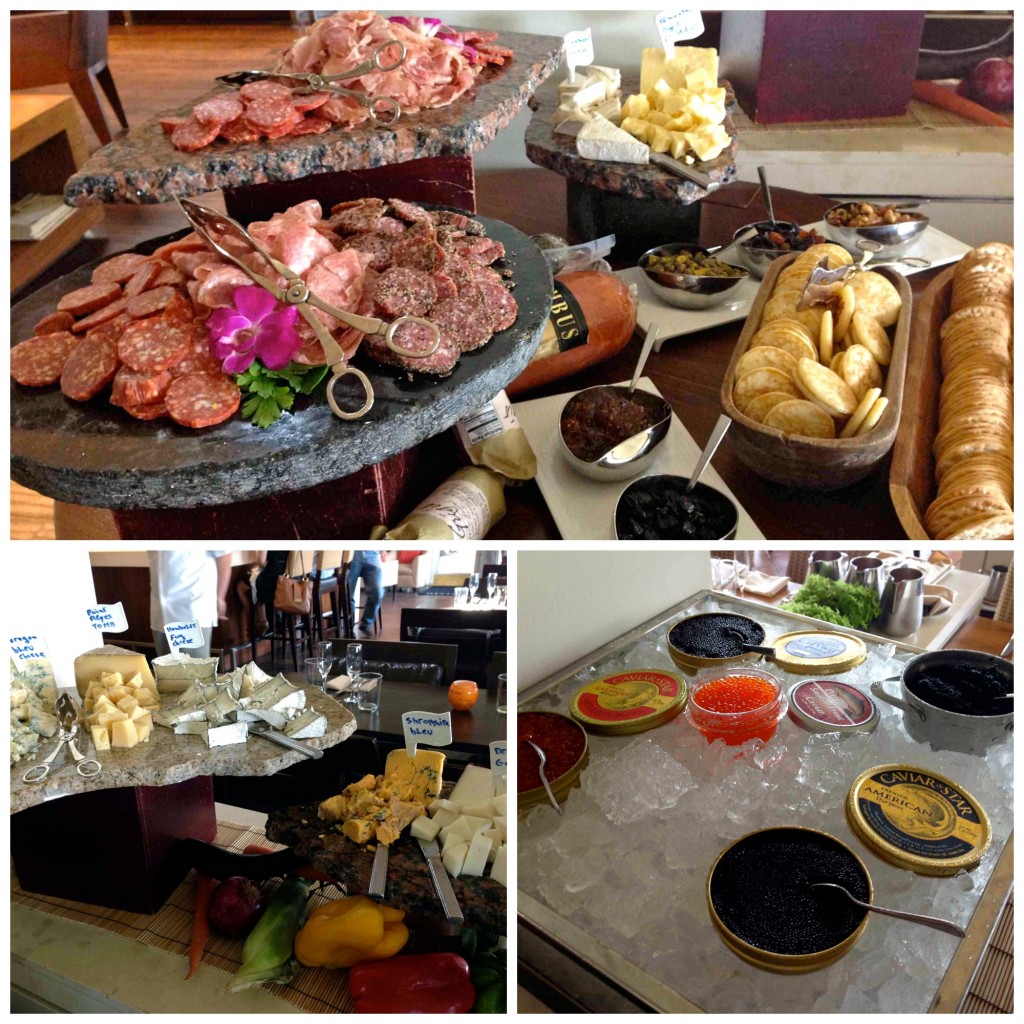 Also included with every buffet is a featured soup and roast. This past Sunday the soup was Dutch Onion, a concoction with potato and ground veal that was not unlike a gravy, and the roast was a Roasted Veal Top Round Roast, beautifully sliced and cooked in a Madeira sauce.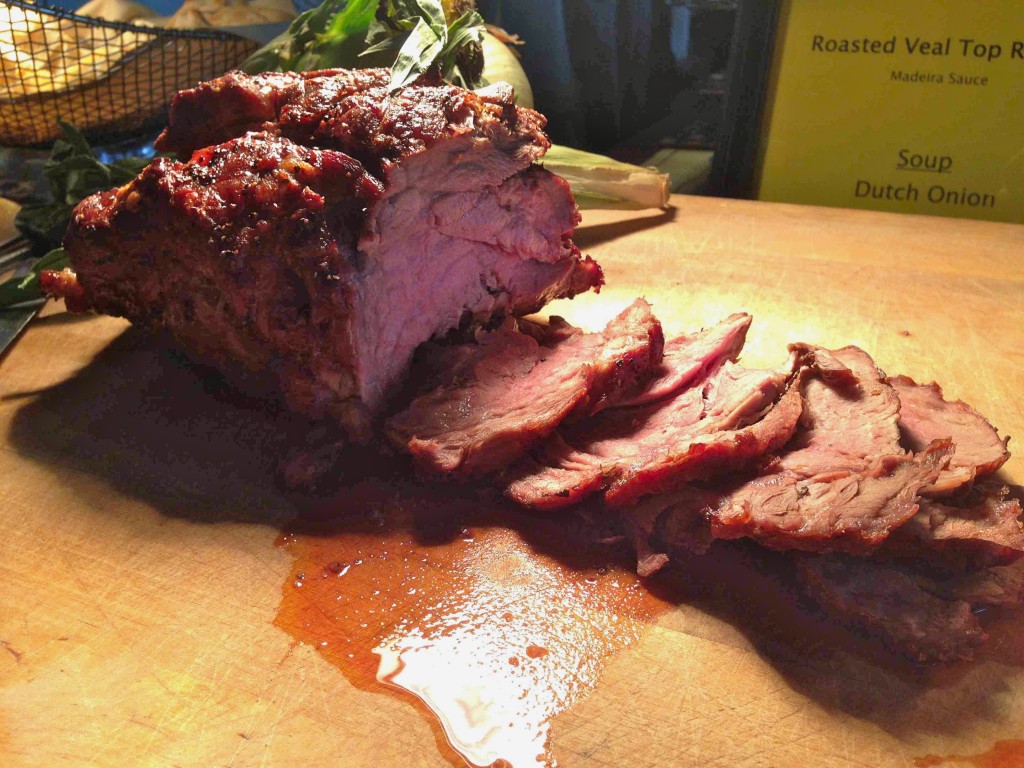 Along with the soup, I had a taste of most of the salad options, with the exception of the Bay Scallop Ceviche and Blackened Salmon Greek Salad, both of which did get positive feedback from those in my group.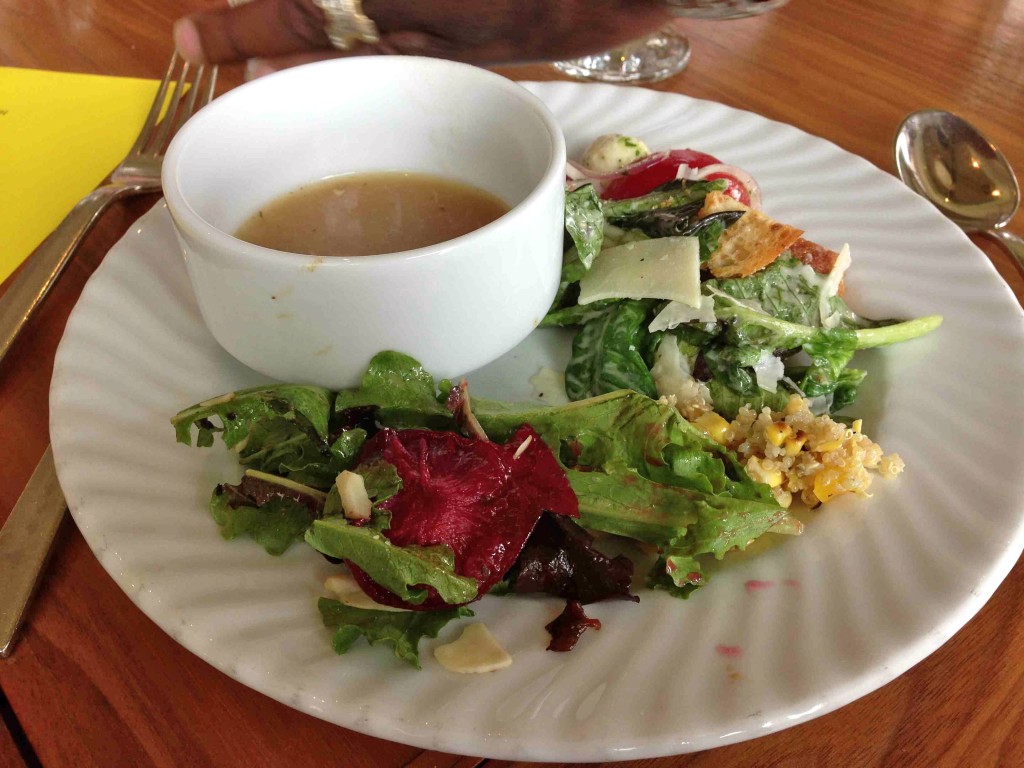 The Marinated Mushrooms in an herb oil was my favorite bite of the whole brunch. Tucked at the end of a line of salads, these mushrooms should have been on their own pedestal so everyone would know how amazing they are. A sucker for mushrooms, I had to keep myself from filling up on them. Another favorite was the Mozzarella and Tomato Salad with fresh cheese, basil oil and shaved red onions.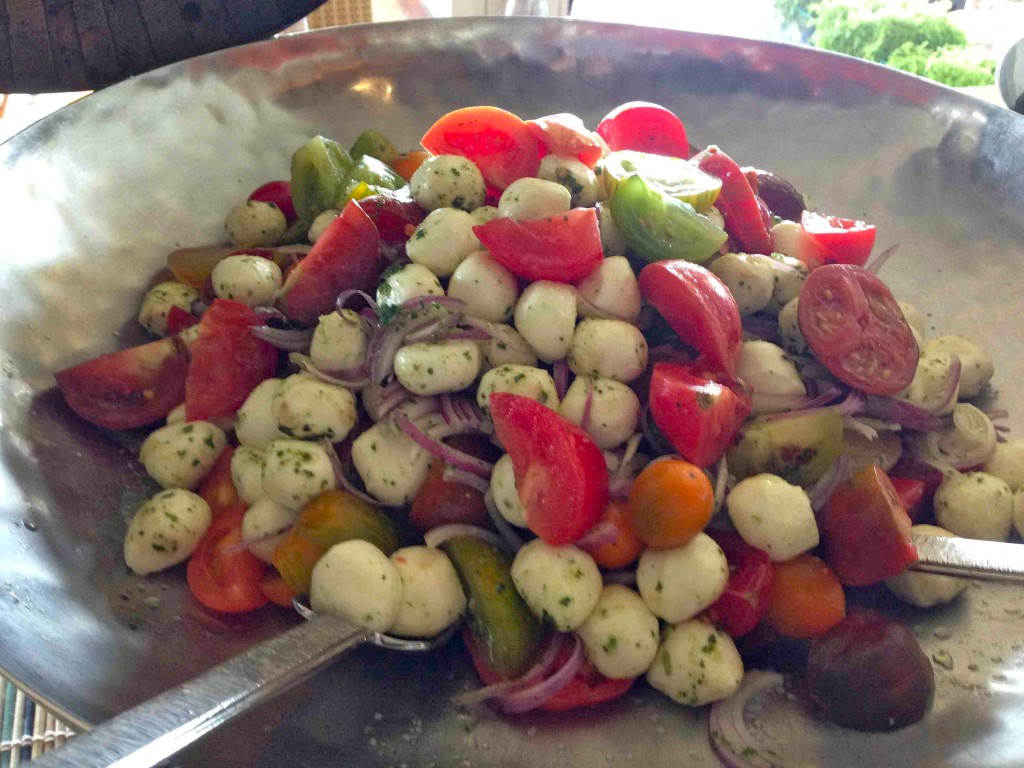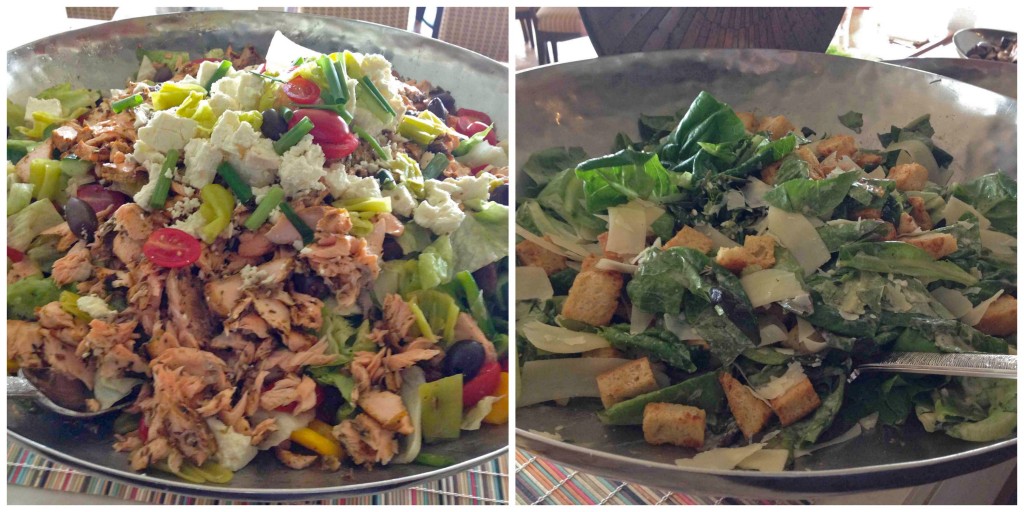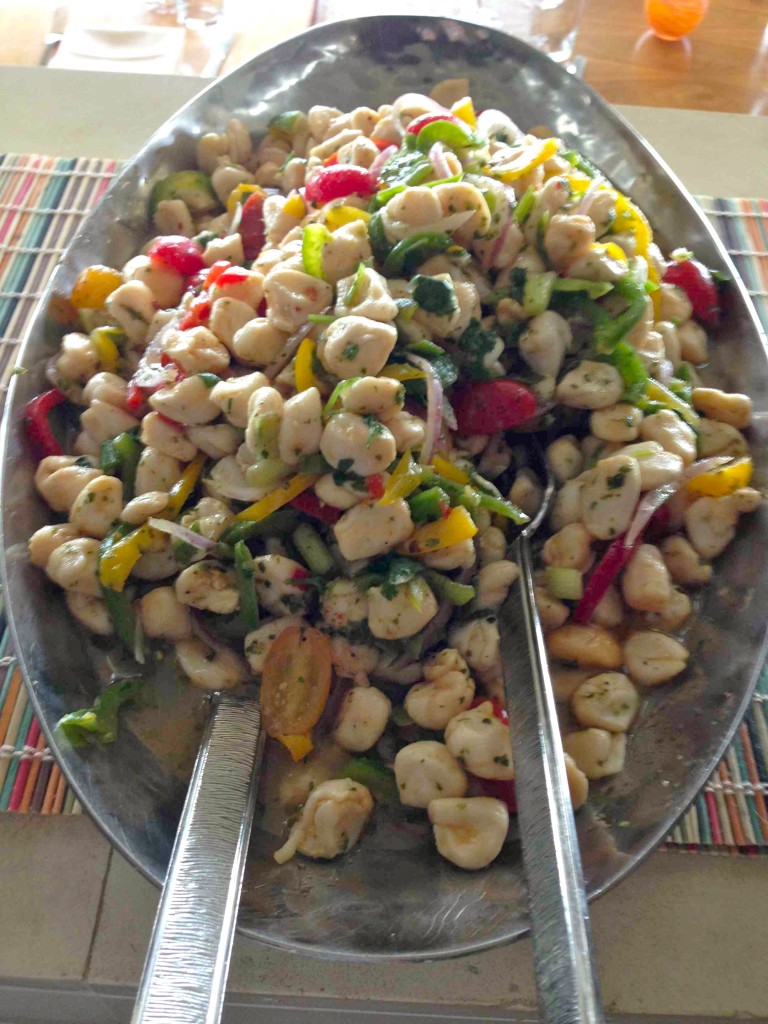 When at a brunch buffet I ask myself where I should begin and the answer is always the same: wherever I feel drawn. After the soup and salad, I pondered moving to the breakfast or lunch line, but ultimately breakfast won over and my eyes grew as I took in the menu. We're talking Lobster Eggs Benedict, Macadamia Nut Pancakes, Alligator Bayou Sausage, and Maple Cured Bacon, along with an assortment of pastries that I didn't waste room in my stomach for. Sorry, Oystercatchers, but your other menu items were more irresistible.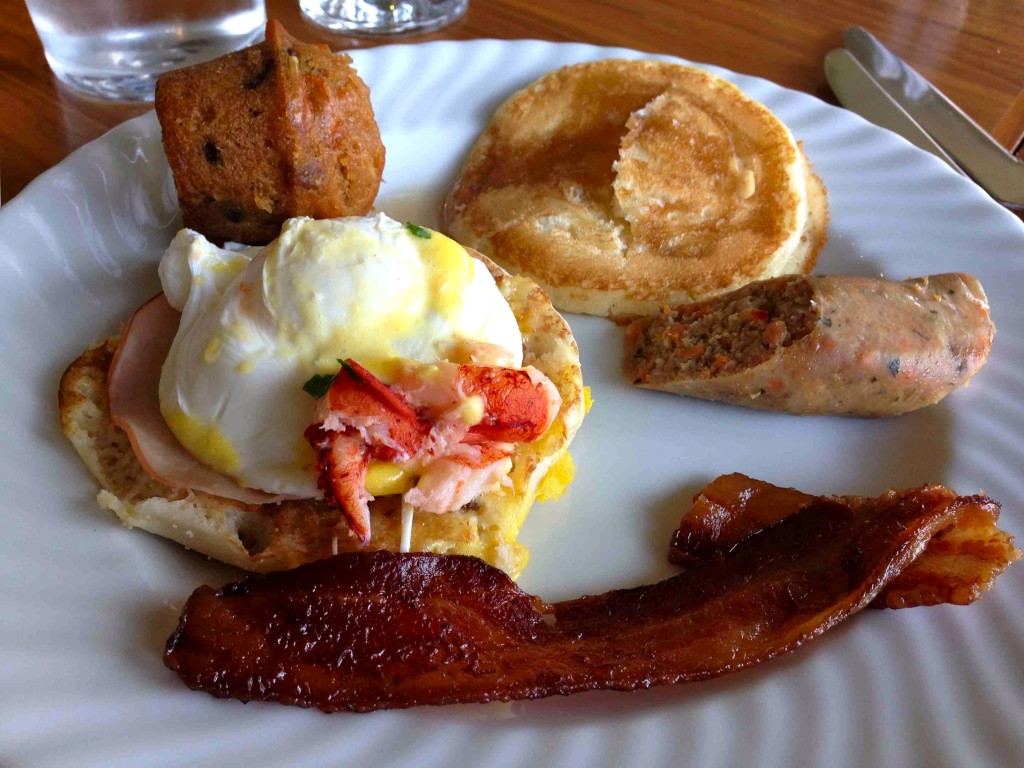 The Eggs Benedict topped with lobster meat was a highlight on this menu. Sweet lobster meat, mixed with poached egg yolk, is a delicate combination that I coveted the taste of. The pancakes had the perfect hint of sweet oil from the macadamia nut. Maple syrup wasn't needed, but used in a small dose only served to enhance the flavor.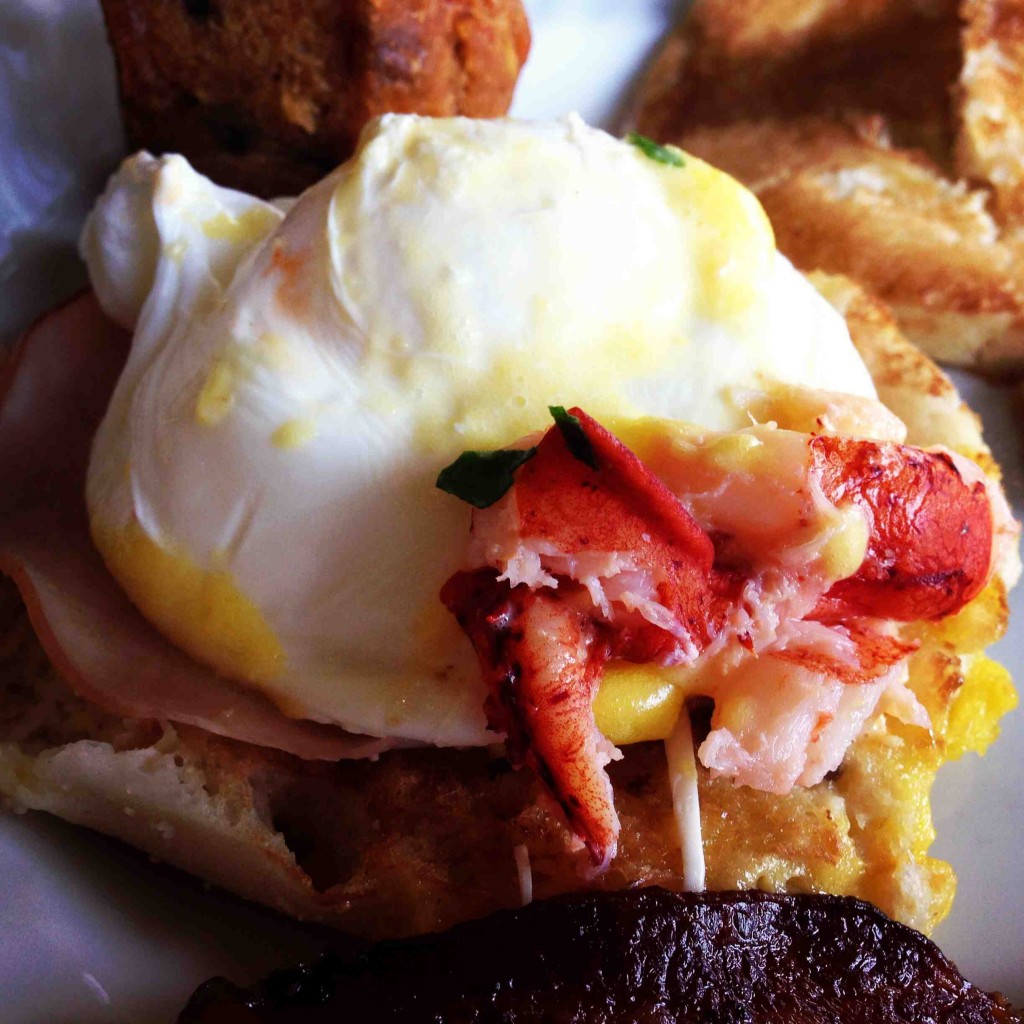 Although I stupidly chose to skip the omelette station, I believe others should take full advantage. With quail eggs as an option, it's certainly an interesting station to try out. These eggs are cage free.
Next up was lunch, a spread that had some Floridian and Cuban influences. The buffet lines at Oystercatchers are changed up on a weekly basis so they can offer up different flavor profiles to their guests. On the menu Sunday was Flank Steak, Strawberry Grouper, Mojo Chicken, Mussels Saute, Baby Vegetable Boutique which included zucchinis and peppers, and Yellow Rice with Red Beans.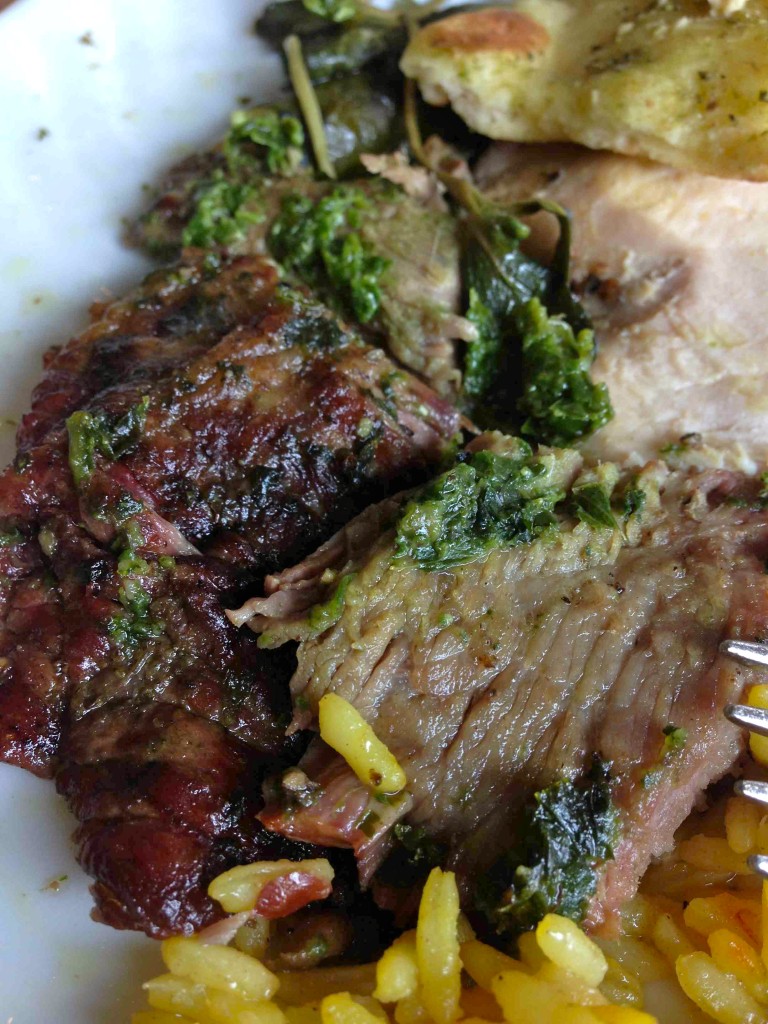 The flank steak was grilled and marinated, covered by one of my favorite sauces, Chimichurri. Since discovering my love for Chimichurri sauce at a restaurant in Ybor, I've become obsessed with ordering any dish that includes this garlicky goodness. While Oystercatchers doesn't rank near the top of my Chimichurri sauce fanaticism, it was good.
Perhaps my favorite aspect of the brunch buffet is the pasta station. I long for those pasta dinners with my family and any opportunity I have to perfect a sauce, or come up with something entirely different. Since you can pretty much create whichever kind of pasta dish you want, it's a fun station to experiment with.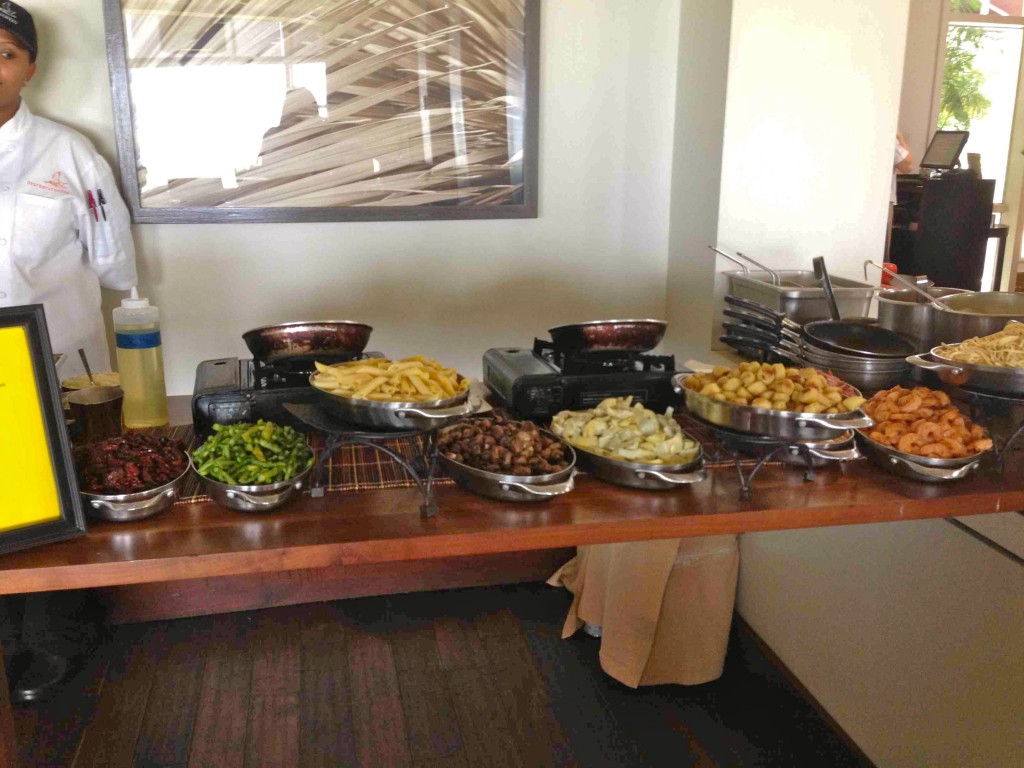 I chose spaghetti in a vodka sauce with a touch of pesto and sauteed mushrooms. I loved the flavors, with the pesto bringing a brightness to the entire course.
This trip, pastas included spaghetti, penne, gnocchi, and spinach, feta, and sundried tomato ravioli. Sauce options included alfredo, marinara, pesto and vodka sauce. Lastly, toppings available were grilled chicken, cooked shrimp, pesto, roasted mushrooms, artichoke hearts, poached asparagus, julienne proscuitto and Kalamata olives. The first time I visited Oystercatchers, they were featuring a lobster and cheese ravioli, more proof that things are switched up now and again to offer something new.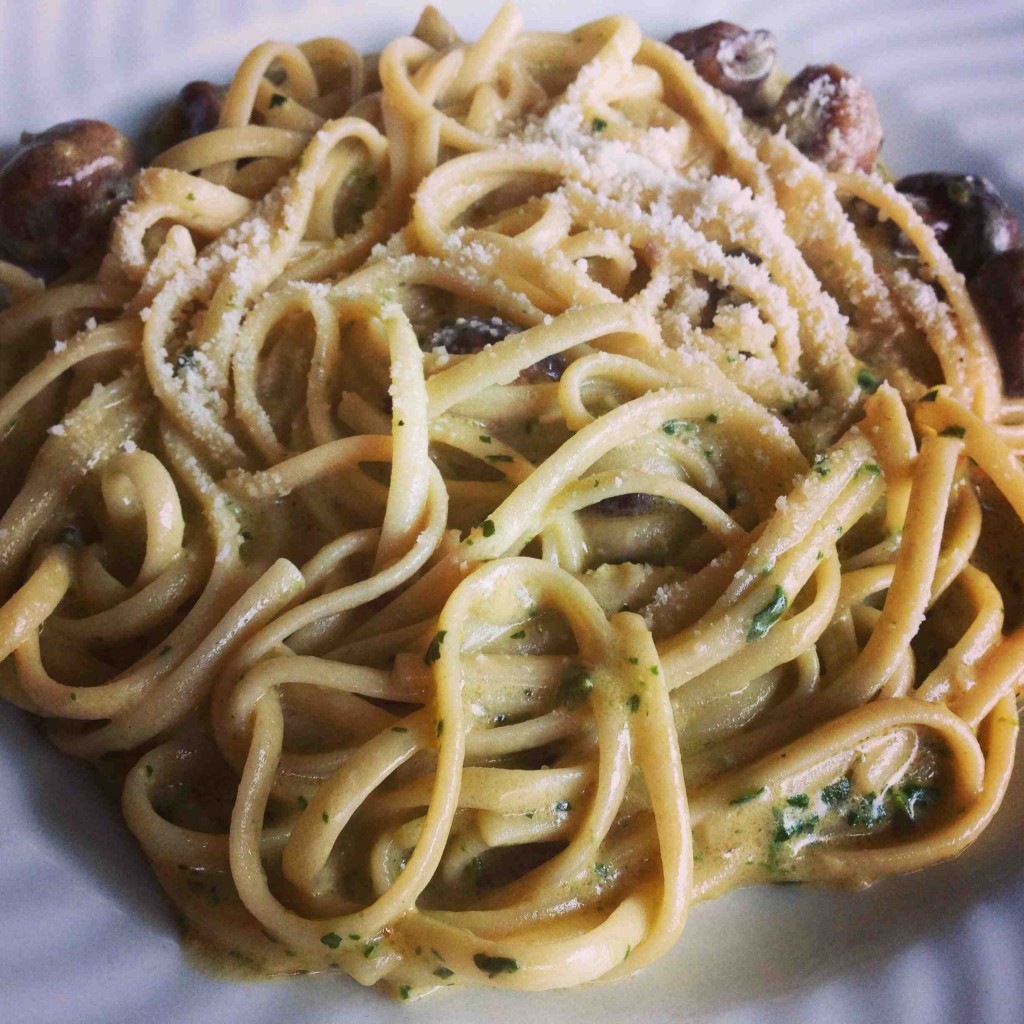 Whew, that seems like it would be plenty and normally, it may be. However, we still have many options to nosh through. Oystercatchers has a raw bar with chilled seafood options such as poached shrimp, seared ahi tuna, gulf oysters that have been freshly shucked, and marinated mussels. During my next visit to Oystercatchers I'll be sure to eat more shrimp than I should, but it was now time to dedicate the small area of my stomach left unfilled with sushi and dessert.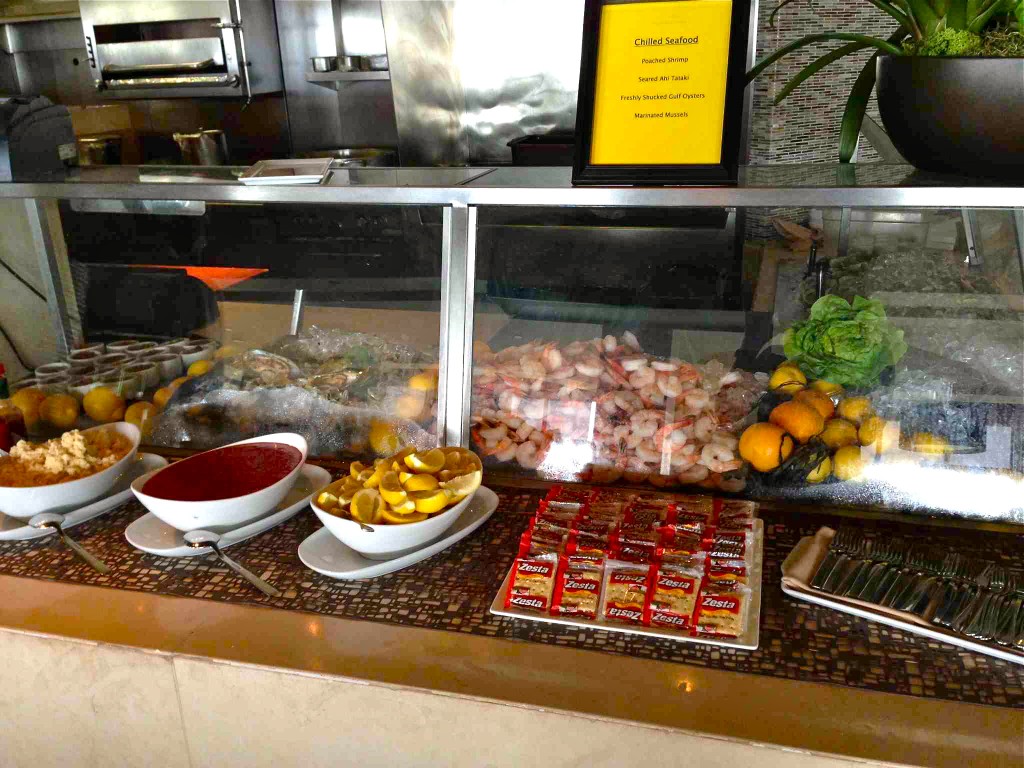 (photo via Megan from I Run For Wine)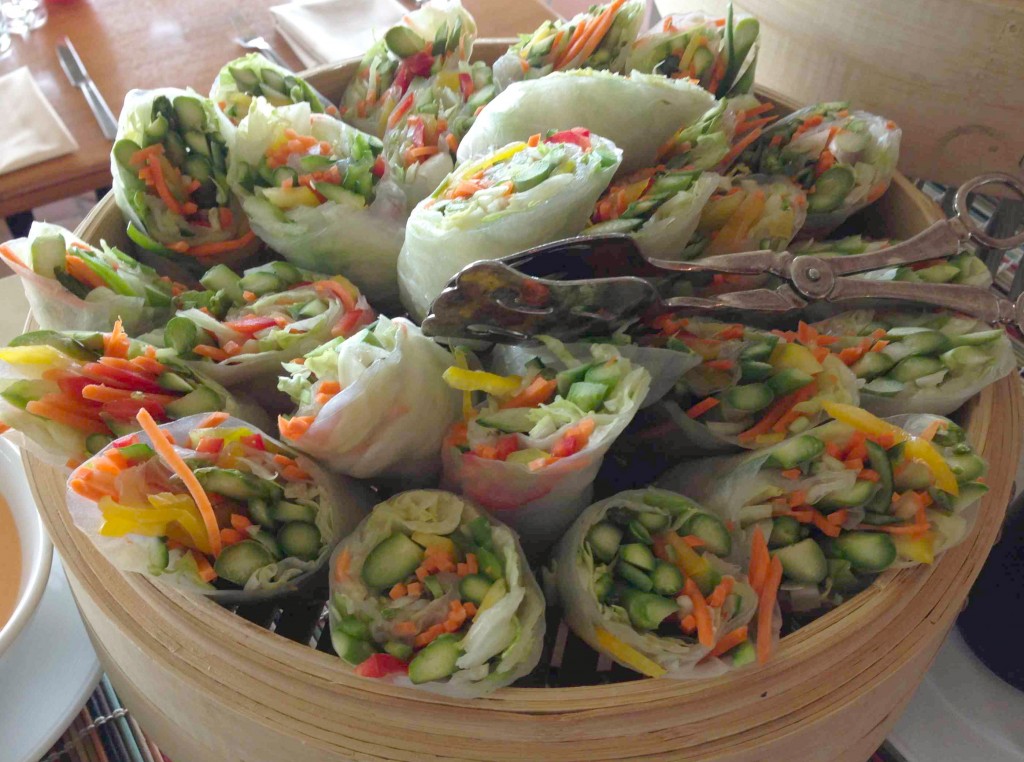 The most visually appealing dish of the buffet was also the favorite among a number of my blogging friends. As they raved about the spring roll, I took the opportunity to get one for myself, pairing with spicy mayo and sweet thai sauces. The spring roll was cold and crunchy, a roll that I loved every element of.
The two sushi rolls featured were California and Spicy Tuna. Oystercatchers also had hummus with grilled pita bread and seaweed salad.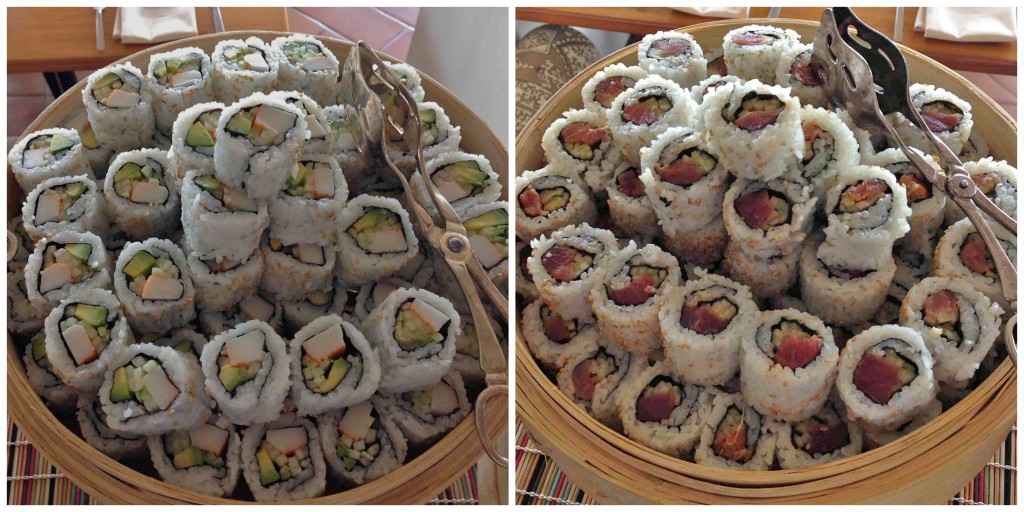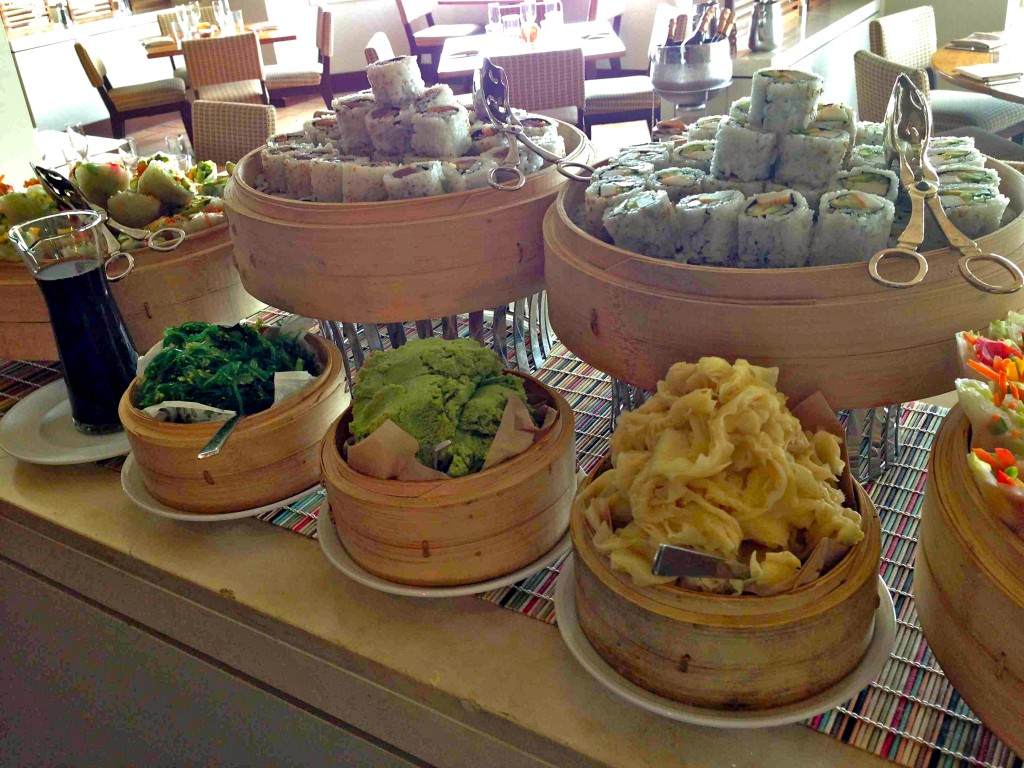 Last, but certainly not least, was the dessert room. Yes, room. As I mentioned before, Oystercatchers dedicates an entire room to their desserts, complete with a station for fresh Bananas Foster. Desserts included creme brulee, chocolate cake, an ice cream station, orange creamsicle cupcakes,  fondue, and mousse in an edible container, among many, many more.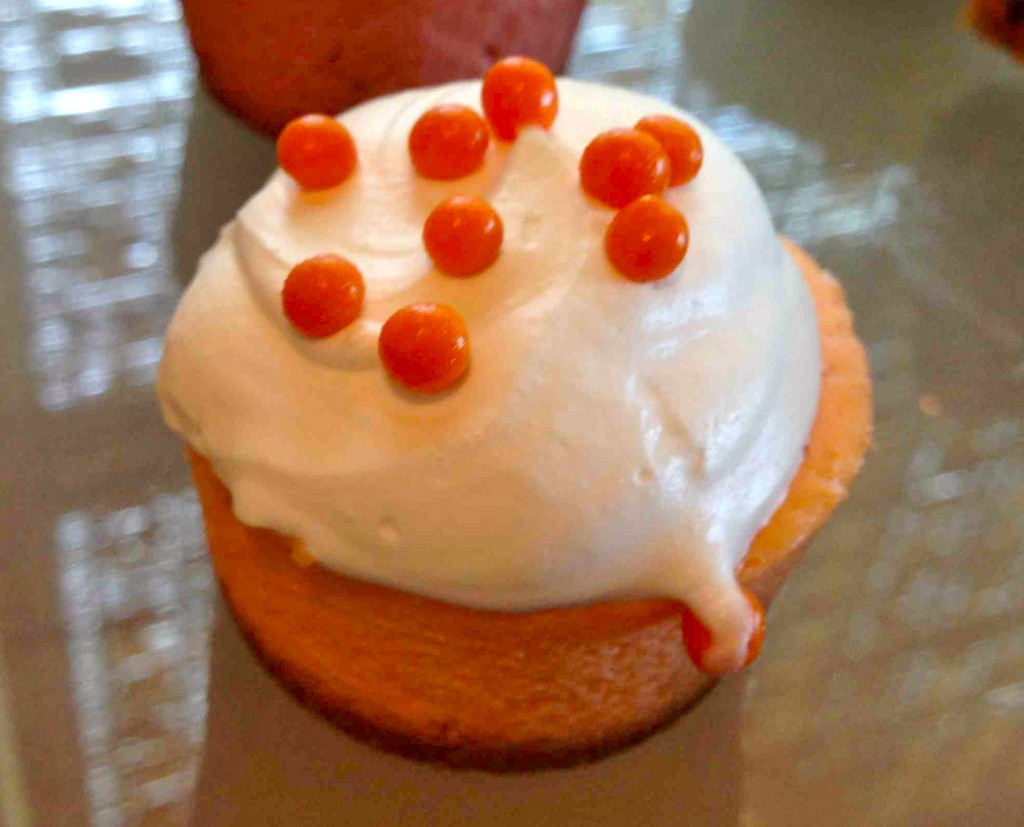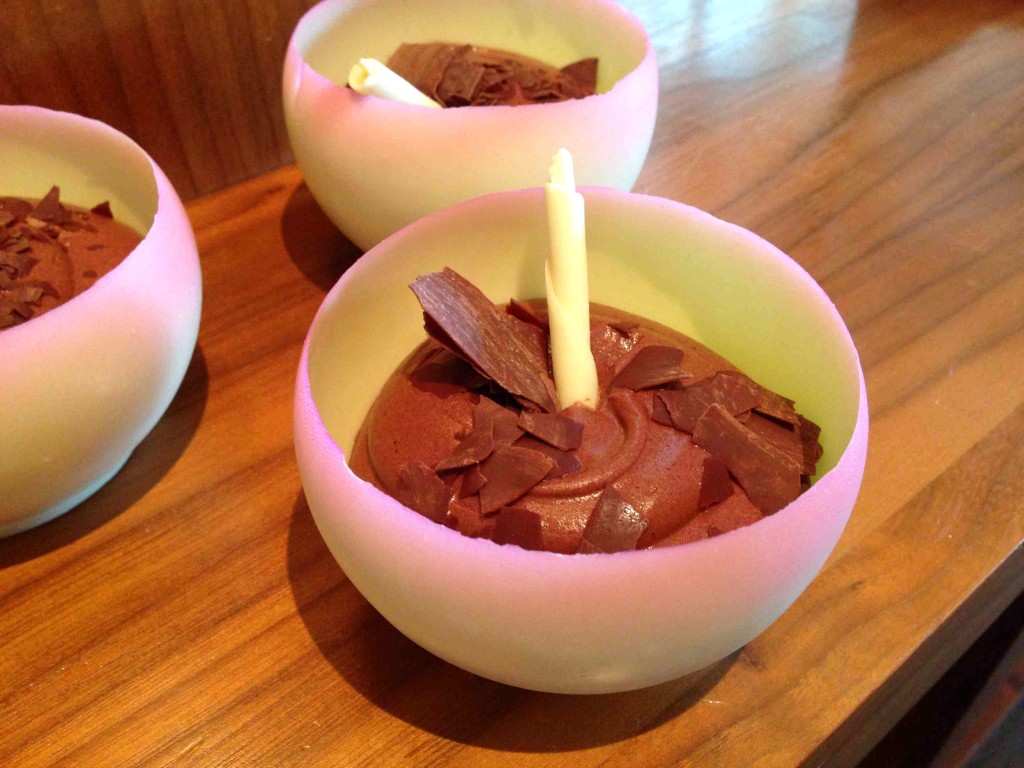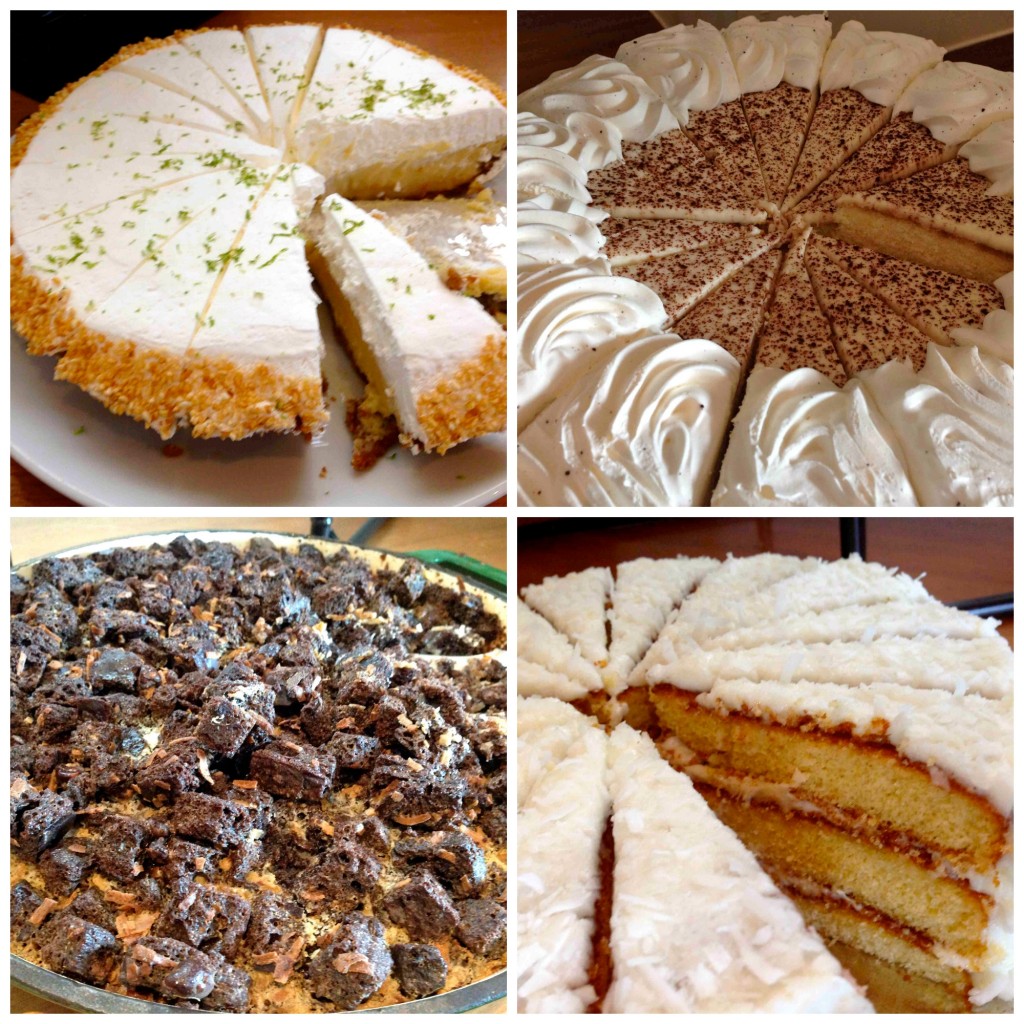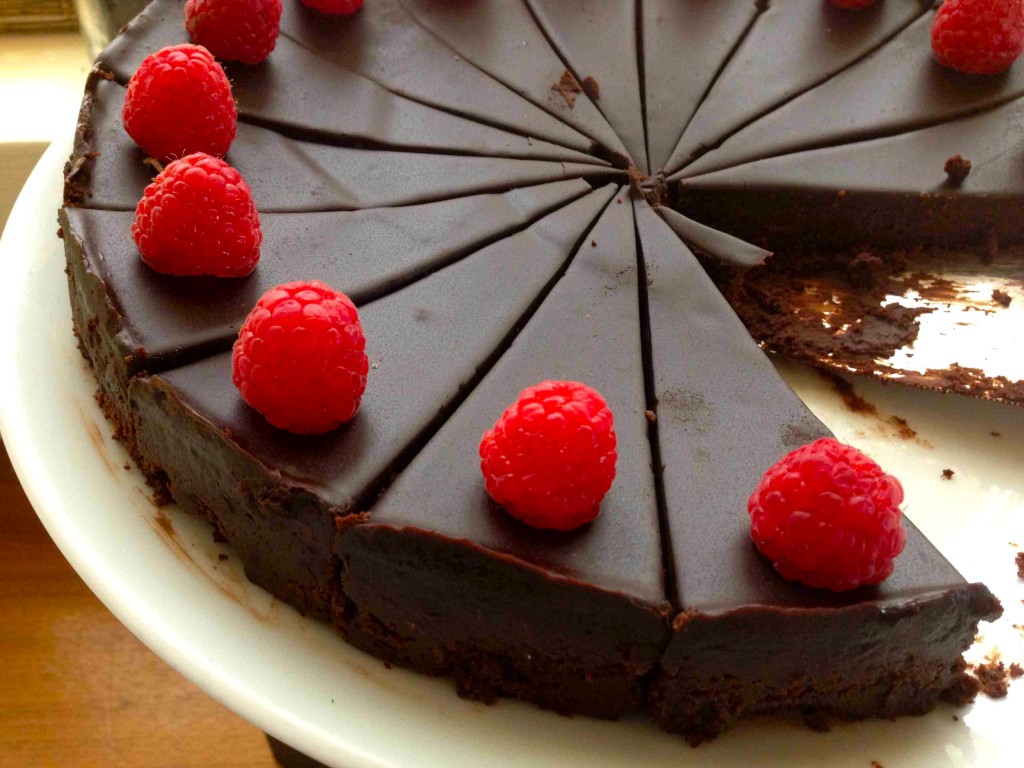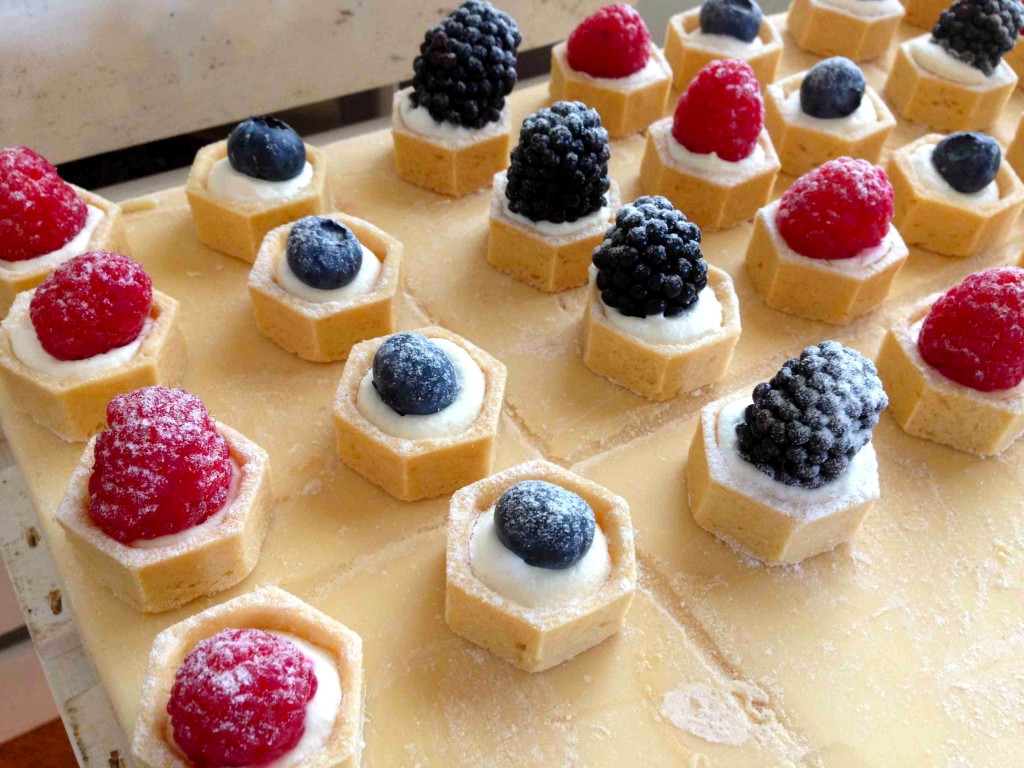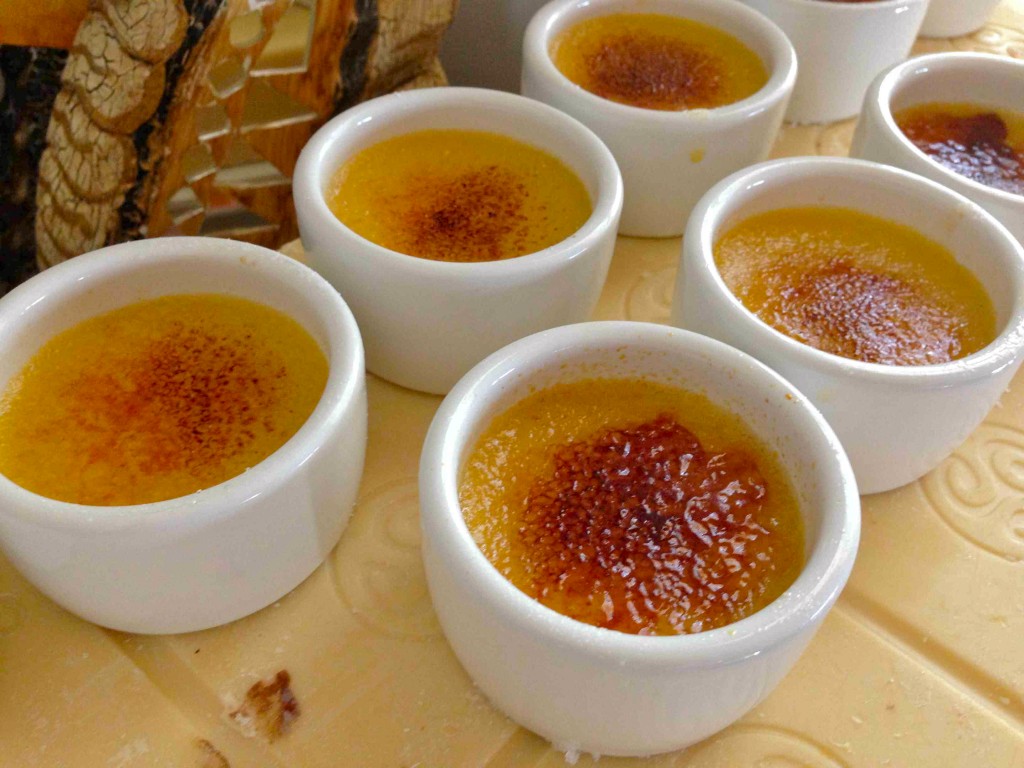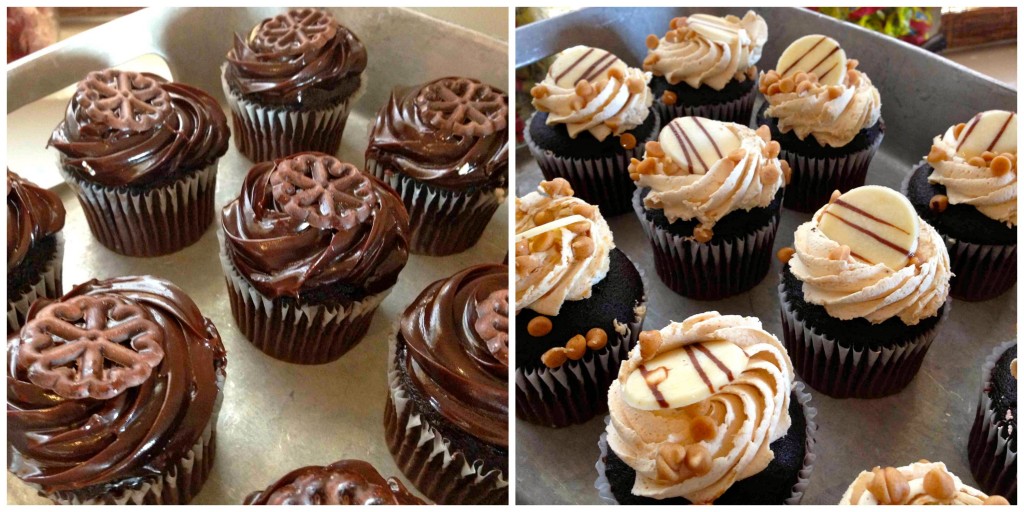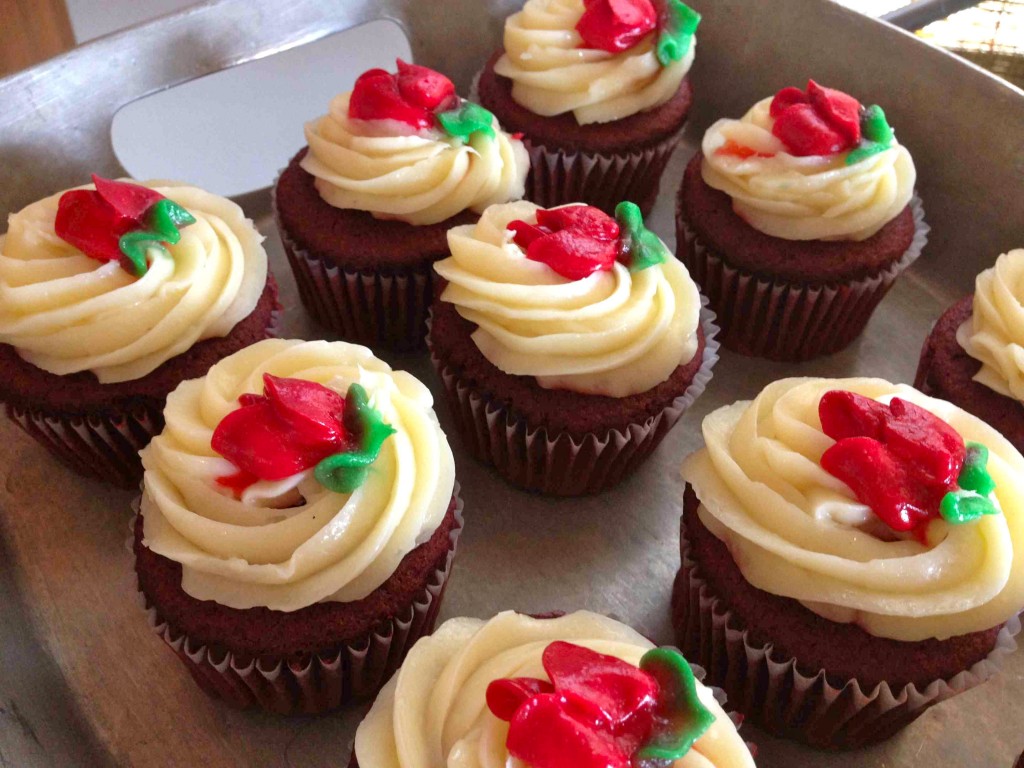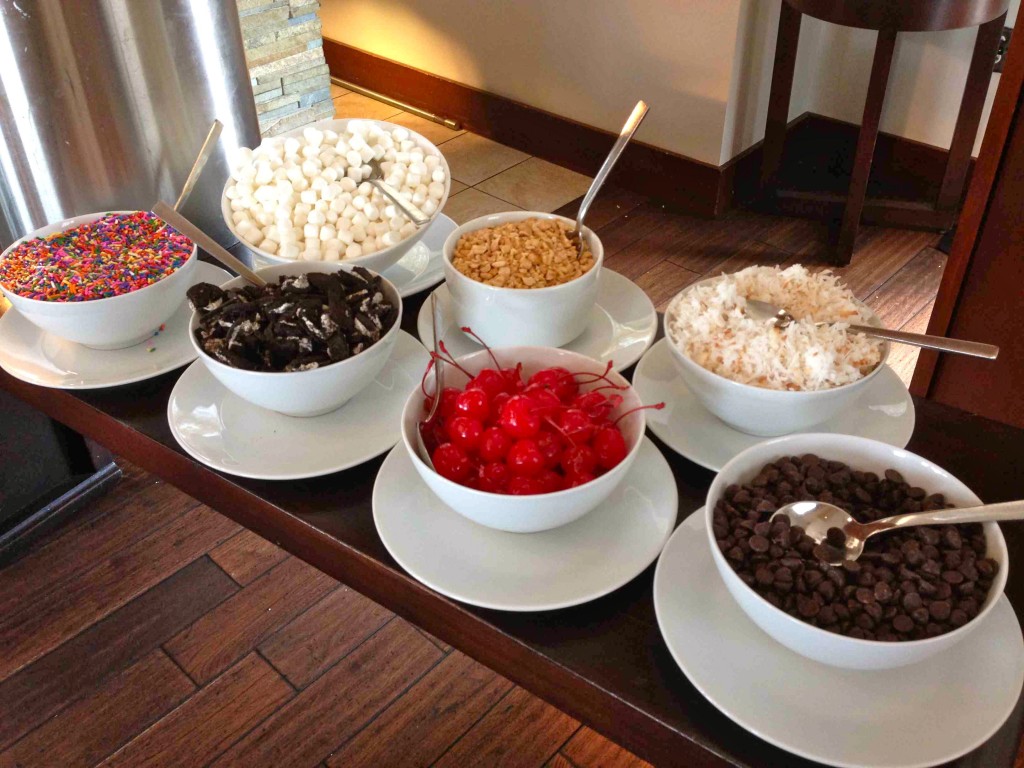 It's no surprise, after a feast to end all feasts, that Oystercatchers continuously draws the crowds on any given Sunday afternoon. A big appreciation to Oystercatchers for hosting our blogger group and showcasing what you have to offer.
8 Responses to "Oystercatchers: A Brunch Buffet with a View"

Trackbacks/Pingbacks

Leave a Comment