National Cream Cheese Brownie Day | Cheesecake with Salted Caramel Sauce
It's not enough to have a swirled dessert. Although I'm not that big of a fan of chocolate, I do like brownies and I love cream cheese. But do you know what I love even more than those two things combined? Cheesecake! I thought to myself, "Why not make a cheesecake with a brownie crust for today?" So, that's exactly what I did.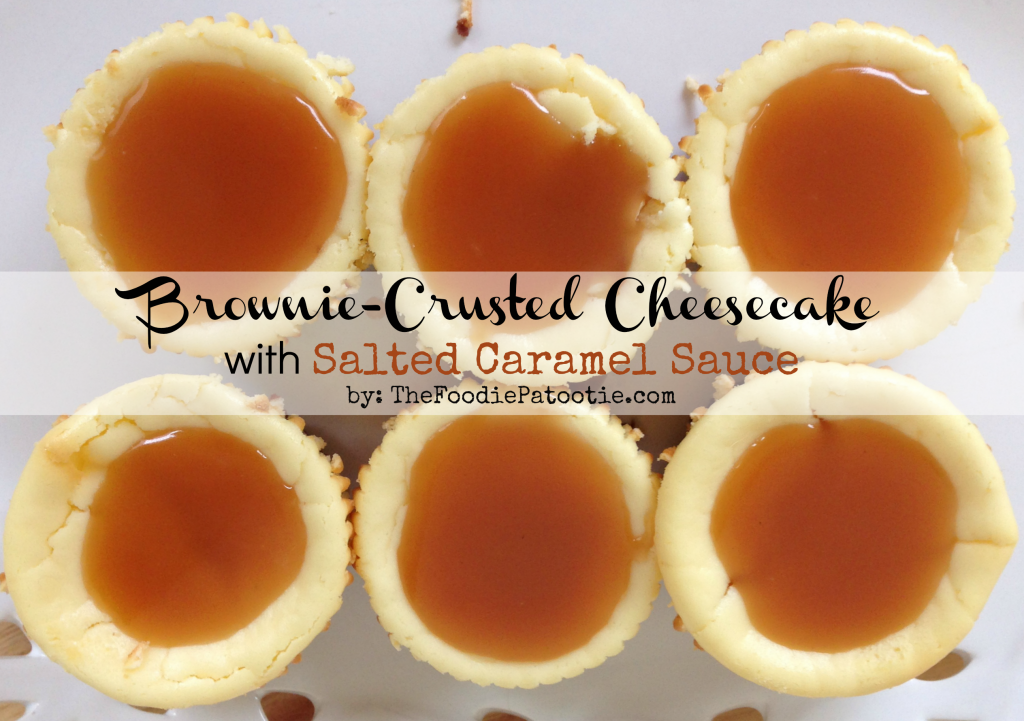 This was surprisingly simple. I have made larger cheesecakes before so I just made slight adjustments to the batter and poured it into about 18 large muffin/cupcake tins after making the brownie crust. Topped with a homemade salted caramel sauce from Sally's Baking Addiction and it was on point.
The salted caramel sauce is the best. I really couldn't have come up with a better one so Sally's will be my go-to from now on. When cheesecakes are bite-sized (or, 2 bites-sized in this case), they are the best kind of cheesecakes. Cute, and don't cause you to overindulge.
National Cream Cheese Brownie Day | Cheesecake with Salted Caramel Sauce
Recipe Type: Dessert
Author:
Prep time:
Cook time:
Total time:
Serves: 18
Ingredients
[b]Brownie Crust[/b]
1/2 cup unsalted butter, room temperature
2 ounces unsweetened chocolate bars
1 tsp vanilla extract
1 cup sugar
2 large eggs
1/2 cup + 2 tbsp flour
1/2 tsp salt
[b]Cheesecake[/b]
3 packs (24 ounces) cream cheese, softened
3/4 cups sugar
1 tsp vanilla extract
3 large eggs
[url href="http://sallysbakingaddiction.com/homemade-salted-caramel-recipe/" target="_blank"]Homemade Salted Caramel Sauce[/url]
Instructions
[b]Brownie Crust[/b]
Preheat oven to 350*F. Place cupcake liners in 18 large tins.
Melt butter and chocolate together, either in the microwave or double boiler. Stir in vanilla. Set aside.
In a stand mixer, or a large bowl, cream together the sugar and eggs. Add the chocolate mixture and stir to combine.
Add salt and then slowly add flour until fully incorporated. Using an ice cream scoop, scoop chocolate into linings and bake for 12 minutes.
Remove from oven and set aside to cool while making the cheesecake. Lower oven to 325*F.
[b]Cheesecake[/b]
Beat together cream cheese. Add sugar and vanilla, followed by eggs. Mix to combine and until smooth and creamy.
Evenly distribute over the brownie crust.
Bake at 325*F for 25-30 minutes.
Remove from oven and allow to cool. Place in fridge for 2 hours.
When ready to eat, top with warmed up [url href="http://sallysbakingaddiction.com/homemade-salted-caramel-recipe/" target="_blank"]Homemade Salted Caramel Sauce[/url]
Tomorrow: National Peppermint Patty Day
14 Responses to "National Cream Cheese Brownie Day | Cheesecake with Salted Caramel Sauce"

Trackbacks/Pingbacks

Leave a Comment