National Banana Creme Pie Day | Banana Creme Pie with Honey Whipped Cream and Pecan Brittle for #SundaySupper
Welcome to National Banana Creme Pie Day and Sunday Supper's celebration of Fat Tuesday (a little early)! Today we are celebrating Mardi Gras with decadent dishes. Personally, that's how I celebrate the majority of the year…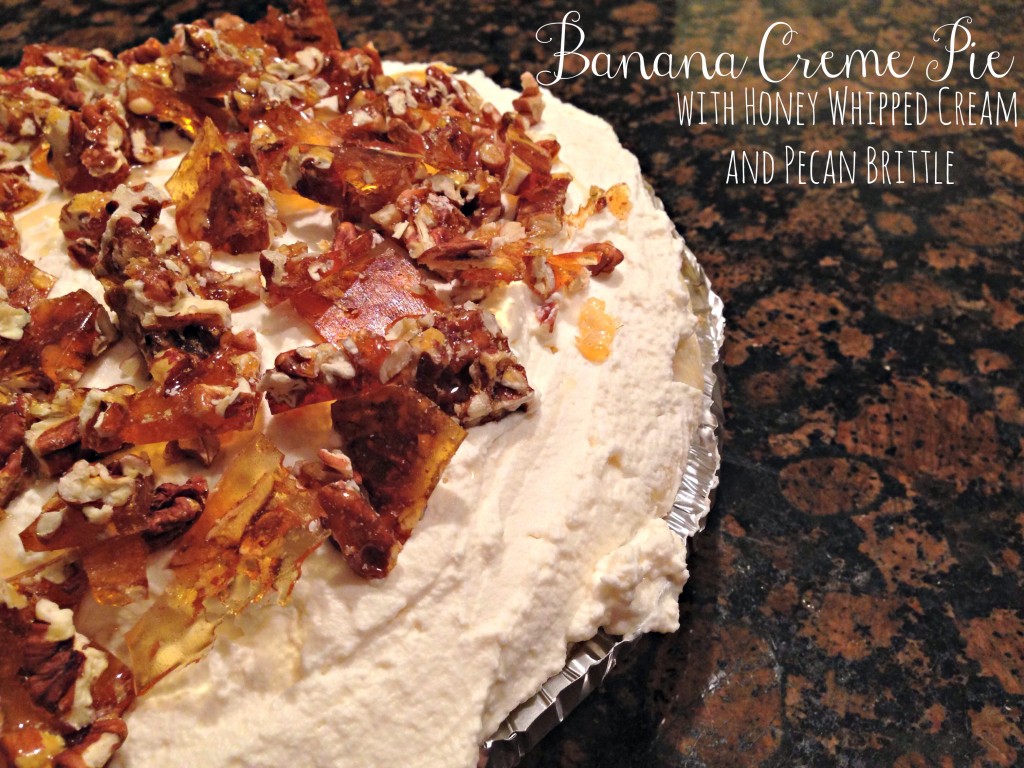 Today's food holiday is perfect for Sunday Supper's focus for this week. Banana Creme Pie is nothing if not decadent, but then I add a honey whipped cream and pecan brittle to it.
Even for a person who has a public disdain for bananas, I'd have this pie any day of the week. And, it's so easy to make! The pecan brittle is so delicious that you'll have to play keep away (from yourself!) until you are ready to assemble the pie.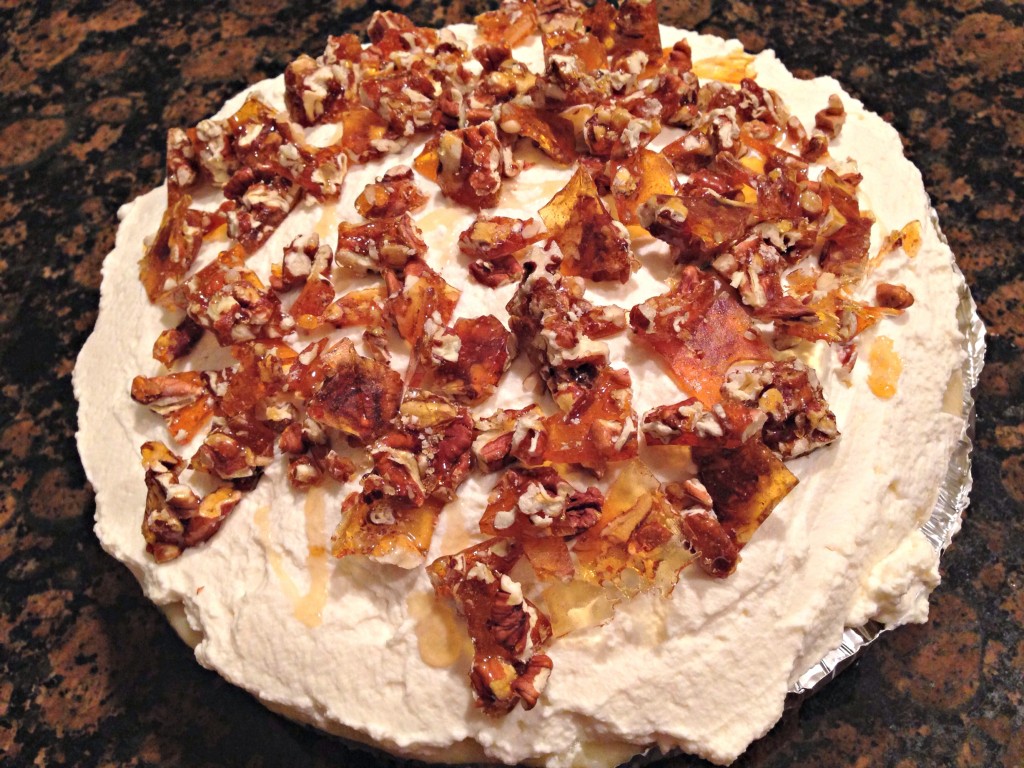 Looking for more decadent dishes? Check out the food and drinks that the other Sunday Supper participants are contributing this week below my recipe!
National Banana Creme Pie Day | Banana Creme Pie with Honey Whipped Cream and Pecan Brittle for #SundaySupper
Recipe Type: Dessert
Author:
Prep time:
Cook time:
Total time:
Serves: 8
Ingredients
[b]Banana Creme Pie[/b]
1 (9-inch) pre-made graham cracker crust
1/4 cup flour
3/4 cup sugar
1/4 tsp salt
3 cups milk
3 large egg yolks, slightly beaten
1 1/2 tsp vanilla extract
1 tbsp butter
2 ripe bananas, sliced
[b]Honey Whipped Cream[/b]
2 cups heavy whipping cream
2 tbsp honey
1 tsp vanilla extract
[b]Pecan Brittle[/b]
1 cup pecans
2 cups sugar
1/2 cup water
Instructions
[b]Banana Creme Pie[/b]
Mix flour, sugar and salt in a saucepan. Add milk gradually, stirring until smooth. Cook on medium-high until mixture boils, stirring constantly.
Mix a small portion of the hot mixture with egg yolks (to bring up the temperature of the eggs without scrambling them). Add new egg mixture to the saucepan and boil for 2 more minutes, stirring constantly.
Remove from heat and add vanilla extract and butter. Cool to room temperature.
Place bananas in bottom of graham cracker crust. Pour cooled custard over bananas and place in refrigerator to set for 1-2 hours.
Top with honey whipped cream and pecan brittle.
[b]Honey Whipped Cream[/b]
Place bowl of stand mixer in freezer for 5 minutes. Pour heavy cream in the bowl, and beat for 5 minutes. Gradually increase the speed to medium until soft peaks have formed.
Add honey and vanilla, continuing to beat until firm peaks form. Spread over cooled banana creme pie.
[b]Pecan Brittle[/b]
Preheat oven to 325*F. Spread pecans on a baking sheet and bake about 5 minutes. Remove from oven, let cool, and coarsely chop.
In a medium saucepan, combine sugar and water. Cook on high for about 8 minutes, or until a deep amber color has formed. Remove from heat and stir in the pecans.
Pour on a baking sheet lined with parchment paper and allow to harden, about 20 minutes.
When ready to assemble pie, chop brittle up and sprinkle on top of whipped cream.
Tomorrow: National Cold Cuts Day; National Mulled Wine Day
Here are the other decadent foods from my fellow Sunday Supper contributors: (!!!!)
Cocktails & Other Beverages:
Appetizers:
Main Dishes:
Side Dishes:
Desserts:
Join the #SundaySupper conversation on twitter on Sunday!
We tweet throughout the day and share recipes from all over the world. Our weekly chat starts at 7:00 pm ET. Follow the
#SundaySupper hashtag
and remember to include it in your tweets to join in the chat. Check out our
#SundaySupper Pinterest board
for more fabulous recipes and food photos.
Would you like to join the Sunday Supper Movement? It's easy. You can sign up by clicking here: Sunday Supper Movement
55 Responses to "National Banana Creme Pie Day | Banana Creme Pie with Honey Whipped Cream and Pecan Brittle for #SundaySupper"

Trackbacks/Pingbacks

Pingback: Banana Cream Pie with Honey Whipped Cream and P...

Pingback: Brownie Chocolate Chip Cheesecake | Magnolia Days

Pingback: Pecan Chocolate Pralines #SundaySupper - Desserts Required

Pingback: Shrimp in Mustard Sauce for Fat Sunday #SundaySupper | Noshing With The Nolands

Pingback: Okra Creole #MardiGras #SundaySupper - Cindy's Recipes and WritingsCindy's Recipes and Writings

Pingback: Fat Sunday Menu from the Sunday Supper Movement

Pingback: Baked Coconut Beignets #SundaySupper : Mess Makes Food

Pingback: Pecan Bars | Pies and Plots

Pingback: Mint Julep Bars #SundaySupper - The Girl in the Little Red Kitchen | The Girl in the Little Red Kitchen

Pingback: Chicken and Sausage Gumbo for #SundaySupper | Supper for a Steal

Pingback: Ravioli dolci di Carnevale

Pingback: Chocolate Raspberry Cake

Leave a Comment