Jet Set Around the World at Flight Restaurant & Lounge
Shoddy in-flight Wi-Fi, a restroom the size of a shoebox, and drink carts that bump into your elbows are all of the crappy features of getting on an airplane (or maybe that's just the experience for those like me in coach). Despite these things, flying is exciting and anticipatory. I like watching out the window as we take off and again when we land. The dots, though indistinguishable from a certain height, can be whatever your imagination wants them to be- schools, houses, a mall, or office buildings.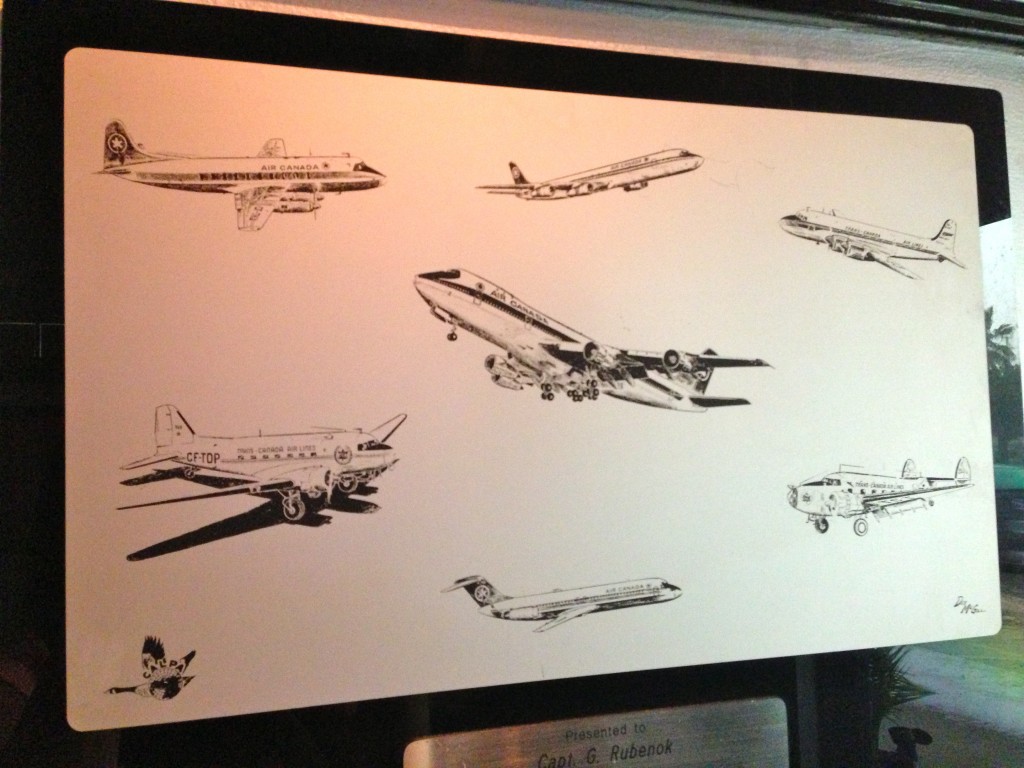 When I arrive at my final destination, I can't get off the plane fast enough. Not because of being in a confined space for the duration of my trip, though there is that, but I want to start experiencing everything right away.
I haven't traveled much, but you might not be too surprised to learn that when I do, I plan my meals. I research restaurants, dive bars, and basically any culinary adventure that is unique and/or comes highly recommended. My days then begin and end with a good meal.
Traveling to Europe is on my list of things to do before I die. It may be a long time coming because I can't seem to get $2,000 together for a plane ticket, but mark my words: I'll make it there. In the meantime, I thought I'd try to satisfy my culinary curiosities of far away lands by visiting a restaurant that serves food from around the world.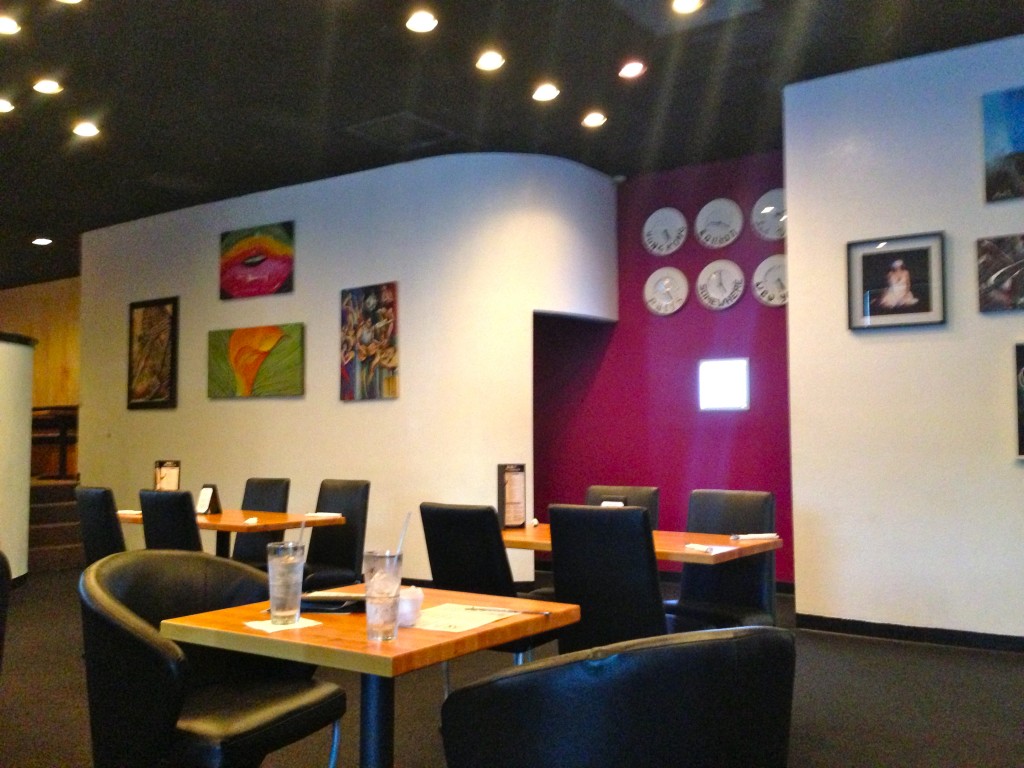 That's where Flight Restaurant & Lounge comes in. Because when I'm down that my life has yet to take me across the Atlantic Ocean, I packed a bag (my purse), and hopped into the Flight booth to travel there.
Flight, opened for about a year now in the Northdale area of Tampa, features seasonal menus with globally-influenced, specialized food. On one side of the menu, we have salads, soups, tapas/appetizers, tacos/wraps, and spreads. On the other side, choose from six 3-course meals for a low price. Right now for the summer, Flight has getaways to the Caribbean, Mediterranean, Asian countries, the South, Eastern Europe, and the North East USA. As you can probably guess, each of these meals has items that one would typically find in that area of the world.
While I can imagine that nothing can be exactly the same unless you are actually in the final destination of your choice, Flight is a restaurant to be remembered. On my first visit to this restaurant, I invited a couple of friends and we ordered enough items to show what they are all about.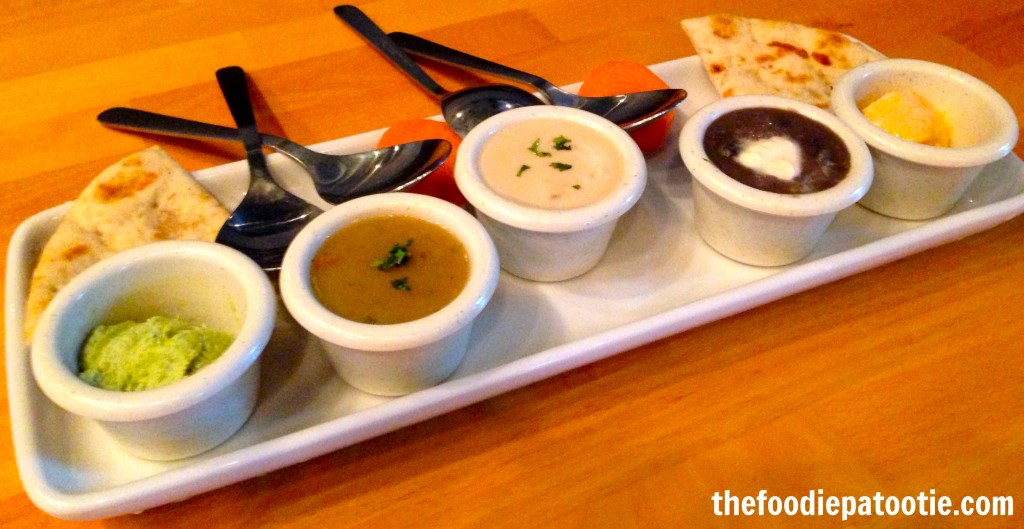 Our server, upon hearing that this was our first "flight", gave us a sampler platter. From left to right is: Edamame Hummus, Andouille No Rice Gumbo, New England Clam Chowder, Black Bean Soup, Beer Cheese.
Edamame Hummus– edamame soy beans, cilantro, garlic
Andouille No Rice Gumbo– andouille sausage, fresh herbs, veggies, home made vegetable broth
New England Clam Chowder– live little neck clams, grilled green onions, russet potatoes, topped with bacon crumbles
Black Bean Soup– spicy black beans simmered for 24 hours with grilled scallions and garlic, topped with Crystal sour cream
Beer Cheese– spicy pimento cheese mixed with Bluepoint toasted lager
If this wasn't my first adventure to Flight, and if I didn't want to make sure I saved enough room for the mounds of food I was sure to consume, I would have ordered the Beer Cheese and Black Bean Soup in a second. Those were standouts for me, but everything else was wonderful as well. Now let's travel through the rest of my dishes, shall we?
I've heard people say, "BACON MAKES EVERYTHING BETTER!!!". I love bacon, but perhaps never appreciated it as much as I did while eating the Bacon Mac Balls. These were served with a spicy chipotle aioli. To not order these during your visit to Flight is to conduct some kind of carnal sin.
These BBQ Pork Sliders consisted of juicy, tender pork that had been slow roasted and topped with crispy onion straw, spicy pimento cheese and housemade BBQ sauce. My perfect hamburger is topped with onion straws and turns out, so is my perfect pork slider. Flight proved that they can take an ordinary menu option and turn it into something unique and fantastic.
I've never had a dish like this before. Seeing Mexican Street Style Elotes on the menu prompted me to look up what exactly an elote is. It's obviously corn, but then what? Well, I'm here to educate those who may be lost like I was. An elote is Mexican for "corn on the cob" with staple seasonings and condiments added. At Flight, they fire roasted their sweet corn and added sweet mayo, cilantro, ancho chili powder and cotija cheese.
Melt in your mouth, this could potentially be my last meal if I were on death row, amazing.
Crispy chicken! It's something that makes me so very happy. When you have the perfect fried chicken (juicy on the inside and super crispy on the outside, duh), you've found a customer for life in me. Flight's Southern Crispy Chicken uses a corn flake batter on their chicken thighs, and after frying, tops these crunchy goodies with a rich blue cheese crumble, roasted corn and a jalapeno syrup.
Now, I'm not down with blue cheese so I had to skip the corn and blue cheese crumble once I realized how pungent it was. I will say, though, that if you aren't a blue cheese fan and just wrote off the Southern Crispy Chicken once you heard the toppings, don't. The chicken did not carry a blue cheese flavor after removing the topping. Hooray!
After the southern food, it was time for an asian influence. The Korean Beef and Kimchi Tacos were filled with slow braised Korean BBQ and topped with spicy kimchi-flavored shredded napa cabbage. We skipped the flour tortillas and just ate everything from the middle.
Vinegar: one of my favorite flavors. The Warm German Potato Salad at Flight warmed me over with the favorable hint of apple cider vinegar. I was immediately pleased with this dish. It's creamy and tangy, served warm like a picnic day, with minced red onions, scallions and house mustard.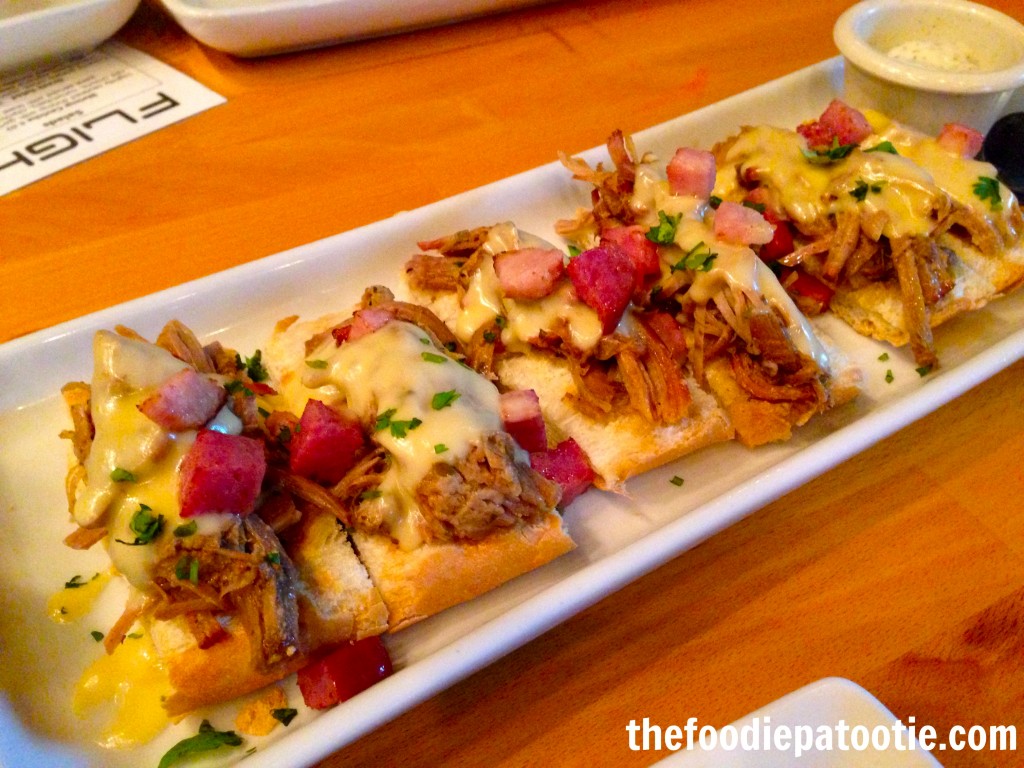 Living in Tampa, there is no shortage of Cuban sandwiches and any variation thereof. Still, as many times as I've tried the classic flavors that bear the name of my heritage, I don't get tired of them. With the recommendation from our server (as if I needed it and hadn't been eyeing this menu option from the moment I sat down), we ordered Cuban Nachos.
I was a little disappointed to learn that this dish didn't actually consist of tortilla chips or fried plantains. For me, this was more of an open-faced Cuban sandwich, but I quickly got over my particular ways and fully embraced this lovely dish in front of me.
The bread was topped with slow roasted pulled pork, crispy ham and salami, mornay cheese sauce and a dill aioli (on the side for us).
Lastly, the Open Faced Tampa Style Cheesesteak sandwich was calling our names.
Shaved ribeye steak smothered with mornay cheese sauce over local cuban bread with lemon and roasted garlic aioli had a lot of flavor. I would have used less cheese sauce and more of the aioli, but I wouldn't hesitate to order this again.
The best thing about Flight is the happy hour deal! Tuesdays through Saturdays (when does a restaurant ever offer happy hour on a Saturday??? This is awesome!!), from 5pm-7pm, enjoy $4 top shelf drinks and everything on one side of the menu for $5 (excluding the crab cakes).
If you're itching for a vacation, and happen to be hungry as well, Flight has you covered. What'll it be on your visit? Will you decide to have the New England varieties, or will you travel to Greece? Will you choose the deep south, or the sunny Caribbean?
Find Flight on Facebook | Follow Flight on Twitter
2 Responses to "Jet Set Around the World at Flight Restaurant & Lounge"

Leave a Comment