Flamestone American Grill: A Wonderfully Delicious Stop on our Tampa Bay Brunch Tour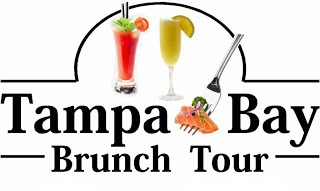 There comes a time when you put on a cute dress, high wedges, dangling earrings and your favorite lip gloss and drive with the windows down, absorbing the Florida sunshine and great weather, on your way to brunch with friends. That was me on Cinco de Mayo, on the way to Flamestone American Grill for stop #3 of the Tampa Bay Brunch Tour. Previous restaurants have included Ciccio's in SoHo and Grille 54. Unfortunately, I wasn't able to attend either of those brunches, but I have had Ciccio's brunch a couple of times and I'll be visiting Grille 54 you know, to provide an accurate vote and all…yeah, blog purposes…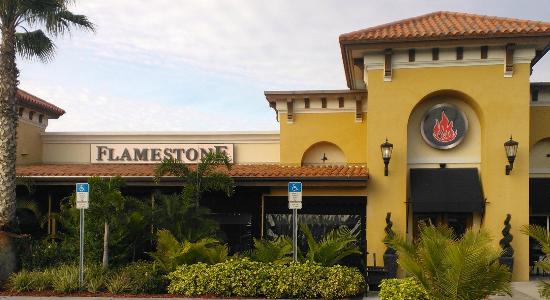 (via)
There are 2 reasons that I have been begging myself to make time to go to Flamestone:
I love Besa Grill, sister restaurant to Flamestone and owned by the same great people. I love Besa Grill so much that it took zero persuading to get me excited to try Flamestone.
Four words: Wal-Mart Choice Steak Challenge. About a year ago I was invited to the Wal-Mart Choice Steak Challenge, a battle between chefs for the title of best steak-grilling skills in Tampa. Battling were Chef Chad Johnson of Bern's and Chef Eric Lackey of, you guessed it, Flamestone Grill. Eric took home the title with his perfect steaks and winning personality.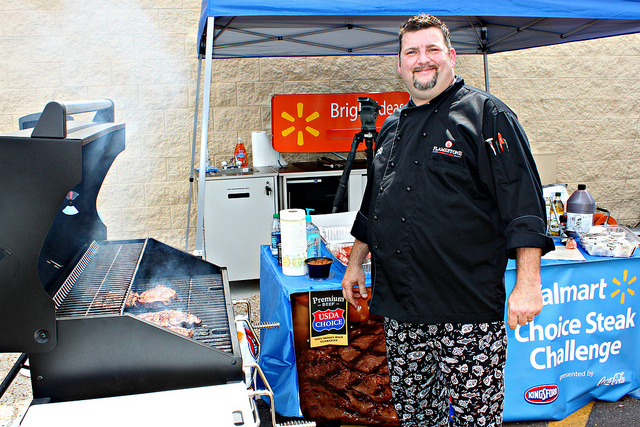 So, this perfect Cinco de Mayo morning was made even more perfect by where we were visiting and I was ecstatic.
Brunch isn't brunch without a proper Bloody Mary or Mimosa, am I right, or am I right? With Flamestone's unlimited brunch bar for only $10, there is no excuse to skip out on these sippable libations.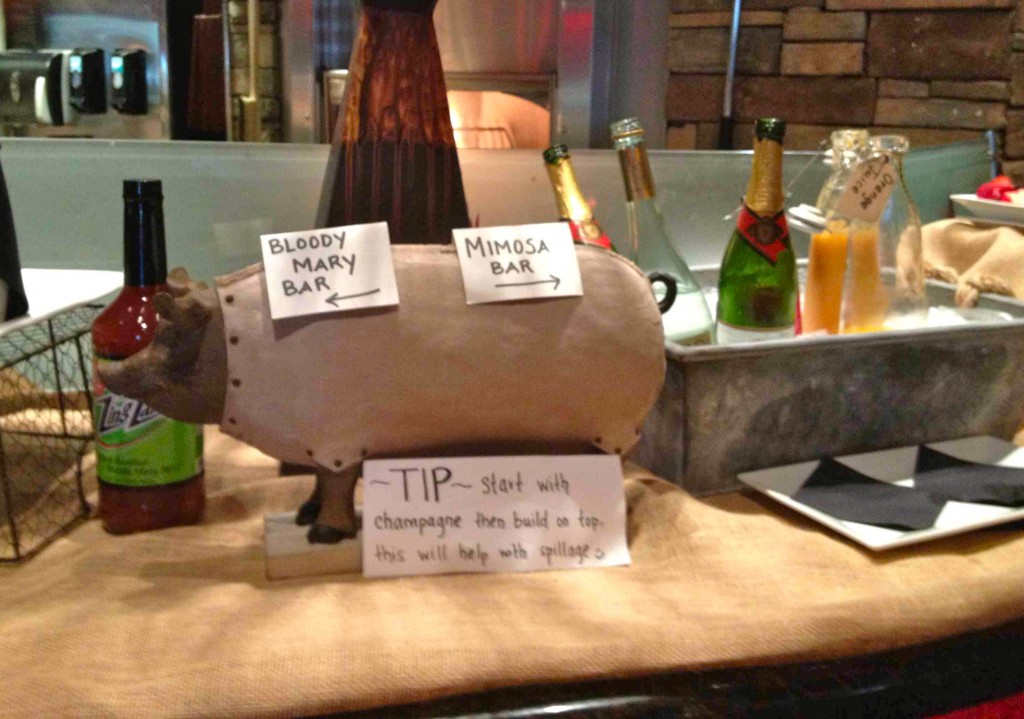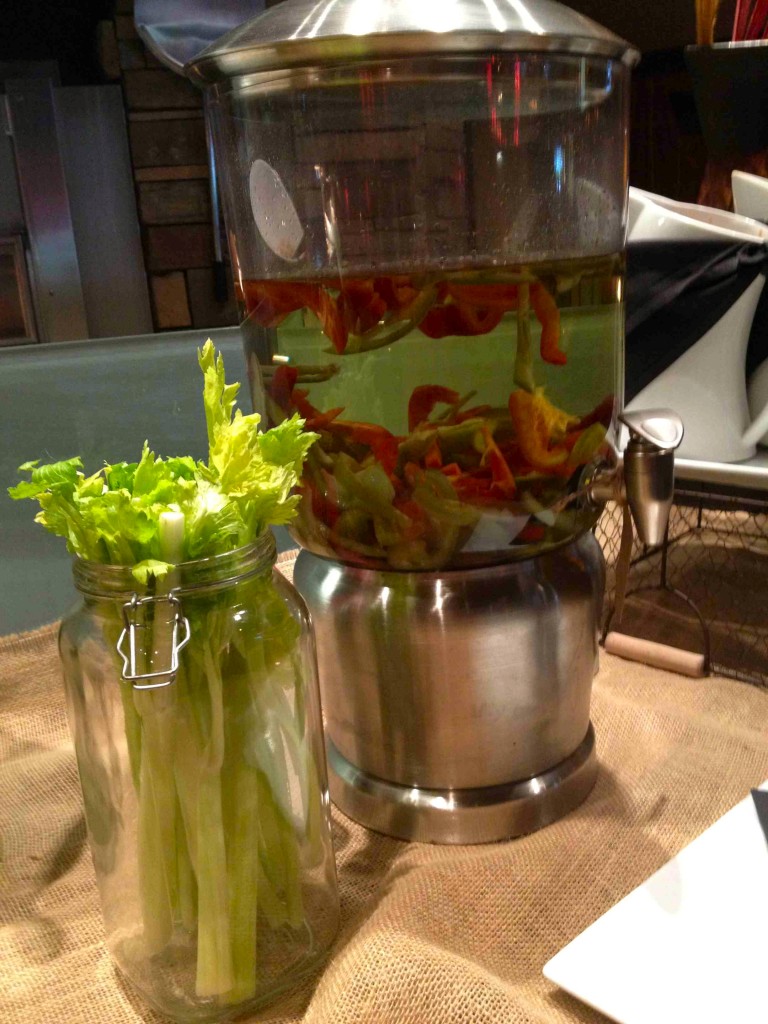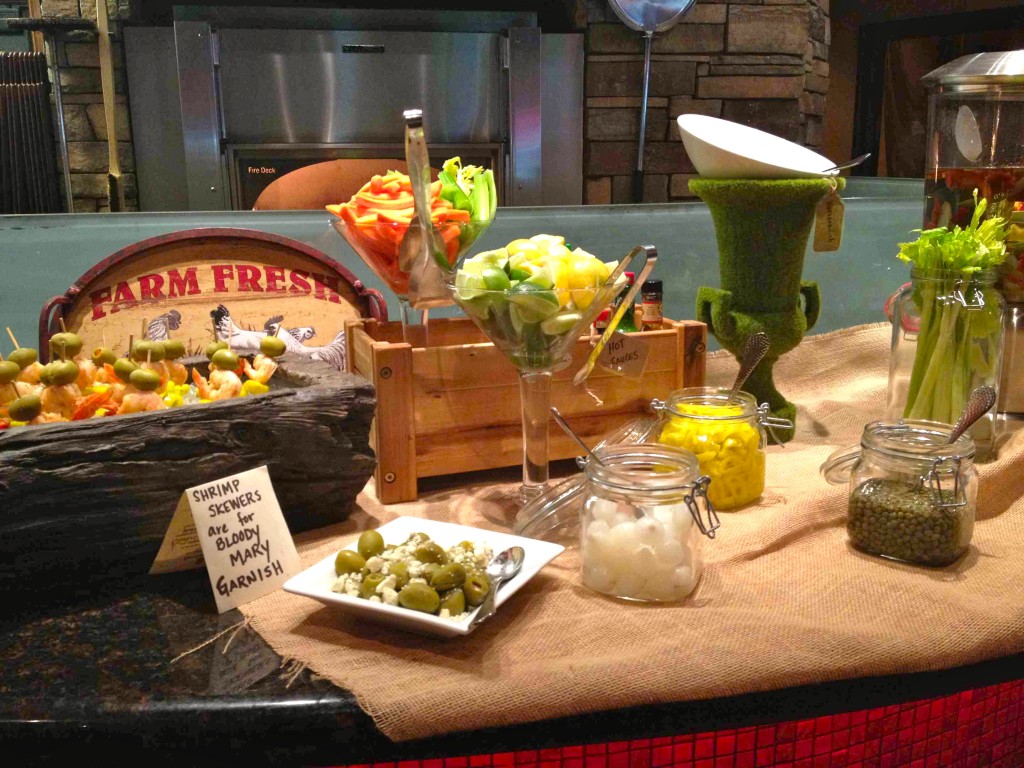 Although there is a plentiful array of different garnish items for your Bloody Mary, I skipped right over to the Mimosa area. Flamestone offers two different brands of champagne…the sweet, bubbly liquid that I love…along with cranberry juice, OJ, peach smoothie and raspberries, peaches and strawberries for garnish.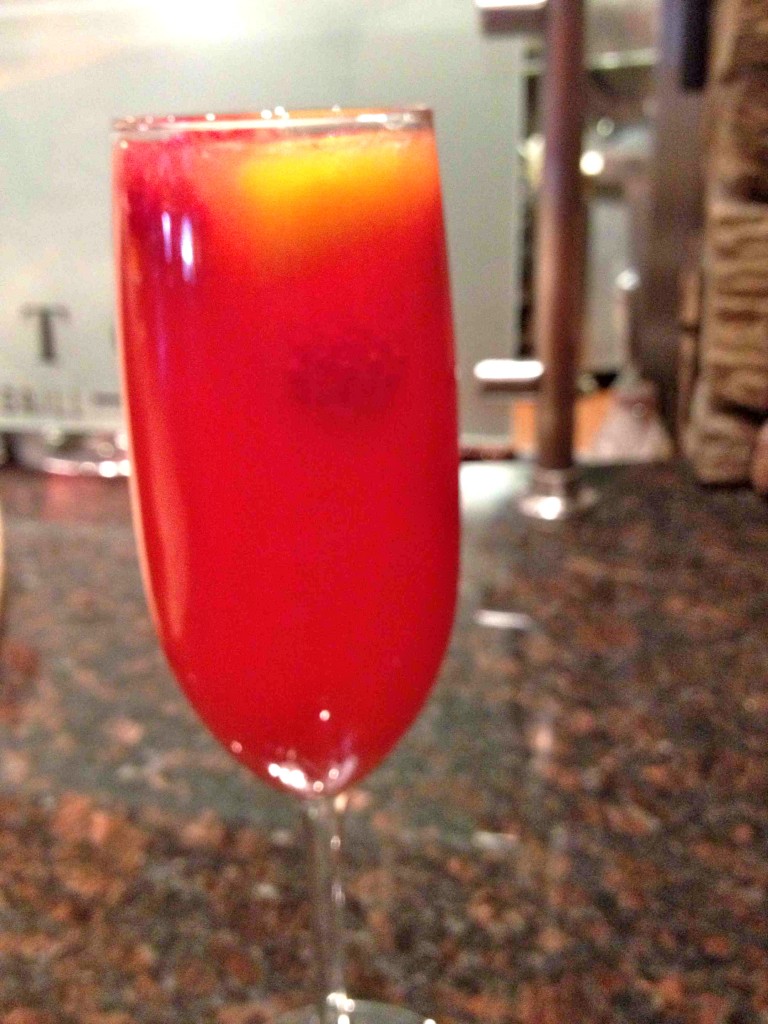 Sipping on champagne at 11am sets the tone for me for the rest of the day. I immediately relax and imagine laying out by the pool with a bowl of grapes by my side. What can I say? I'm nothing if not all about the beach bum lifestyle. Though these are the thoughts I had, Flamestone was able to draw me away from them for the entire duration of our visit there. Be prepared to drool, as this brunch recap will immediately induce rumblings in your stomach (is it lunch time yet?).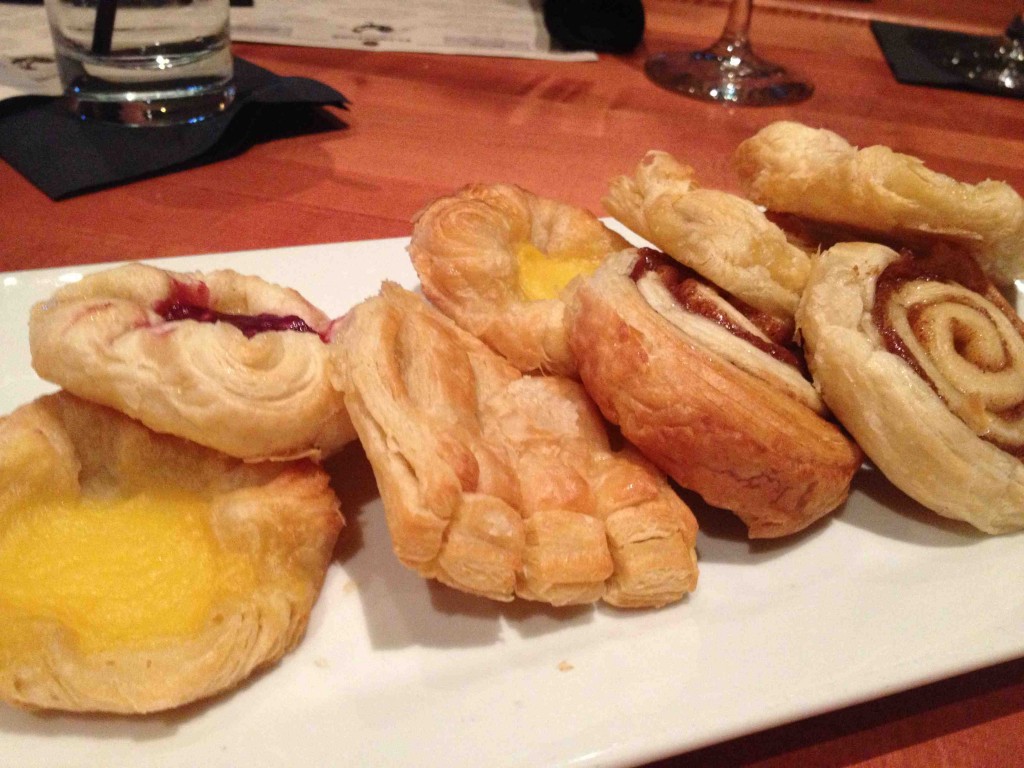 At Flamestone, you can get a Basket O' Pastries, with an assortment of four different pastries, for $5. I'm not a huge pastry eater, but the fresh smell of bread takes me to breakfast dreamland every time.
For brunch, lunch and dinner, Flamestone has guacamole, made tableside. On this occasion, Chef came out and made the guac for us himself.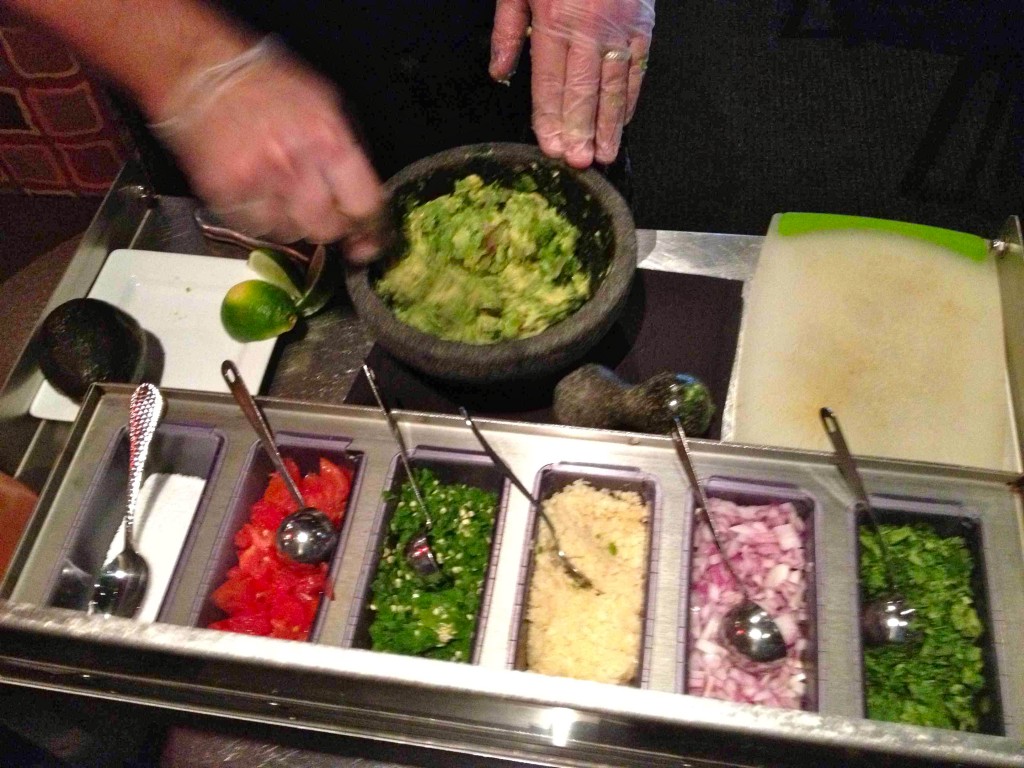 Chef made the perfect guacamole. Please note that this statement is 100% sincere. I really mean that is was a fantastically perfect blend of lime, heat, salt and creamy avocado and well, you had me at hello (and you have me consuming more guacamole than I care to admit).
I love Banana Fosters the dessert, but I was skeptical about how much I would enjoy this dish as I'm not a huge fan of sweet items for breakfast. One taste and I was transformed, at least for now. I loved the soft waffle, sautéed bananas and candied pecans, topped with a luscious rum caramel sauce.
Your eyes do not deceive you: a gorgeous benedict was placed before us and I was so ready to dig in and experience all of the rich flavors. The Crab and Prosciutto Benedict is made with poached eggs, prosciutto, sautéed crab, truffled spinach and a creamy béarnaise sauce. Served alongside was Flamestone's new home fries, a mixture of cheeses, bacon and a sauce that was reminiscent of white queso. It may be an exclamation nobody will understand until you try these potatoes, but it was my favorite item of our brunch.
And now, what I figured would be served: an elegant steak and eggs dish with fried eggs, filet medallions, caramelized asparagus, lump crab meat and hollandaise. Such a warm and pleasing meal demands kudos to Chef and a standing ovation. The steak was tender and paired extremely well with the hollandaise. The eggs were cooked in my favorite way and the asparagus and crab toppings were both so incredibly cooked and seasoned. On the side we received Chorizo Risotto.
While I didn't personally try this dish (I don't know how I missed it), I remember the praises from those around my table. Strawberry Shortcake is always a win in my book and when you have a crème brulee French toast as the base, you're doing something right.
The Morning Flatbread is stone oven baked and topped with scrambled eggs, sun dried tomatoes, maple cured sausage, applewood bacon, home fries and cheddar jack cheese. It seems like a simple flatbread; it's anything but.
We also tried the Rancheros Omelet, but unfortunately, I failed to capture a picture. This Omelet is a must-order with chorizo, Spanish onions, green chiles, tomato, cheddar jack, zesty salsa, and fresh guacamole. When you visit Flamestone for brunch, and I know you will, just say yes to this dish. You won't regret it.
And that's it! I hope you enjoyed my recap!
JUST KIDDING!
Just when we all thought our hearty experience was over, out came the most gorgeous display of Chicken n' Waffles I've seen.
Crispy fried chicken, homemade Belgium waffles, candied bacon, pecan butter and the innovative ancho maple syrup- ah, almost too pretty to touch…almost. With some extra candied bacon on the side, we all dug in like we had gone a week without eating. Ravenous girls, taking pictures and scarfing down on some fried chicken is a pretty funny sight. Some claimed Flamestone's Chicken n' Waffles to be the best they've had. I say that to visit Flamestone for brunch and not order these is blasphemous.
And this, for sure, was the last dish of the day- Campfire S'Mores. Flamestone's S'Mores are presented around a tabletop grill with graham crackers dipped in Godiva chocolate and marshmallows, ready to be roasted over the grill's flame. The S'Mores were a fun treat to end our time at Flamestone.
Do yourself a favor and get over to Flamestone for brunch, lunch and/or dinner. Let me know what you think. :)
If you don't want to stop here, be sure to head over to the recap posts of my brunch companions: Megan, Leslie, Tracy, Lauren and Shannon!

2 Responses to "Flamestone American Grill: A Wonderfully Delicious Stop on our Tampa Bay Brunch Tour"

Leave a Comment