EATS! American Grill, Where Everybody Knows Your Name
Have you guys ever been to Pinkberry? My love affair with Pinkberry (mango is my favorite flavor, if you must know) began at EATS! American Grill. You may be wondering how that is possible. What had happened was…
As a reader of Tracy's blog, I entered her Pinkberry giveaway very long ago and won! It could have been my first giveaway win ever because I'm never lucky. Arrangements were made to come into EATS!, where Tracy would be bartending, to pick up my gift card. Unfortunately, this was before I had a food blog and so it wouldn't be until much later that I had the opportunity to review the awesome food that comes out of the EATS! kitchen.
Since then, not only had my love of EATS! and Pinkberry continued, but I've become good friends with Tracy and a huge fan of her blog. The world is pretty interesting. I can sit here and recommend everything on the EATS! menu, but I won't because I'm fairly sure you all would just stop reading as I go on and on. Some favorites include: Mac and Cheese, Sautéed Mushrooms, Fried Chicken, Fried Green Tomatoes, the Pork Chop Sandwich and, complimentary with every meal, homemade chips with homemade secret sauce.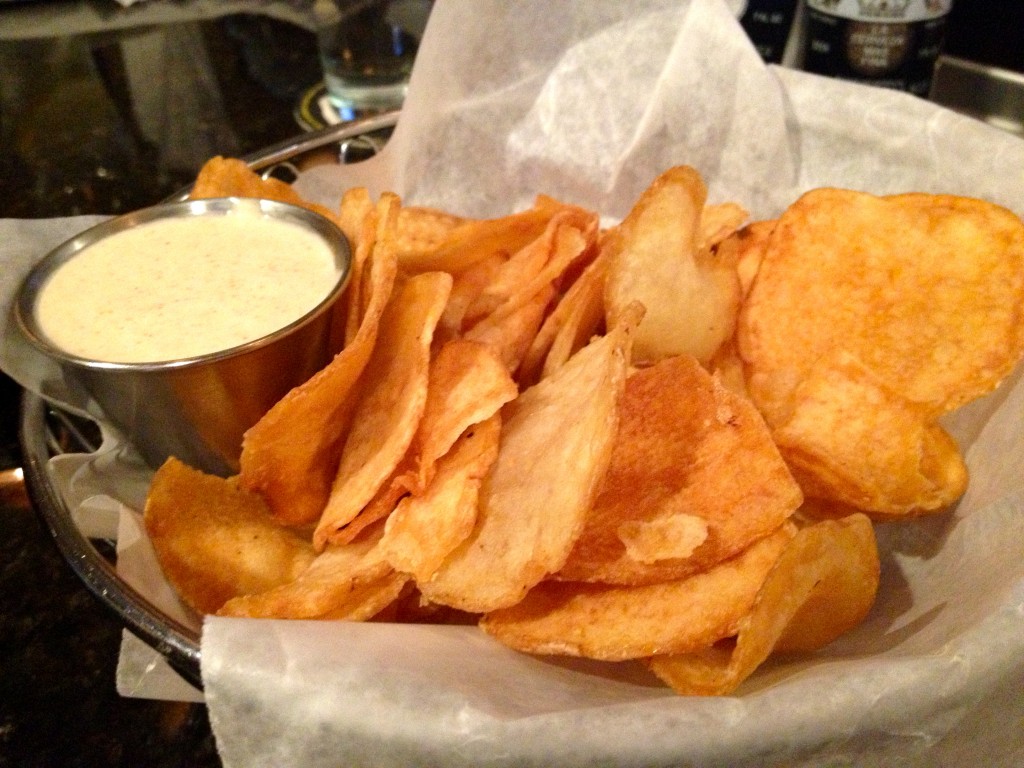 There are more to these chips and sauce than what it all looks like. Mixture of crunchy and soft (think of a Chick-fil-a waffle fry with the potato skin…ahhh). The dip is made with their homemade ranch dressing as a base, but you're just going to have to visit EATS! to try to find out what else it's made of.
Recently, EATS! updated their menu and added some great choices that I had the pleasure of trying with friends Kerry and Blaire.
Can you believe that I had never had a wedge salad before? This iceberg wedge is smothered in homemade blue cheese dressing, topped with chopped tomatoes, blue cheese crumbles and bacon bits. I'm a newbie blue cheese eater so I had to take it slow with this salad so as not to be overwhelmed by the flavor, but it was good!
These crispy fritters will make you believe you've been transported so Hawaii. Juicy Dole pineapple with celery and onion are fried to create a delicate coating with crispy bits. Dunk these fritters in sesame Polynesian sauce to take them to the next level.
Let's take a moment to pay respect to the ultimate BLT: the Midwest BLT. This particular BLT was featured on Heat Seekers, a show on Food Network where Aaron Sanchez and co-host Roger Mooking tour America to find the hottest dishes, when the duo stopped by EATS! to have a taste. How incredible is that?
This isn't a new dish on the menu, but it needs to be said that it's one of the best. The Midwest BLT has two fried green tomatoes, peppered bacon, crispy lettuce and a signature spicy sauce sandwiched between two pieces of Texas toast. You can choose to take on the 5-pepper sauce instead to experience what Aaron and Roger did, but beware: it's no joke and your eyes will water and you'll get the sniffles. Here is the recipe.
If ordering a pasta bowl, choose between blackened chicken or shrimp. It's tossed with penne pasta, homemade 5-cheese sauce, topped with Andouille sausage and served with Texas toast. I would have eaten every last bite if I didn't want to make sure I had leftovers for the next day to make my experience last. That's right- I was strategic as I consumed my meal. Even though the pasta bowl featured a 5-cheese sauce, it was blended so well that there weren't strings of cheese glopping up the dish. Smooth sauce that filled the crevices and tube of the penne- that's what I'm all about.
Image via
That's right, folks. What you see before you is a sandwich with mac and cheese on it. The fun doesn't stop there. Created by Tracy herself (and loved by many), this Rib and Mac Sandwich features pulled rib meat and creamy macaroni and cheese with red onion, served on Texas toast. It's so large that I recommend pushing down on the bread, squishing all of the contents, and allowing some of the ingredients to spill out onto your plate to be consumed later. This sandwich is out of control, in all the right ways.
Other new entree items include: Chicken Burger (blended with jalapenos and garlic!), Mahi Fish Sandwich, Tree Dog Mad Sweet Chicken, Shrimp or Mahi Fish Tacos, Haba Haba Shrimp and a handful of new salads. Try the new Sweet Potato Tots (served with caramel rum sauce!). Classic American Ice Cream Truffles are the newest dessert offering and come in The Manhattan, Cookies 'n Cream and Strawberry Cheesecake.
Aside from the great food, EATS! has a very "Cheers" feeling to it. The atmosphere just screams "Welcome and stay for some drinks. Let's be friends!"
8 Responses to "EATS! American Grill, Where Everybody Knows Your Name"

Leave a Comment