Dine Tampa Bay Restaurant Week Preview: A Besa Grill Spotlight
I get most excited for, in order:
Christmas
My birthday
Tampa food events
This is why August 16-30, 2013 is making me a very happy foodie. This time period marks Dine Tampa Bay's 4th Annual Restaurant Week, featuring over 90 participating restaurants. Restaurants that are just begging to be visited by enthusiastic gluttons such as myself. Or, you know, if you just want to try something new or visit a tried and true.

The idea is simple: Pick a prix fixe meal price ($25, $35, or $45), choose a restaurant that is featuring a menu in the price you selected, and make your reservations. From each prix fixe menu, choose one starter, one entree and one dessert. This is your chance to try a new restaurant, introduce a friend to your favorite or just randomly select where you'll dine on an evening during these two weeks.
Combine Dine Tampa Bay with my most-visited and favorite restaurant of 2013, Besa Grill, and I'm doing cartwheels and dancing a jig. Last night I visited Besa Grill for a special taste test and preview of the Restaurant Week menu.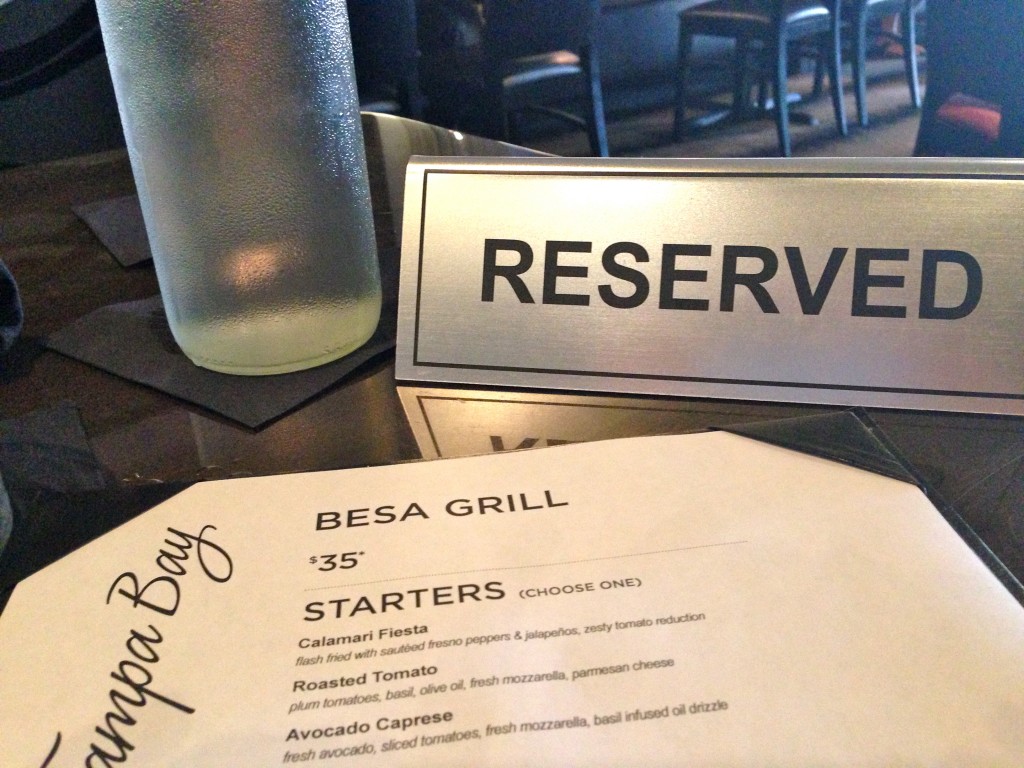 It may be the beginning of this post, but if I may make a statement before I dive into the food I consumed: It must be said that when you visit Besa Grill, you can't walk away without trying a cocktail of theirs. Their concoctions are something they are proud of, and rightfully so! I've never had a cocktail that was anything less than stellar at Besa Grill so what does one do when you love the libations so much? Try many, obviously.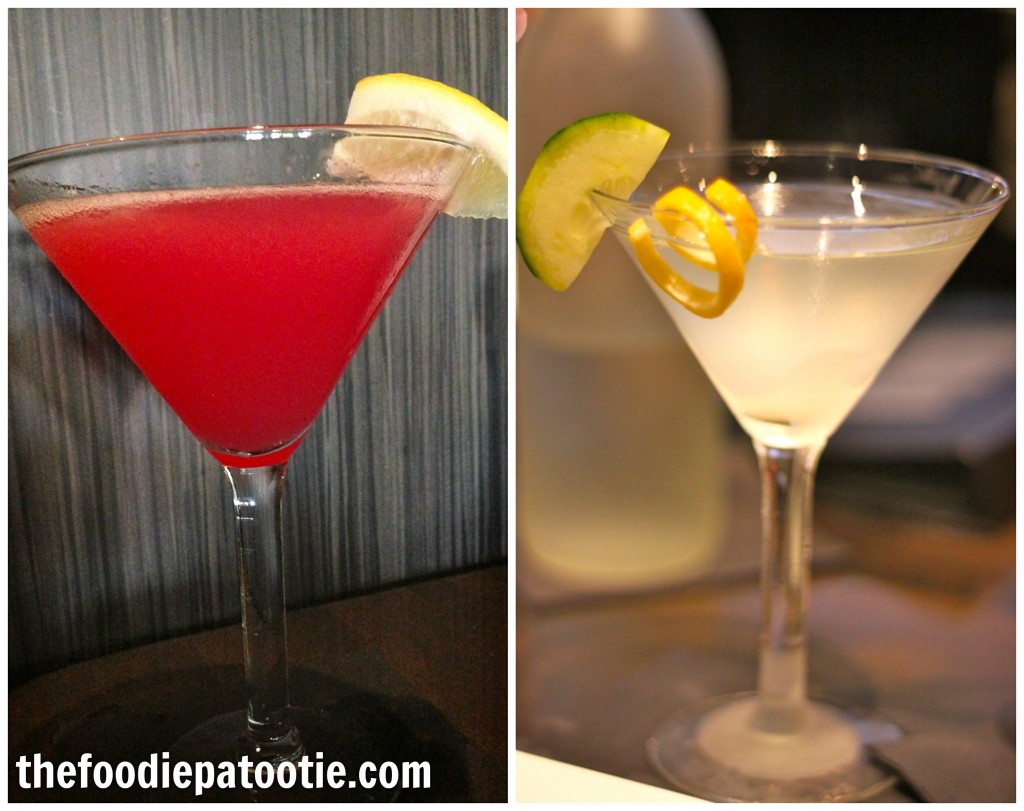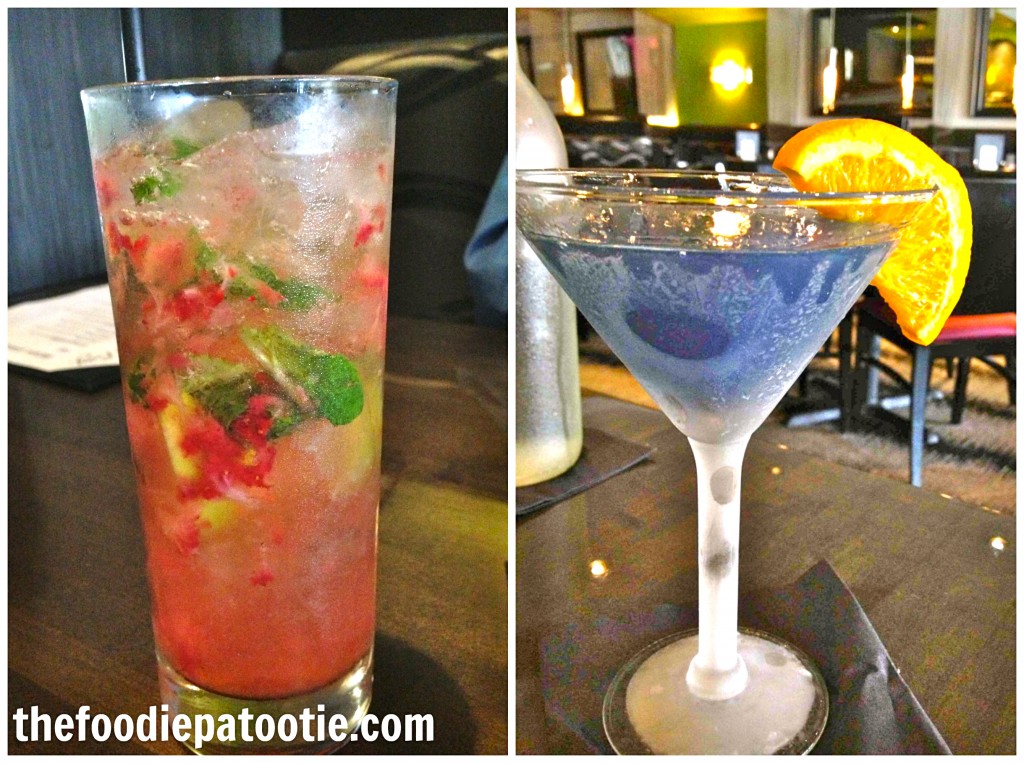 Clockwise from upper left: Hibiscus Martini, Cucumber Ginger Martini, Acai Blueberry Martini, Dragon Berry Mojito. The Hibiscus Martini ranks up there as one of my favorite drinks that I've ever consumed. Ever. Composed of Stoli Vanilla with homemade hibiscus nectar, fresh lemon squeeze and splash of champagne, this cocktail has an impressive flavor, is gorgeous, and very easy to drink. We also tried (not pictured) a glass of Manifesto Sauvignon Blanc which has a super floral note of peaches, pink grapefruit, papaya, Meyer lemon, and a hint of cut herbs with a bold taste of pink grapefruit, orange creamsicle and papaya. It was like fruit juice, but with the sharp wine taste. Definitely something I can drink a whole bottle of. Just saying'.
Now onward to the food. OF COURSE Besa would have a prix fixe menu that'll make you wish you had five stomachs. It was a long process deciding just which items to start with. Ultimately, we went with Calamari Fiesta and Avocado Caprese for appetizers.
Tender squid with fresno peppers and jalapenos, served with a zesty tomato reduction, made up this Calamari Fiesta dish. I'm pretty particular about the fried breading on calamari. I like to actually taste the calamari and have a good balance of breading and squid. And, I'm pleased to say that Besa Grill knows how its done.
This Avocado Caprese was made with the normal caprese elements (tomato, mozzarella, basil, balsamic), but with avocado (because avocado is awesome). Besa's caprese is a little different though in that their basil-infused oil highlights even more of the herb. I scraped the plate clean. Do you see those shreds of cheese? Yep,those were gone too.
For entrees, we decided on the Parisian Chicken, an item I've been eyeing on the Besa menu for quite a while, and the Skirt Steak.
The Parisian Chicken was a favorite of the night. Grilled chicken topped with truffle scented arugula, brie, oven-dried tomatoes, red onion, served with garlic whipped potatoes and fresh farm vegetables. Squirt the dish with some fresh lemon for a highlighted flavor that just impresses all over again with each bite.
If you've read any of my posts where I talk about chimichurri, you know that this vinegar, garlic, herb mix is an obsession of mine. I get abnormally excited when I see it on a menu and have a salivating hunger to try it. Like everything else, I loved Besa Grill's chimichurri, especially when paired with this perfectly grilled, lime-cilantro marinated Skirt Steak. Tender, juicy, amazing.
So full from these dishes, we almost skipped dessert. Almost. Oh, who am I kidding? There was no way we were going to walk out of Besa Grill without some treats!
These fried yum yums, tossed in cinnamon and sugar, and served with both a cajeta caramel and an abuelita chocolate dipping sauce, made me close my eyes as I experienced a childhood favorite of mine. Churros, in their purest form, are simply amazing.
Besa Grill has a dessert called the Impossible Cake. This dessert happens to be my favorite dessert ever (no exaggeration) and happens to be available on the prix fixe menu for Restaurant Week. The Impossible Cake is part flan and part chocolate cake. The cake, being underneath the flan portion, becomes saturated with flan drippings and makes for the moistest cake known to man. As a side note, I DON'T EVEN LIKE CHOCOLATE, but Besa has converted me, at least for this dessert.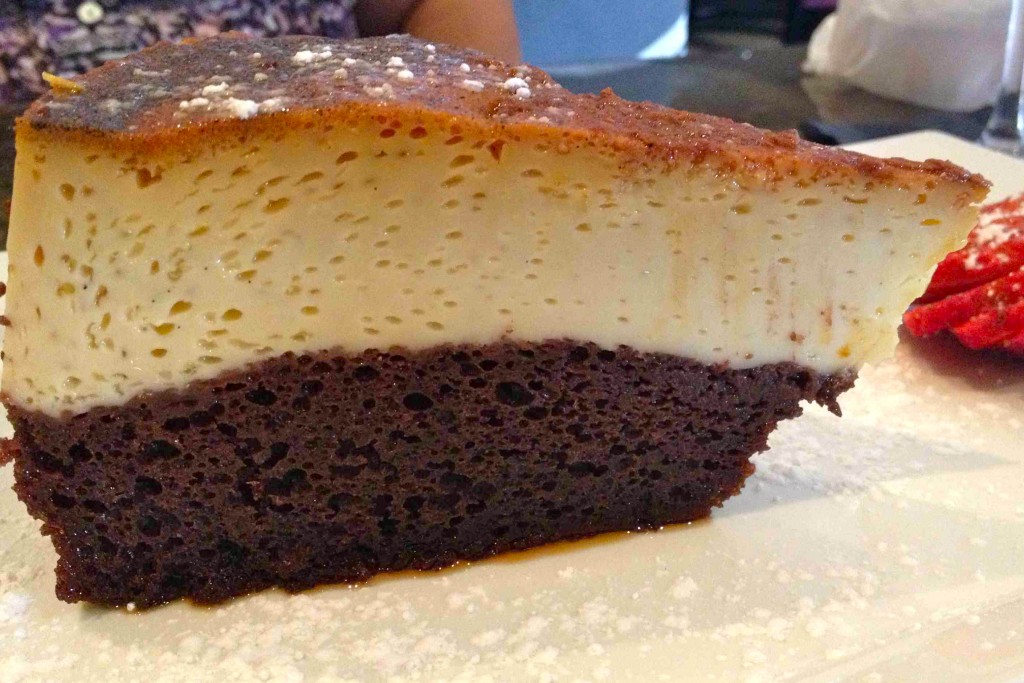 Well, to be fair to my readers, I decided to order something different: the Fried Banana Cheesecake. It's not that I necessarily minded, but it's just one more dessert that I've tried and can say, "Yep, I've tried it and the Impossible Cake is still the big winner". With that being said, the Fried Banana Cheesecake was crispy and creamy, with dulce de leche ice cream, drizzled with cajeta caramel, and it was delicious.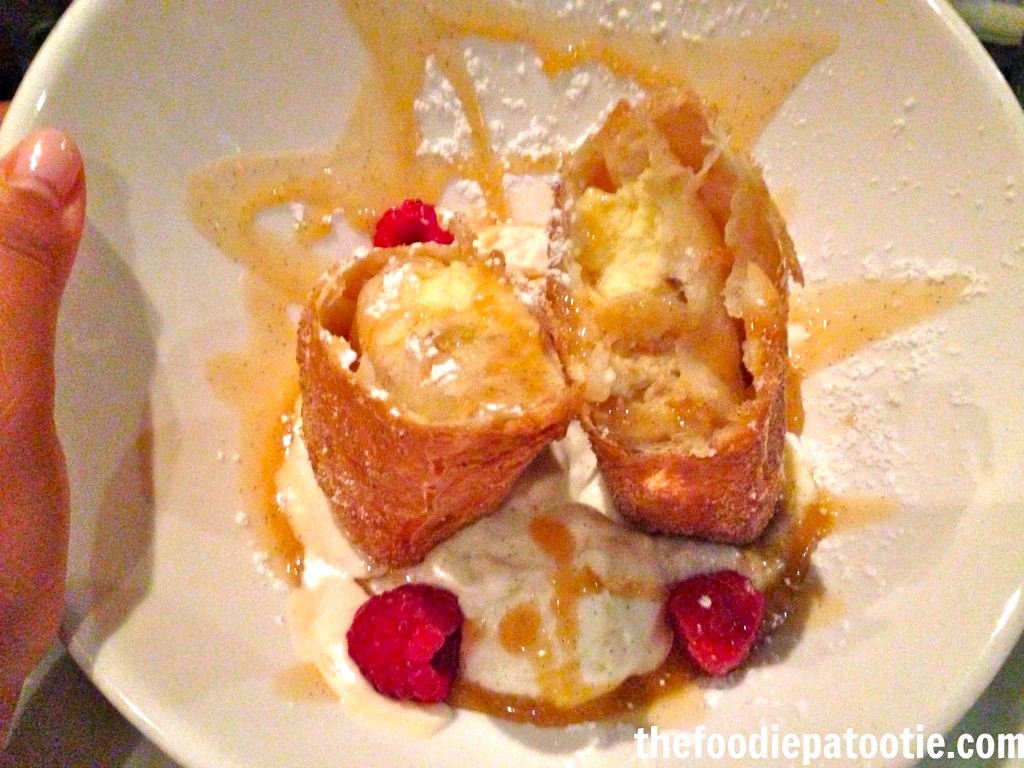 Thank you to Besa Grill for hosting me and my husband  for dinner. Thank you to Dine Tampa Bay for having such a thing as Restaurant Week. Thank you to my stomach for expanding enough so I can fit all this food into my mouth hole. Below you'll find the full Besa Grill Prix Fixe menu. Don't miss out- purchase Restaurant Week tickets for this amazing restaurant soon!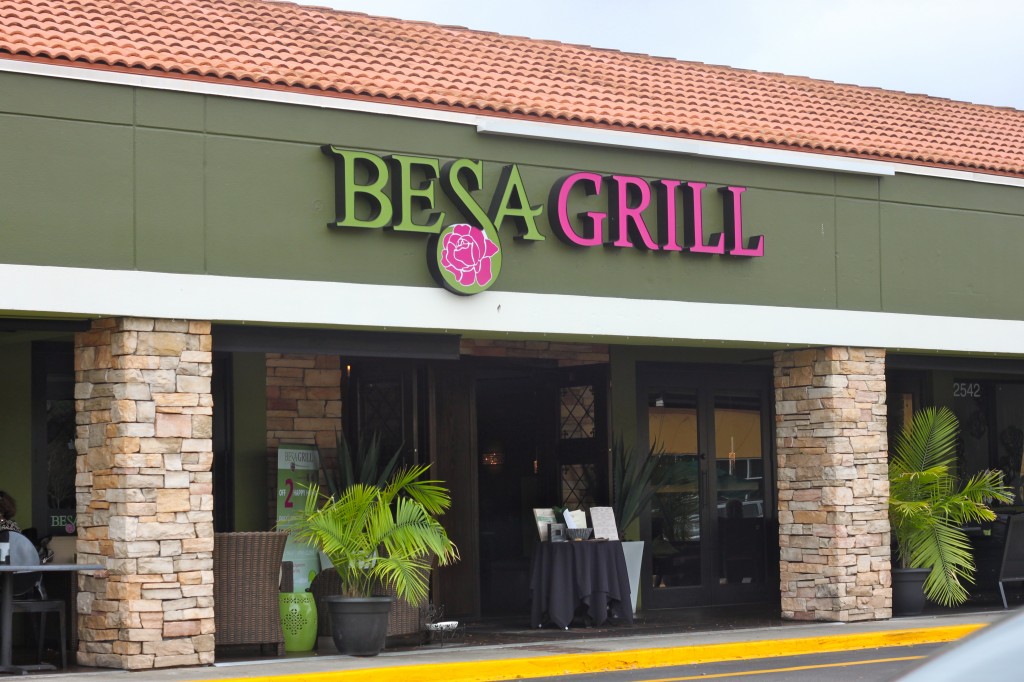 Starters
Calamari Fiesta
flash fried with sauteed fresno peppers and jalapenos, zesty tomato reduction
Roasted Tomato
plum tomatoes, basil, olive oil, fresh mozzarella, parmesan cheese
Avocado Caprese
fresh avocado, sliced tomatoes, fresh mozzarella, basil infused oil drizzle
Entrees
Cedar Plank Salmon
roasted on a cedar plank, mango-chile glaze, roasted garlic whipped mashed, farm fresh vegetables
Crab Cake Trio
Lump crap, applewood soft polenta, avocado mango salsa, green chile tartar
Skirt Steak
fire-grilled, lime-cilantro marinated, chimichurri
Parisian Chicken
grilled chicken, truffle scented arugula, brie, oven-dried tomatoes, red onion, garlic whipped mashed, farm fresh vegetables
Desserts
Impossible Cake
torres family secret, part flan + park chocolate cake
Fried Banana Cheesecake
banana cheesecake flash fried, dulce de leche ice cream, cajeta caramel
Churros
tossed in cinnamon + sugar, cajeta caramel + abuelita chocolate dipping sauce
4 Responses to "Dine Tampa Bay Restaurant Week Preview: A Besa Grill Spotlight"

Leave a Comment