Cucumber, Grape, and Herb Quinoa
 This shop has been compensated by Collective Bias, Inc. and its advertiser. All opinions are mine alone. 
#SwansonSummer #CollectiveBias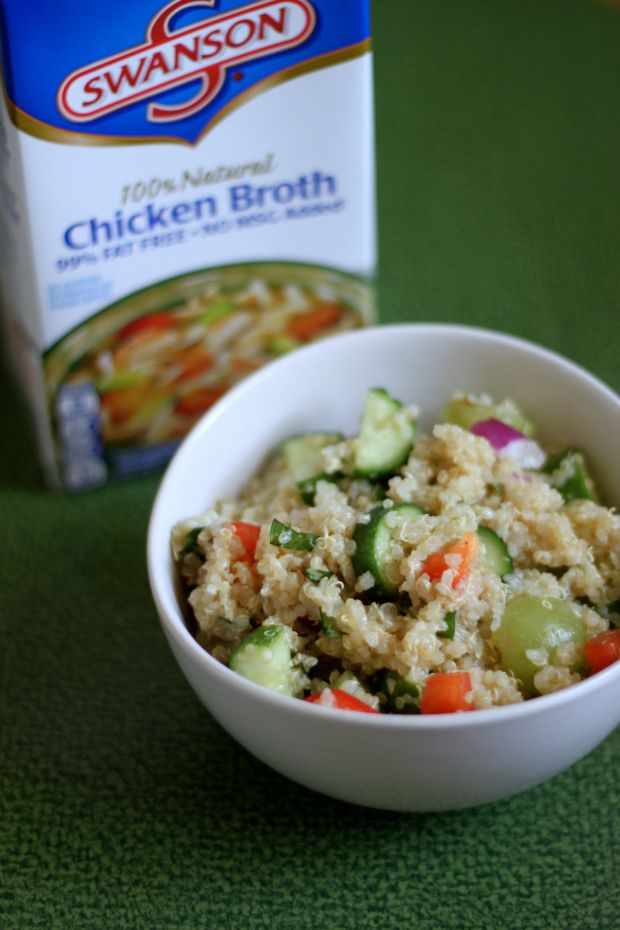 If I didn't have a 40 hour a week job outside of my blog and freelance projects, you know what I would be doing?
I'll go ahead and tell you because, as my husband likes to point out, people aren't mind readers.
If I had more free time, I would make so many summer recipes. You know the ones. They are the recipes that are perfect for any summer BBQ or, as I call them, "food fests". I would host a million recipes right here for potato salads (tangy, sweet, vinegary, all varieties!), barbecued meats (both on and off skewers), beautifully full salads, cold soups, fun dips as appetizers, mini foods that can be eaten in one bite, wonderfully intoxicating cocktails… Honestly, the list goes on for forever and ever.
Tune in next summer as I should be more prepared for the most fun season of the year.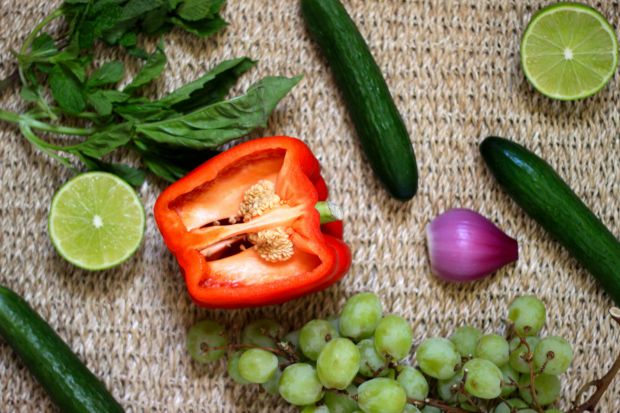 In Florida, there's the summer that lasts about 360 days of the year – the other 5 can be described as fall – and then there are the "official" summer months that are really just a more summery summer. It's so hot and typically rains every afternoon, but the produce that's around during the spring and summer time are some of my favorites. Berries and peaches and ahhh so many flavors. Then there are the fruits and vegetables that aren't necessarily at the peak of season, but available all the time and are still so delicious.
That's why this Cucumber, Grape, and Herb Quinoa is going to be your new favorite meal! Green grapes (the superior variety, clearly), cucumbers, and then wonderful herbs like basil and mint. Can't ever go wrong with those. Add some more items, like a zesty dressing, and you have today's recipe. Which, coincidentally, is perfect for a summer BBQ, but also for some of these other times:
when you need a quick and easy meal
for a potluck either at a friend's house or at work
when you are in a place where you can't keep your dish warm
picnics on the beach or the park…picnics anywhere
road trips, why not?
for a relaxing lunch on a relaxing Sunday afternoon
leftovers for a workday lunch, whenever (!!)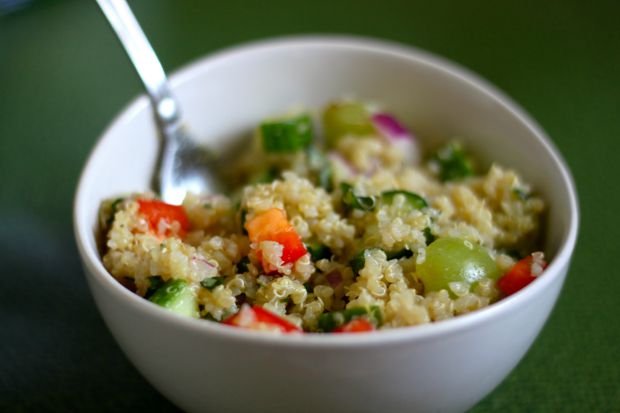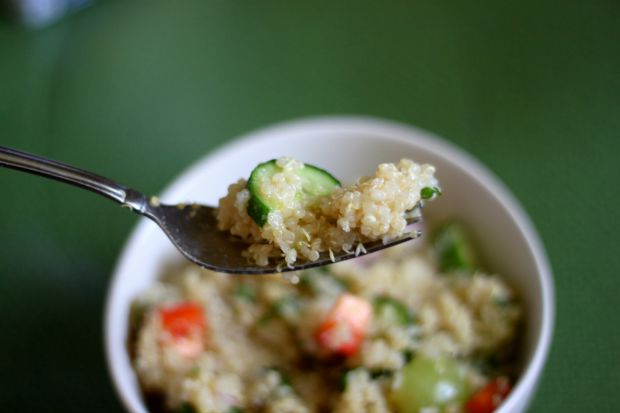 Quinoa is one of my favorite things to eat. In case you don't know, quinoa is a grain and has this really fantastic texture to it. You can just make it as a side dish, or add some to your favorite salad, it all works. Quinoa is so versatile in that it can be paired with different foods and ingredients and dressings and be different every time. A lot of people cook their quinoa in water, but I always prefer to use chicken broth.
Cooking the quinoa in chicken broth awakens the flavor and adds a richness to the dish. It makes the quinoa seem a tad more hearty. Plus, I can honestly say I go through a plethora of Swanson Chicken Broth every month. I use Swanson for my Lemon Chicken Noodle Soup (an older recipe, don't fault the photo!), Ditalini Italian Soup, any kind of braised chicken dish or stew, to go with ravioli filling, white bean chili, etc.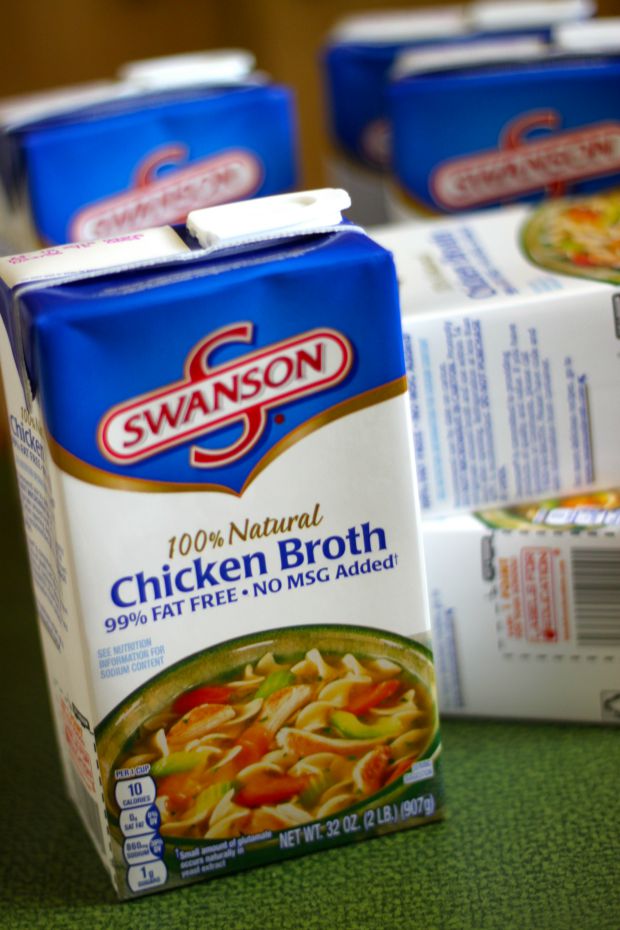 When I found out that Sam's Club now has a 6-pack of 32 ounce Swanson Chicken Broth containers, I did a giddy dance. Because I'm a food nerd and that's what I do, this is a no-judgment zone.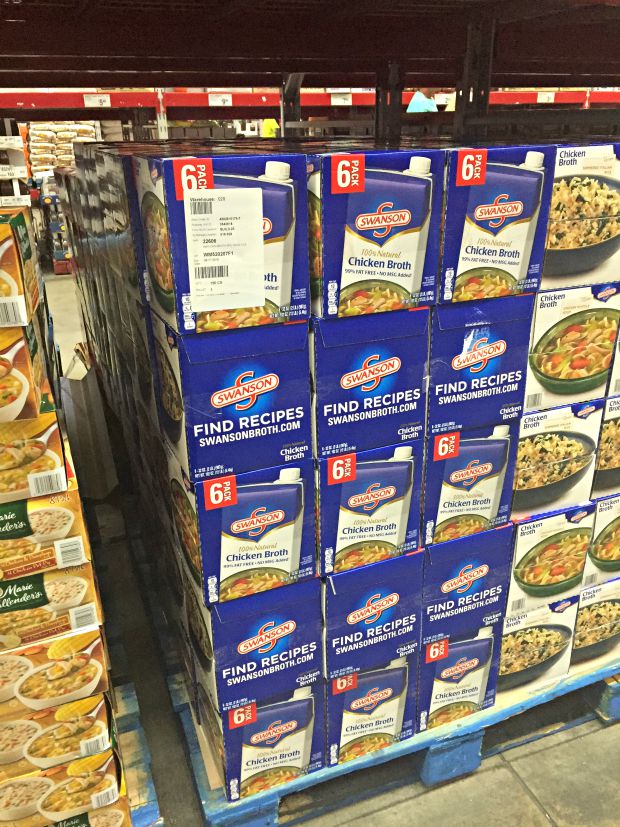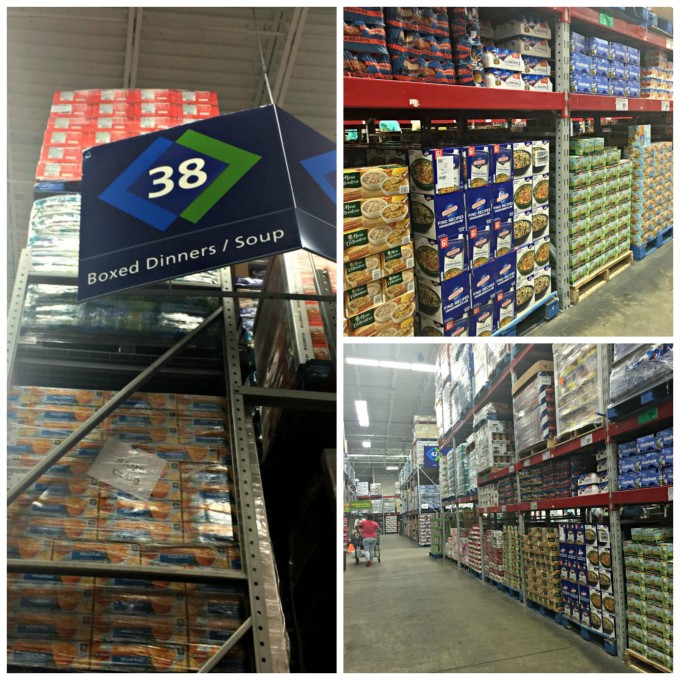 Speaking of no judgment, you may now eat many servings of this quinoa. I won't tell. Happy summer to you!
Interested in this chicken broth? You can attend a demo at Sam's Club locations nationwide this coming Friday (7/31) from 10:30 am – 12:30 pm for more information about the product. How do you use Swanson Chicken Broth in your summer recipes? You can check out the Swanson Summer Social Hub for recipe inspiration!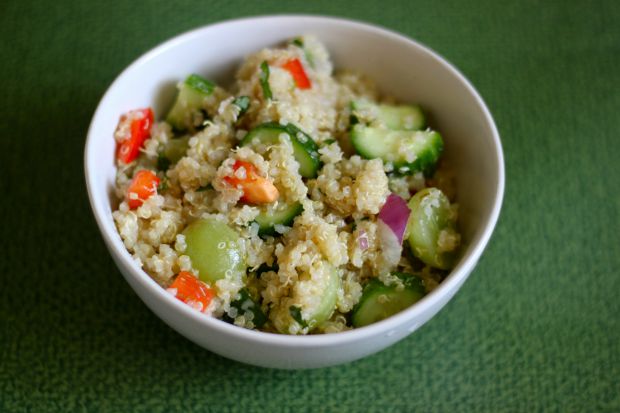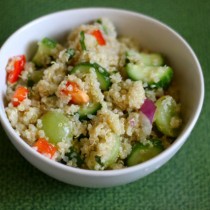 Cucumber, Grape, and Herb Quinoa
A delightful summer dish that's quick to make as a side item or main meal.
Ingredients:
Quinoa
1 cup uncooked quinoa
2 cups Swanson Chicken Broth
15 green grapes, halved
3 mini cucumbers, chopped
1/4 cup red onion, minced
1/4 red pepper, chopped
5 fresh mint leaves, chopped
4 fresh basil leaves, chopped
Lime Dressing
Juice of 1 lime
Zest of 1/2 lime
1 tablespoon honey
4 tablespoons extra-virgin olive oil
Directions:
Add quinoa and chicken broth to heavy-bottom pot set over medium-high heat. Once boiling, reduce heat to low, cover, and let cook for 20 minutes. Once done, fluff quinoa with a fork and allow to cool to room temperature.
Once cooled, add in grapes, cucumbers, red onion, red pepper, mint, and basil; stir to combine.
In a small bowl, add lime juice, lime zest, and honey. Whisk to combine. While whisking, add in olive oil. Continue to whisk until dressing is all combined. Pour over quinoa and toss. Add salt and pepper to taste.
Serve quinoa dish at room temperature or chilled. Either is delicious!
35 Responses to "Cucumber, Grape, and Herb Quinoa"

Leave a Comment