Bravo to Cafe Ole, a Quality Tapas Restaurant in New Tampa
Ole! Ole, ole, ole! Multiple cheers for Café Ole, a tapas restaurant in New Tampa that both blew me away and left me wanting more (while my pants grew more snug by the bite).
A couple of local food bloggers visited Café Ole previously and had nothing but rave reviews so I knew that when Carlos, Megan, Blaire and I would dine together, we'd feel the same (we did). Some of my favorite restaurants are the ones that are so unassuming, you don't even know they are there. Those restaurants that give you the feeling that the regulars consider it their second home and the employees make it a point to remember your name. Café Ole is this place. One visit and I already know it. Actually, five seconds into my visit and I felt this way.
I can't speak positively enough about the service we received. Passionate and personable, our server was a pleasure. She was so obviously proud of the restaurant in which she worked, from the dishes conceptualized by the chef to the relationships she has built with those who visit frequently for their meals or a glass of sangria. The culture of a restaurant can be a very discombobulated thing but Café Ole shows how to do it right. I felt like I was walking in to a family home and being treated to their dishes made from old family recipes. Café Ole was so welcoming, so warm.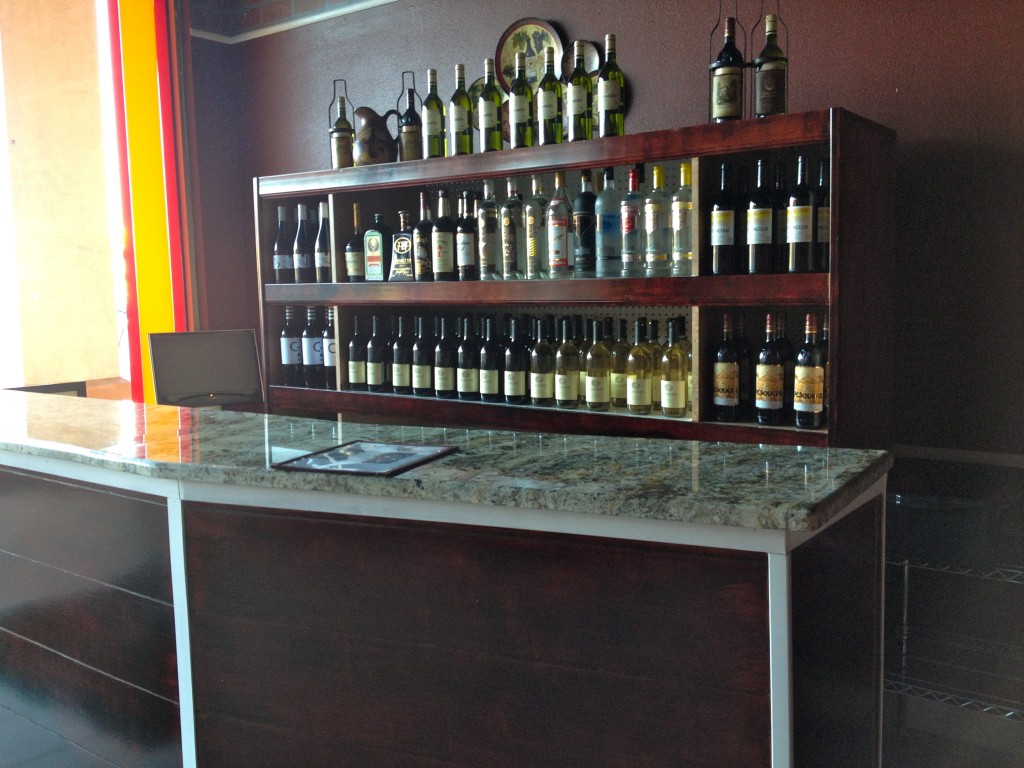 When we first sat down, my eyes glazed over the menu because I saw paella and my mind basically halted right then and there. It happened to be National Paella Day so I knew that their paella was something we would be treated to at some point of the evening. My excitement was so heightened, I couldn't even promptly decide on the appetizer tapa I wanted to try first. When you are at a loss of what happens next, you reach for wine and bread, right? At least I do. (Besides, our server rattled off a list of specials that all sounded so great, specials that change weekly and sometimes daily, and I needed some time to process.)
Therefore, enter the Red Sangria and Bruschetta.
Café Ole's sangria is sweet, just the way I like it. For not being a dessert person (for which Café Ole proves me wrong, by the way), I love sweet cocktails as long as they aren't so sweet you think you'll get an instant cavity. After a glass, I was ready to make some decisions.
Now, this…THIS BRUSCHETTA cannot be…it was just…welp, I can't even find the words. Easily the best bruschetta I've ever had, my hat is off to Café Ole. The crostini was so crunchy, even though a lot of balsamic had to go into that dish. Having soggy bread is one of the worst things ever, but Café Ole was able to stay away from that dish disaster. On top of the bruschetta was tomatoes, red onions, mozzarella, basil along with quality olive oil.
We then decided to pick one appetizer each to share. I selected the Patatas Alioli, Blaire the Tortilla de Patatas, Megan the Setas con Chorizo and Carlos the Calamares Fritos.
The Patatas were tender with a crunchy exterior and cooked well. The Alioli sauce was mild with a hint of sweet. I asked for a side of the Bravas sauce (Patatas can be ordered with either or both of these sauces) and it was very spicy and so flavorful, definitely my favorite of the two.
Blaire's Tortilla de Patatas is a classic Spanish potato omelet served with the same alioli sauce that we had on the Patatas.
Megan's Setas con Chorizo was one of the highlights for me. Spanish sausage and mushrooms, sautéed in olive oil and garlic, in a sherry wine sauce, this dish had no flaws. I don't particularly care for Italian sausage, but Spanish sausage is completely different and works in so many dishes.
Lastly, the Calamares Fritos that Carlos ordered were dusted in seasoned flour and lightly fried, maintaining tenderness. They were served with a tomato pesto sauce. Pesto is a favorite condiment of mine. I love the earthy flavor mixed with sweet and basil is an herb I use frequently.
Mistakenly, we all thought that we'd order these appetizers, have some paella and go on our merry way, but no. Café Ole had other plans for us and they made it known by bringing a stream of other tapas to try, some of which don't even appear on the menu.
First, this dish was a crowd favorite. Juicy chicken breast wrapped in prosciutto and stuffed with herbs, topped with black caviar. So much flavor in this dish, yet its simplicity was astounding. These chicken rolls were served in a cream sauce made with Bakon Vodka. NEED I SAY MORE?
Next out was a beautiful plate of bacon-wrapped shrimp. The bacon was crispy, the shrimp was perfectly cooked and they were presented in a light fruit sauce.
This tomato, stuffed with chopped pork, shrimp, peppers, onions and mozzarella was almost too beautiful to cut into and split between the four of us. But, alas we did, and paired with the pink vodka sauce on which the tomato rested, it was a match made in heaven.
Next was what we had all been waiting for: Paella. On National Paella Day, how else do you expect me to celebrate?
Paella Valenciana is THE classic Spanish dish, featuring shrimp, calamari, clams, mussels, fish, chicken and chorizo baked with Valencia rice in Cafe Ole's saffron sauce, made in house. We ordered our two Paella dishes at the same time as we ordered the Bruschetta so just by the time, you know a lot of care went into making the dish. While I absolutely loved everything, this Paella was the best dish of the night, in my opinion. In case you are one of the unfortunates who have never had yellow rice with saffron, I urge you to try it. Saffron completely changes a rice dish!
The Paella Negra is made with the famous black rice and then sauteed with pulpo, shrimp, calamari, fish and scallops, then baked with Valencia rice and squid ink. I'm still getting used to squid ink rice and noodles, but it has great flavor!
The other Paella on the menu (I plan on going back to try it) is Paella de Pollo con Chorizo. This dish is a combination of chicken and Spanish sausage, sauteed with chopped onions and bell peppers, then baked with Valencia rice in Cafe Ole's homemade saffron sauce. How amazing does that sound? I think I can hear a resounding "so amazing!" from my blog audience.
As I mentioned earlier, I'm not a huge dessert lover (although as I adventure to restaurants more, this is changing) and I could have easily passed on the three delectable desserts that we were about to partake in, but once in front of me I couldn't help myself.
This Spanish caramel custard (homemade, of course) was some of the best flan I've ever had. It had something of an espresso finish to it, which made me love it more. I got the cherry on top too 😉
This dessert came recommended by our server. It's the Chef's own recipe of vanilla citrus pudding topped with raw sugar that's burned to make a hard candy shell, then topped with mandarin oranges. Creamy, crunchy, sweet, this dessert had all the elements I would be looking for.
Wow. The Tres Leches, a rich meringue cake soaked in three different types of milk, was a surprising dessert favorite. I love flan and thought that there was no way it could be topped, but I was so wrong. I will not stray from this dessert item in future visits to Cafe Ole.
Now, it's time for the information on specials! Who doesn't love a good bargain? Right, nobody.
Cafe Ole hosts Tapas Locas night on Mondays and Tuesdays where all original tapas are only $5.55. Wednesday is Ladies Night with $3 cocktails well into the evening. Cafe Ole offers a free glass of house wine or one of their homemade desserts (with the purchase of one entree) on Thursday evenings. On Friday and Saturday nights, enjoy live music.
Thank you, Cafe Ole, for a wonderful evening.
3 Responses to "Bravo to Cafe Ole, a Quality Tapas Restaurant in New Tampa"

Leave a Comment