Besa Grill, a Kiss of American-Latin Cuisine
It wasn't too long ago that I visited Besa Grill for the first time. I dined on new brunch items with other Foodspotting users and was amazed at the quality of food that was presented to us. You see, even though I was born and raised in Florida, and have never lived elsewhere, it's rare for me to venture over the Courtney Campbell for…well, anything. When it's time to go to the beach, I opt for the Sunshine Skyway and St. Pete's white sand. Clearwater just seems like a far away land.
I'm lucky to have experienced Besa Grill. If it wasn't for the first event, I might never have visited and they might never have secured a diner for life. In my mind, there was always going to be a restaurant closer in Tampa that would be worth the visit- why drive out to Clearwater (a good 45 minutes to an hour from my home)? Given the service and food, I think I may just…wait for it…switch my beach spot so Besa Grill can be a more frequent stop in my quest for great food.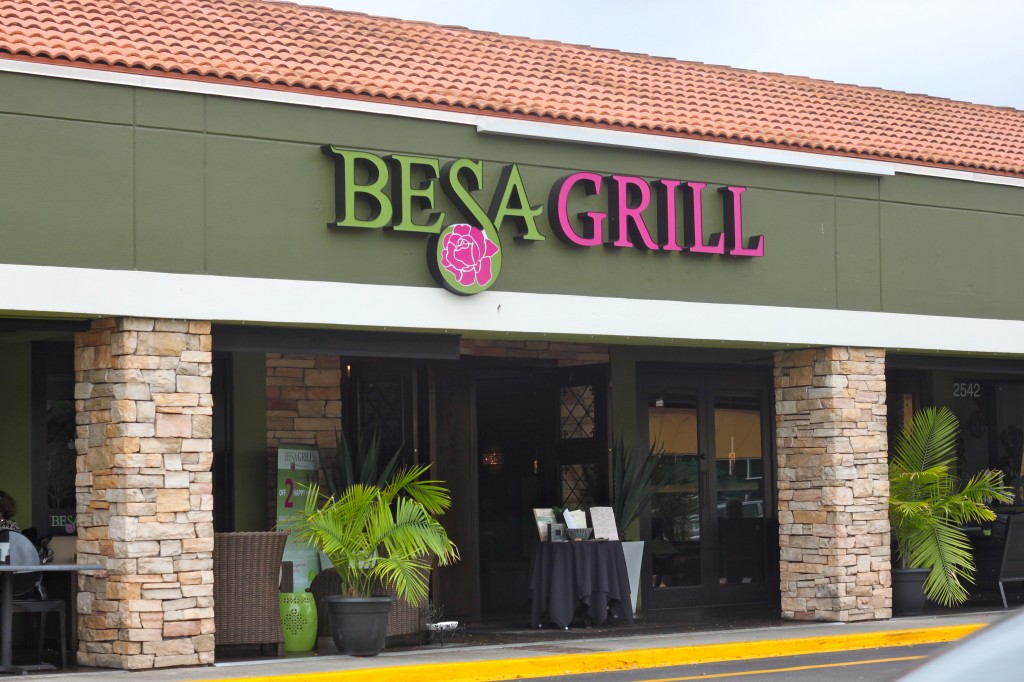 This second visit, Tracy invited a handful of local bloggers (Blaire, Katie, Isabel and Theresa) and the owner of Catrinas Cocina, Karol, for lunch and just to catch up. Going to events and being wined and dined by the restaurant in which we are sitting is always great, but just to have a relaxing lunch with my fellow food lovers really takes the cake, every time. (Did someone just say cake? Well, I'll get to a cake later. A cake that will leave you looking at your calendar and coming up with a day to visit Besa.)
Besa Grill still did us right though. Before I had time to start chatting, our enthusiastic and extremely personable server came over and asked what I wanted to drink. Well, there was no question about it- the Cucumber Ginger Martini immediately caught my eye.
I'm on a ginger kick lately and this perfect martini was crisp and refreshing. It was also easy to drink, not being too strong or overwhelming. Cucumber in a drink can make a significant difference!
This Cactus Pear beauty is made with Cuestion blanco, cointreau, fresh lemon, fresh lime juice and cactus pear puree. What a gorgeous color, right? Even though I loved my first drink, I spied Katie drinking this one and made it my next order.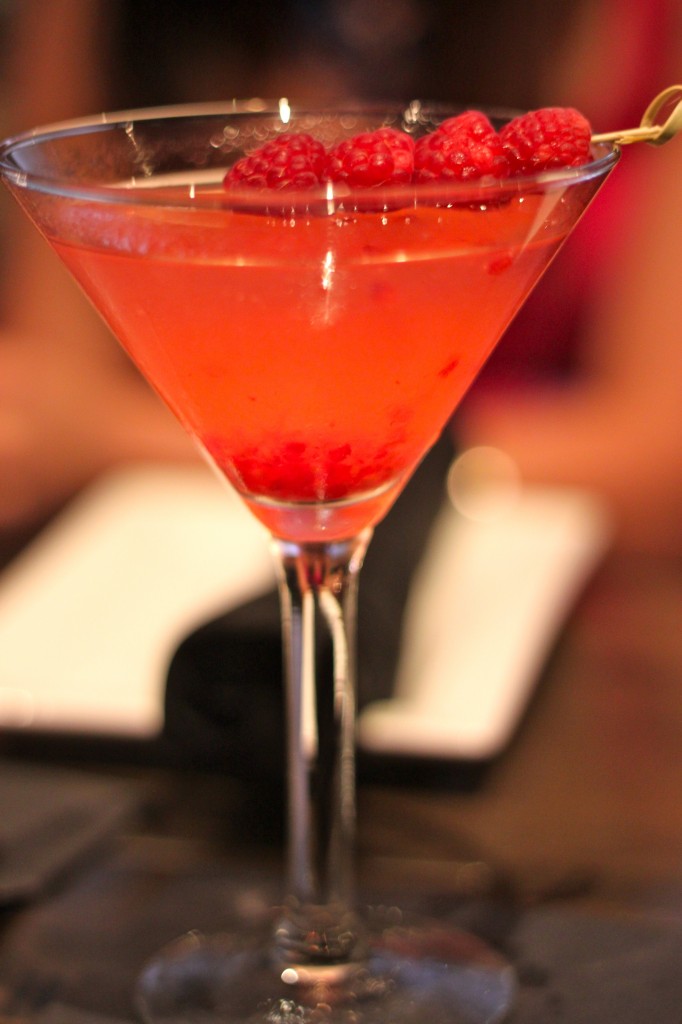 This concoction was so beautiful too- a raspberry martini of some sort, but I was too distracted by my glorious drink to even pay attention to the name or what was in it.
Then, before we could even blink an eye, the food came and it came in mounds (or so it seemed).
Can you go wrong with pork belly? Me thinks NOT. In fact, anything with pork gets two thumbs-up in my book. This pork belly sat atop a crunchy nacho chip with crispy lettuce, radishes, a drizzle of sour cream, dollop of guacamole and fresh herbs.
Even though I grew up with Cuban sandwiches and have tasted more Cubans from various restaurants than you'd probably believe, I still can't get over the taste of Swiss cheese. Pungent and strong, Swiss cheese is never commonplace in my household. However, if presented with a dish as a courtesy at a restaurant, you need to try it, right? I won't ever snub my nose at an item that the hosting restaurant is encouraging bloggers to sample. And with that mentality, I'm a changed woman. While I still probably need to work my way up to eating Swiss cheese that's not melted, it's one small step. This flatbread has shaved ham, mojo pork, swiss cheese, pickles, applewood smoked bacon and mustard aioli- a elegant take on a favorite Tampa sandwich- and I will order it again and again!
Made with grilled chicken, fresh peppery arugula, creamy Brie cheese, applewood smoked bacon, roasted red peppers, shaved red onions and a generous drizzling of balsamic reduction, I appreciate the hell out of this flatbread and it was easily my favorite item of the afternoon. The trek from my house is worth it just to experience this perfect flat pizza again. In fact, anyone up for a trip over the bridge? 🙂
Next up: delightful Tuna Crisps made with seared ahi tuna, seaweed salad, alfalfa sprouts, cucumber and sriracha agave aioli, presented in a delicately crispy wonton bowl. Now, a tuna connoisseur I am not- you should know this. In fact, up until a year ago, my tuna adventures began and ended at canned tuna. Besa did a great job- I very much enjoyed this dish, but given my limited tuna experience, perhaps it would make better sense to take the word of one (or all) of my more experienced lunch companions. In short, a chorus of positive accolades to the Chef halted our flow of conversation. Exclamations of "best ahi tuna ever" was heard, probably throughout the whole restaurant. Basically, our table loved the Tuna Crisps and you should stop in for some soon!
Apparently the owners of Besa Grill know how to do guacamole right since they are known, along with sister restaurant, Flamestone, for having quality dip. Of course we had to try some, am I right or am I right? From front to back in the picture above, we had traditional, Goat & Blue Cheese, and Corn & Black Bean guacs. Paired with crispy, lightly oiled tortilla chips and we were golden.
If you don't take anything else away from this post, take away this: I love a good burger. Even with all the other cuisines I'm obsessed with, I don't crave anything as often as I crave a burger. When Besa presented two burgers to us, I almost just started salivating. There is something about the combination of meat, cheese, condiments and toppings- I can't get enough. Besa Grill had us try both the Classic Burger and the Besa Burger, both of which were amazing and juicy. The Classic was made with ground angus steak, Wisconsin cheddar, red onion, lettuce and tomato.
Mmm, the Besa Burger is compiled of ground angus steak, pepperjack cheese, Besa steak sauce and crispy onion straws on a soft brioche bun. I would order the Besa Burger over the Classic option, but both would be good choices!
Yuca fries. Enough said. Pay the extra $1.50 and order these. Although…we had the truffle fries and these are an excellent choice as well!
The shimp ceviche was a real treat! Our server made it himself and it was outstanding. Mango, cilantro, shrimp, red onion, tomatoes, all aside a fresh avocado. And that's it, folks! Ok, I lie. We aren't even really that close to walking out of Besa Grill because they had some dessert plans for us! We had the Crème Brulee flight, Sweet Plantain Bread Pudding (served with dulce de leche ice cream) and the Seven Sins Cake.
The Seven Sins Cake deserves a description all its own. I may not be a big fan of chocolate, but Besa Grill may very well convert me yet. I mean, do you SEE that cake?? They call it a sinful cake for a reason- two bloggers, who shall remain nameless, were very gluttonous and lustful over this cake- and with good reason! A Godiva-infused seven layer cake with seven different kinds of chocolate and served with a chilled milk shot, this cake is just something you have to order! Revel in it.
I really am planning my next return to this amazing restaurant on the opposite side of the bay. A kiss on both cheeks for Besa Grill, their innovation and their hospitality!
12 Responses to "Besa Grill, a Kiss of American-Latin Cuisine"